What do Retail Salesperson do? Where do Retail Salesperson work? FS takes a look: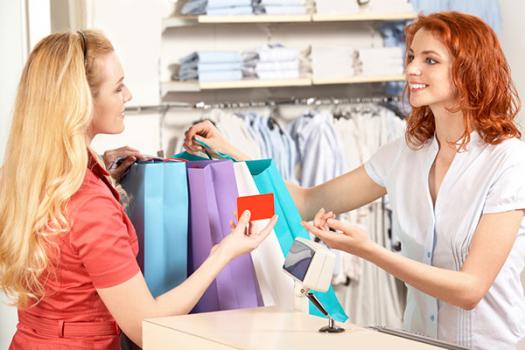 Retail Salesperson Job Description:
Many fashion designers spend a significant amount of time working in retail while trying to break into the fashion design industry. But what many people probably don't know is, retail sales can be a very lucrative career. Some aspiring fashion designers end up establishing a career in retail, which keeps them close to the world of fashion, whether they continue to design or not!
Retail salespersons in the fashion industry sell clothes, shoes, coats, boots, accessories, lingerie, cosmetics, and sleepwear. In addition to selling, many retail salespersons ring sales, create window displays, and check in and maintain inventory. If you have a degree, you may work in this position for a few years before being promoted to assistant manager, then to manager as many companies prefer to promote individuals with a college education. 
Assistant managers may perform audits and assist with recruiting and managing staff. Retail managers manage the entire store by scheduling, hiring and firing staff, maintaining inventory, auditing, ringing sales, and handling customer service issues. Retail sales persons work in department stores, stand-alone retail stores, boutiques, and design houses. 
Becoming a Retail Salesperson :
You do not need a degree to become a retail salesperson. However, if you're interested in advancement opportunities, most employers prefer a degree. Degrees in fashion design, fashion retailing, or fashion merchandising are the usual suspects, but some employer's will consider a marketing or communications degree if they are considering promoting you to retail manager.
Retail salespersons receive on-the-job training, so experience isn't necessarily required. However, for many high-end stores, established designer studios, and other coveted establishments, experience is a definite must.
Retail Salesperson Salaries:
Although base salaries for retail salespersons tend to be low, many work at established shops and stores that offer commissions and bonuses. According to the Bureau of Labor Statistics, median hourly wages of wage-and-salary retail salespersons, including commissions, were $9.86 in May 2008. The middle 50 percent earned between $8.26 and $13.35 an hour. The lowest 10 percent earned less than $7.37, and the highest 10 percent earned more than $19.14 an hour.
It is important to keep in mind that, if you work for a high-end designer, boutique or studio where pieces are worth thousands of dollars, your salary plus commission will be much higher than the highest 10 percent.
Job Trends for Retail Salesperson :
The future looks bright for retail salespersons. For the 2008-2018 decade, the Bureau of Labor Statistics reports that employment is expected to grow by 8 percent. This is fast as average for all occupations. There are 4.5 million retail salespersons in the U.S. and the industry will add 374,700 new jobs by 2018. This means, the industry will generate more jobs than almost any other occupation. In addition, there will be a high demand for part-time salespersons as well as seasonal help at clothing stores across the country.