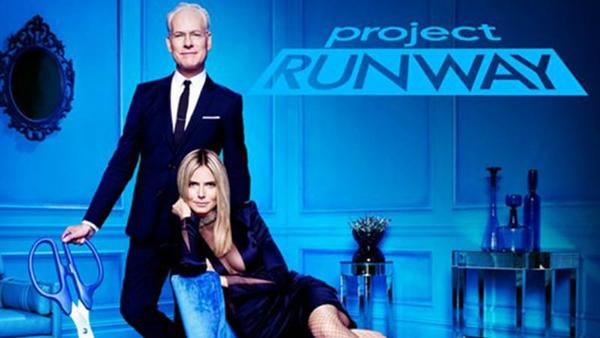 Have you ever wondered what happens to Project Runway winners after the cameras disappear? For most winners it's safe to say—a lot! Some Project Runway winners have gone on to make millions, while others have continued to grow their lines, served as guest judges or hosts of Project Runway spinoffs, became teachers of fashion, and more. While some of these designers hit a few bumps along the way, for the most part, Project Runway has been very good to them all. Read on to see what your favorite and not-so-favorite Project Runway winners are up to today.
Season 1, Jay McCarroll
Project Runway's first winner, Jay McCarroll, was awarded $100,000, the opportunity to show at New York Fashion Week, and a mentorship from Banana Republic. McCarroll turned down the cash prize and the mentorship based on a contractual clause that gave Runway producers a 10 percent stake in all of the designer's ventures post-show.
McCarroll stayed in New York for a few years after the show and attempted to launch a label with staying power. He sold designs from his fashion line on QVC for a brief period, launched a blog and designer fashion boutique "The Colony by Jay McCarroll," and won the seventh season of Celebrity Fit Club on VH1. He lost an impressive 40 pounds on the show. Today, McCarroll teaches at his alma mater, Philadelphia University. He also designs textiles and sells his creations at craft fairs and local malls.
Season 2, Chloe Dao
After winning Project Runway season two and accepting the $100,000 prize and Banana Republic mentorship, Dao returned to her hometown of Houston, Texas. She used the money to expand her boutique, LOT 8, where she sells her bridal collections and creations by local designers. Dao has been a spokesperson for Dove, she served as a judge on Project Runway Vietnam, and she launched a collection on QVC. 
Season 3, Jeffrey Sebelia 
After winning Project Runway season three, Sebelia used his $100,000 prize to support his pre-Project Runway line—Cosa Nostra. Celebrities such as Elton John, Gwen Stefani and Jennifer Lopez wore his designs. After the competition, Sebelia continued to work his line, but it closed in 2009. Sebelia went on to become head designer of a Los Angeles-based fashion brand called FLuXuS, which has since closed. However, in 2011 the designer debuted a posh, but edgy children's clothing line called La Miniatura. Sebelia's creations can be found online, at Kitson in Los Angeles, and Barney's New York. The line is alive and well, and Sebelia returned to Project Runway in 2013 for the show's All Stars spinoff. He came in seventh place out of 11 contestants.
Season 4, Christian Siriano
Christian Siriano's use of "Fierce" and "Hot Tranny Mess" were not the only things that grabbed the world's attention during season four of Project Runway. The designer's amazing avant-garde creations literally stole the show. Since then, Siriano's creations have been worn by celebrities such as Gwyneth Paltrow, Nicki Minaj, Hilary Swank, Lady Gaga, Rihanna, Oprah Winfrey, Taylor Swift, Sarah Jessica Parker, Victoria Beckham, and many others. The youngest and most successful winner of Project Runway, Siriano's brand was worth more than $5 million in 2012. The Christian Siriano collection has also shown at every New York Fashion week since 2008 and the designer has also partnered with PUMA, LG, Victoria's Secret, Spiegel, HSN, Nordstrom, Lane Bryant, Payless and many others.
According to his website, Siriano is the youngest person to ever appear on the Crain's "40 Under 40" list, was a member of Forbes' "30 Under 30" in 2015, and he co-founded accessories e-commerce retailer "Send the Trend" and served as Chief Curator until its acquisition by QVC in 2012. "Silhouette," his first fragrance, launched in 2014. Christian Siriano eyewear, handbags, bedding, and beauty launched as well.
Siriano, who studied in London under Vivienne Westwood and Alexander McQueen, has served as a guest judge on Project Runway many times and he also served as head judge on another Project Runway spinoff—Project Runway: Threads. The designer will be a judge on Project Runway Junior, which premieres November 12, 2015 on Lifetime. 
Season 5, Leanne Marshall
Season five winner Leanne Marshall was the last Project Runway winner to appear on Bravo TV.  In addition to winning the $100,000 prize, the Portland native had the opportunity to design an eco-friendly line for Bluefly. Now living in New York, Marshall has a store that sells mostly bridal gowns. Her creations can be found in bridal boutiques across the U.S. and on Etsy. In 2014, the designer created an exclusive line for BHLDN—Anthropologie's wedding brand.
Season 6, Irina Shabayeva
Irina Shabayeva was the first designer to win Project Runway after it began airing on Lifetime TV. After her win, the Parsons School of Design graduate created a line called Luxe in partnership with HSN. She had the opportunity to design a dress for Selena Gomez for the 2011 People's Choice Awards, a dress for Carrie Underwood, and a limited edition collection for Macy's brand—INC. Originally from the Republic of Georgia, the New York-based designer returned to Project Runway in 2013 for Project Runway All Stars. She won sixth place and still designs custom gowns.
Season 7, Seth Aaron Henderson
Since winning season seven of Project Runway, as part of his prize package, Henderson launched a line for QVC and a line of clothing featuring sustainable fabrics made from plastic bottles. The designer served as head casting judge for Project Runway season nine and, in 2011, he launched a collection of high-fashion iPad cases in partnership with Maroo. Henderson showed at Portland Fashion Week (2011) and worked with Earthtech to create various sustainable pieces. The designer also provides "ongoing commentary for Lifetime, Marie Claire, E!, and Style," according to his website. Henderson launched a Fall/Winter collection in 2013, and he went on to win season three of Project Runway All Stars where he collected another $150,000.
Season 8, Gretchen Jones
After winning Project Runway season eight, Gretchen Jones, a Portland, Oregon native, relocated to Brooklyn, New York. She went on to show at every fashion week following her win, and launched Gretchen Jones NYC—a ready-to-wear women's line. In 2013, Jones was chosen as one of GenArt's Fresh Faces In Fashion. Today, the designer sells her creations online and at various retailers and boutiques in the U.S. and around the world. 
Season 9, Anya Ayoung-Chee 
After her season nine win, Ayoung-Chee showed at New York Fashion Week and Jamaica Fashion Weekend. She used her Project Runway winnings to launch PILAR—a clothing line for the "stylish and sexy woman." The designer also designed a collection for Piperlime, she launched a destination travel line, and a lingerie line named Anya de Rogue—the first of its kind in the Caribbean.
A graduate of Parsons School of Design and Central St Martins School of Art and Design in London, Ayoung-Chee served as a travel ambassador for Trinidad and Tobago and she hosts events and produces fashion shows for Trinidad's annual Carnival celebration. A former Miss Trinidad and Tobago Universe, Ayoung-Chee served as host and mentor on season one of the Project Runway spin-off Under The Gunn.
Season 10, Dmitry Sholokhov
In his own words, "since winning Project Runway, I presented my Fall 2013 collection in Moscow's Mercedes-Benz Fashion Week, presented and sold exclusive collection for Lord & Taylor nationwide, gave a presentation in Stockholm, Sweden on how creativity comes to life through the technology, partnering with HP; and presented my Spring 2014 collection in Panama City, Panama during the biggest fashion week in Latin and Central America as international guest designer. Today my business focuses on private commissions and pursuit of partnerships with select retailers. 2014 has been dedicated to partnering with highly experienced business professionals and the development of strategic plans to finance and develop the brand." –Dmitry Sholokhov, Lifetime TV, Project Runway All Stars
Season 11, Michelle Lesniak
After winning Project Runway season 11, Michelle Lesniak returned to her hometown of Portland to build her brand. The designer spent much of 2014 travelling the world showing her work. The designer says she has "designed garments for llamas, Disney stars and ballet dancers." She opened a shop and studio in Portland, Oregon under her label Michelle Lesniak.
Season 12, Dom Streater
Dom Streater won the biggest cash prize in Project Runway history. The Philadelphia native used the $500,000 cash and prize package to focus on fashion full-time—she worked two jobs before Project Runway. The designer did indeed create a self-titled line and her creations are available for sale on her website. In addition to her own line, Streater created a collection for Belk, she showed a 27-piece collection at New York Fashion Week in 2014, and using signature prints from her spring 2015 collection, the designer partnered with Velodyne to design a line of high-end headphones. According to her website, Streater received an official proclamation from the mayor of Philadelphia, she was named one of Nicole Millers "Most Fashionable Women of Philadelphia," and she has been featured in numerous magazines, including Marie Claire, Essence, and Jet.
Season 13, Sean Kelly
New Zealand native and Project Runway season 13 winner Sean Kelly attended Massey University in Wellington, New Zealand where he was awarded the 2013 Design Excellence Award. Because his win happened just one year ago (October 2014), Kelly doesn't have much to report, although he did create a dress for Sia, which she wore in December of 2014. Currently living in Brooklyn, New York, the designer said he planned to take time to figure out his brand after discovering that he liked designing womenswear during the show. Kelly's specialty before Project Runway? Menswear.
Sources
Chee, Anya Ayoung. "About." Anya Ayoung Chee. Anya Ayoung Chee, 2015. Web. 17 Oct. 2015.
Galuppo, Mia. "'Project Runway' Winners: Where Are They Now?" The Hollywood Reporter - Television. The Hollywood Reporter, 17 July 2013. Web. 15 Oct. 2015.
Henderson, Seth Aaron. Seth Aaron - Fashion and Runway Designer. Seth Aaron Henderson, 2015. Web. 15 Oct. 2015.
"Lifetime, Project Runway." Lifetime TV & Movies. Lifetime Entertainment Services LLC, a Subsidiary of A+E Networks, 2015. Web. 15 Oct. 2015.
"Lifetime, Project Runway All Stars." Lifetime TV & Movies. Lifetime Entertainment Services LLC, a Subsidiary of A+E Networks, 2015. Web. 15 Oct. 2015.
Sander, Brice. "Where Are They Now: All 13 "Project Runway" Winners." BuzzFeed. Buzzfeed, Inc., 26 Dec. 2014. Web. 15 Oct. 2015.
Sebelia, Jeffrey. "About Us." La Miniatura. Jeffrey Sebelia, 2015. Web. 15 Oct. 2015.
Siriano, Christian. "Christian Siriano: About." Christian Siriano: About. Christian Siriano Holdings LLC, 2015. Web. 17 Oct. 2015.
Streater, Dom. "About Dom." DS. Dom Streater, 2015. Web. 15 Oct. 2015.