What do Pattern Makers do?  Where do Pattern Makers work? FS takes a look: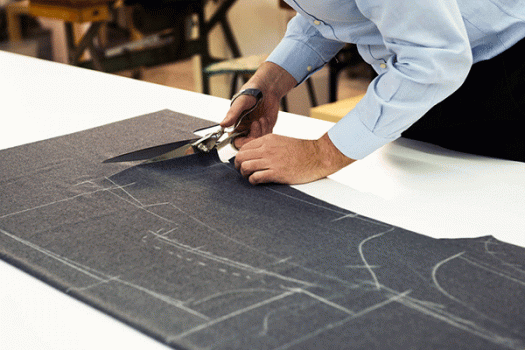 About Pattern Maker:
Pattern makers work closely with fashion designers and design departments to create an initial rough draft of what the designer has in mind for any given garment. Independent designers that are just starting out might create their own patterns, but if they are established or work for a large company, they usually work with a team of pattern makers. Years ago, pattern makers created sample patterns by hand. Today, they use a variety of advanced techniques and machines to produce samples.
Alternate Titles For the Role
Clothing Pattern Preparer
Clothing Patternmaker
Computer Aided Pattern Designer
Computer Patternmaker
Pattern Maker Job Description:
Pattern makers main function is to take the designer's ideas and translate them into
pattern samples. After the samples are made, the designer may request a few tweaks
before the final sample pattern is made. It is up to the pattern maker to create a final
sample that will be used to mass-produce the garment.
Pattern makers work for fashion designers, retail companies, textile companies, design
studios, and other manufacturing facilities. Some pattern makers are self-employed, so
they might work for multiple clients at a time.
Becoming a Pattern Maker:
Employers prefer an associate or bachelor's degree in fashion design, pattern making,
pattern engineering, or pattern-making technology. Many employers also look for entry-
level workers with experience through an internship, apprenticeship, or paid position.
Retail sales experience or experience in textiles or apparel design is also helpful.
Other important skills include computer skills, organizational skills, math proficiency, the
ability to multi-task, precision and accuracy, and the natural ability to work with different
body proportions. Because pattern makers might work with industry professionals
overseas, the ability to speak Spanish or Chinese is a huge plus.
Pattern Maker Education Training & Advancement:
Many schools offer certificates, associate and bachelor's degree programs in fashion design & related fields that will help jump-start one's career as a pattern maker. These programs expose students to practical opportunities in order to get started in the fashion industry, and give a solid foundation on which to begin a career. Some fashion schools will over specific lines of study for aspiring pattern makers & those looking for textile careers.
As important as formal education is establishing your both your creative and technical skills. In addition to the creative aspects of fashion, pattern makers needs to be proficient at sewing, stitching and manipulating fabrics. Extremely detailed oriented pattern maters need to demonstrate their organization skills, attention to detail, and even quantitative skills.
Always have a good portfolio of ideas and strategies to present. Get your ideas out there, and be your own sales agent.
Pattern Maker Jobs & Careers:
At the time of this writing there were nearly 300 pattern maker jobs on Indeed. And opportunities exist in both direct to consumer, retail roles, as well as industrial/production roles.
Pattern Makers tend to have regular schedules and work weeks, however, product timelines/deadlines can often add work and stress to their jobs.
While medium to large companies will often employ several pattern markers, smaller companies frequently can't afford to have a full time pattern maker on staff. As a result, a robust field of "free lance" pattern makers has evolved. Taking a freelance path means you not only have to be an expert pattern maker; but also be able to market yourself, and find work.
Regardless of the location, styles or trends, the fashion industry will always need to people to make the deals happen.
Pattern Maker Salaries:
Depending on the type and size of the company, experience, geographic location, and
education, pattern makers may earn as little as $19,000 on the low e, up to $85,000 (or
more) on the high end. Lower salaries are just a starting point for pattern makers with
little to no experience. By the time they reach mid-level, which may only be a few years,
pattern makers can earn $40,000 or more per year.
Self-employed pattern makers may earn more or less depending on the same factors listed
above, along with the number of projects they choose to tackle each year.
Job Trends for Pattern Maker:
Although some consider pattern maker a low-level position, there is no doubt that this
is a specialized field. In fact, the talent pool is small (less than 10,000 at last count),
and the best of the best can command higher salaries than some fashion designers. Top-
level pattern makers will have no problems finding work in the coming years and job
opportunities for entry-level pattern makers should remain steady (fair) in the coming
years. The best places for jobs in this field are California, the Southeast, and New
England, as apparel manufacturing is quite active in these areas.