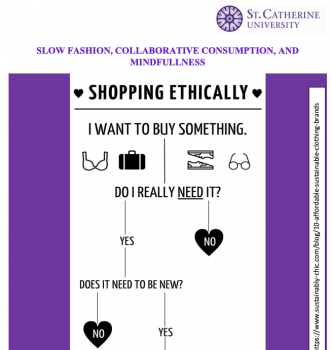 We recently had the opportunity to sit down with Professor Anupama Pasricha from St Cathrine University to talk about sustainability and how the fashion industry is adjusting to the demands of ever more conscientious consumers.
Dr. Anupama Pasricha is a researcher, educator, facilitator, and servant leader. She has global research and teaching experience of 25 years. She currently chairs the Department of Apparel, Merchandising, and Design at St. Catherine University, St. Paul, Minnesota. She also serves as Executive Director of Educators For Socially responsible Apparel Practices (ESRAP) and serves on the Board of Directors of the Textile Center of Minnesota and Advisory Board of Sol Inspirations. 
Q: Professor Pasricha, in the past decade, sustainability has become a regular topic of discussion across industries, governments and non-profit organizations. How is the fashion world approaching sustainability?
The world of fashion is approaching sustainability as a responsible response to the state of the climate, resource depletion, and growing consumer demand. Even fast-fashion companies are taking small steps to giant leaps with aspirational goals to address today's challenges. We have a lot of responsibility due to fashion's footprint. However, awareness and impact are still minimal. Also, like any other industry, the fashion world is mass consumption-oriented. It comes to sales and numbers. I think we can always advocate for a profitable fashion industry but ensure that it is thoughtful throughout the supply chain.
Q: Given how rapidly the fashion world evolves, what are some of the most interesting sustainability trends & innovations you're seeing?
Every company is expressing their desire to be part of this change. Over the last few years, the sustainability efforts have expanded and listed either under their CSR or under corporate information/about us sections. Generally, it is way at the bottom or hard to find information on the websites. That is the reason that consumers may not be aware of the power of their dollar.
The most significant trend is on sustainable materials, including recycled materials, repurposing, upcycling, waste management, green chemistry, resource efficiency, circularity, SDGs, and activism. There is a push for localism, and it will take a systemic change to bring sourcing and production back to the US.
Another trend is the sharing economy, which has increased the rental offerings. The second hand and vintage are growing significantly as well.
Companies are leveraging technology to reduce fashion's impact on the environment.
Q: Why is it important to you? And how would you like to see schools evolve to help deliver a more sustainable model?
It is important to me as it is the right thing to do for the well-being of individuals, society, and the planet. I believe in personal responsibility and purposeful life. Schools have a significant role in educating individuals to bring change from within and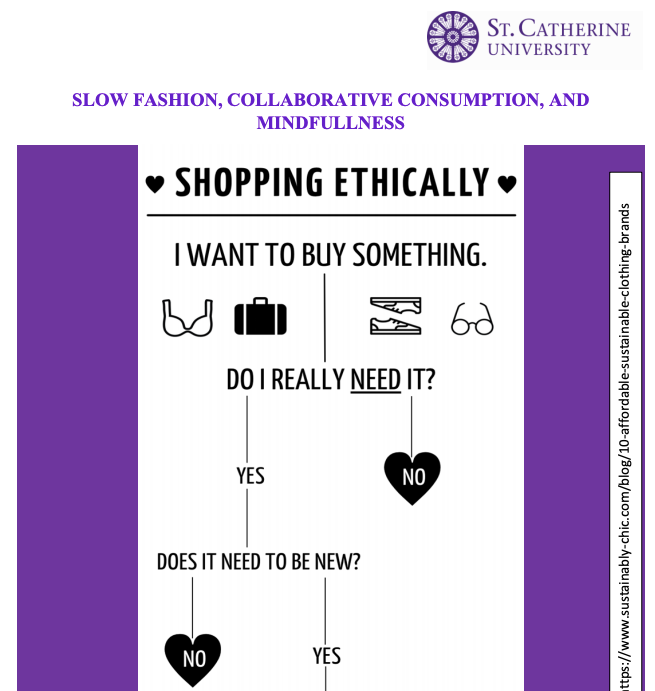 outside. Schools are positioned to engage future professionals by creating awareness, building knowledge, and providing skills to nurture change makers who will make the world a better and more sustainable place. It is vital that schools right from preschool age foster sustainable lifestyles and thinking in the young mind. It should be a way of being and part of the culture. Colleges and Universities can then provide discipline-specific knowledge and practice. I am happy to share St. Catherine University's model of sustainable fashion education for both design and merchandising undergraduate programs. If interested, please email me at [email protected]
Q: Are there specific challenges or hurdles that seem to be the most difficult to overcome as schools & companies build a more sustainable practice?
Yes. The hurdles are systemic. 
It requires a new way of thinking and approach. As a progressive society, we embraced innovations and technology to simplify our life without realizing the impact. We have to reframe our thinking to direct technology and innovation to be thoughtful about our decisions and actions and their impact. 
The cost of sustainability is high, as has yet to scale. We are used to choice, and at this time, the opportunity within sustainable options are limited. 
Fast fashion provides easy access to masses, but is it good for the people it is selling? I compare fast fashion to fast food https://www.youtube.com/watch?v=bnTmVLYoU4o
Q: In your day-to-day as a professor, how are students embracing the changes in the industry?
It is humbling to see how students are embracing the changes in the industry. Millennials and Generation Z are the drivers who make up almost 50% of the population. They are aware of the planet and environment, care for justice and people, and therefore expecting sustainability as a value from the industry. In a recent focus group with fashion students, we learned that several of them came to attend St. Catherine University's design and merchandising programs because we have a holistic approach and include sustainability in every course. It is encouraging to observe students embrace sustainability outside the curriculum as well. Our student fashion club hosts clothing swaps, co-sponsors sustainability speakers, and engage in impactful service projects. Several students research on sustainability topics beyond the classroom and include sustainable materials and strategies in their design and styling work. Their passion for sustainability is contagious, and it is cool. 
Q: How are you incorporating sustainability into the coursework & culture at St Catherine?
We started in 2008 and took small steps adding it to a few courses. Realizing the impact, we have successfully built it in our curriculum at every level. Sustainable strategies and paradigms are embedded in all fashion design and merchandising courses, and we have Sustainable Product Development as a required capstone course. Students are required to include sustainability content in their Exit Portfolios and address it in the reflective journals that they write during their required internships. Further, St. Catherine University has two core courses; one is the Reflective Woman, and the other is Global Search for Justice through which their critical thinking skills and interdisciplinary application thrives. Phenomenal opportunities through the Assistant Mentorship Program, as well as Collaborative Research of the university, allows a student to delve into research, problem-solve, and develop expertise. In the past, we have studied Sustainable Designers and strategies, the status of organic cotton in t-shirts, 3D printing and sustainability, textiles waste and potential of upstream recycling, body positivity and image for personal sustainability, and many more. Course projects engage with local small businesses and corporates to develop innovative solutions for sustainable apparel products. Last Spring, in our Sustainable Product Development course, we worked with two small companies that have a strong commitment to producing locally. We also worked with a corporate to bring circular design thinking and economy as a paradigm to develop the product. Our students regularly participate in events that utilize their talent for design and merchandising for a social cause and provide an opportunity for global justice. Students' intern and work with local companies that have second-hand clothing and styling businesses.
Q: For those looking to make incorporate a more environmentally conscience stance into their fashion careers, are there areas/roles that you see as having greater opportunity?
The issue of sustainability is unprecedented in both magnitude and complexity, which the fashion industry has realized and taking strides to make a change. These changes are more evident in the design and technical design opportunities. One frustrating thing is that entry-level positions are not advertising the skill requirement in sustainability yet. On the job, our graduates use a sustainability lens when sourcing or developing a product and making decisions at the workplace. It is always rewarding to visit with our alums and learn about how the industry is evolving.
More about Professor Pasricha
In 2017, she received St. Catherine University's Bonnie Jean Kelly and Joan Kelly Award for Faculty Excellence for transforming the fashion and apparel curriculum to incorporate sustainability and extensive research in that area. Minnesota History Center and Cathy G. Murphy Gallery have showcased Dr. Pasricha's sustainable collection.  Her work focuses on sustainability throughout the supply chain. She is an advocate of technology, innovation, and responsible creation, use, and consumption for the sustainable apparel industry. She is considered an expert on sustainability and has been invited to speak at local, national, and international forums. She enjoys mentoring students, building a network, and engage in meaningful industry partnerships for more significant sustainability outcomes.
To learn more about Professor Pasricha and St Catherine visit their website: https://www.stkate.edu/