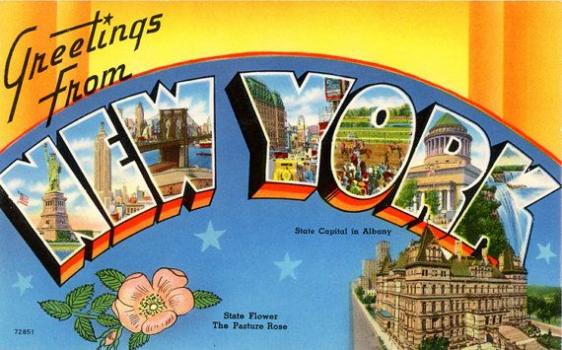 Overview
The state of New York is home to the Fashion Capital of the World—New York City. The city of New York had held this title longer than any other city in the world. And even in a recession, the city still managed to stay on top. New York is also home to the world's first fashion week, which took place in the early 1940s. Today, Mercedes Benz Fashion Week takes place at Damrosch Park at Lincoln Center. This semi-annual event took place at Bryant Park until September 2010.
Besides being the fashion capital of the world and hosting one of only four major fashion weeks around the world, the city has more than 175,000 fashion industry jobs and more than 7,000 are in fashion design. Merchandise displayers are plentiful too. More than 3,000 live and work in New York and the population is expected to grow. Merchandise display work is just one of the duties associated with fashion merchandising.
Career Opportunities & Employers in New York:
Whether you're interested in working for a top designer—Alexander McQueen, Carolina Herrera, Diane Von Furstenberg, and Tommy Hilfiger are here, working in a boutique or retail shop, or starting your own line, New York is one of the best places in the world to do it.
After graduating from a fashion design or fashion merchandising program, students should have no problems finding work. New York, particularly New York City, has reported an increase in fashion jobs over the last several years. This trend is expected to continue well into 2019.
New York fashion designers may have their own lines, they may work for large design houses or in textiles and manufacturing, or they may work for established designers.  New York fashion merchandisers may work in production, marketing, product development, or sales. Many also work in visual merchandising for retail stores or fashion houses.
Fashion design and merchandising graduates can find work in New York City from the world famous Garment District to super fashionable SoHo.
New York Fashion Schools & Programs:
In order to make it in New York, you'll need talent and training. Fortunately, New York is home to dozens of schools that offer superior quality fashion design and fashion merchandising programs. Some programs may be completed in as little as two years, while others may take four to five years to complete.
The National Association of Schools of Art and Design accredits approximately 300 postsecondary institutions with programs in art and design. New York is home to many top art and design schools as well as traditional colleges that award degrees in fashion design and fashion merchandising. In New York City, you'll find top art and design schools such as Parsons the New School for Design, Pratt Institute, and New York School of Design. Other schools that offer fashion design and fashion merchandising programs are:
Bryant & Stratton College, Henrietta
Fashion Institute of Technology (FIT), New York
Syracuse University, Syracuse
The State University of New York, New Paltz
Wood Tobe-Coburn School, New York
To get started on a career in fashion design or fashion merchandising, enroll in a fashion design or fashion merchandising degree program. Some schools may offer other degrees such as apparel design, apparel design and development, or fashion and textile management. Please review all degrees and requirements to make sure you have chosen the right program for your career goals. If you are interested starting your own business, consider combining your fashion design or fashion merchandising degree with a business or marketing degree.
For more information about the fashion design and fashion merchandising industries, visit the Bureau of Labor Statistics at Bls.gov.
Employment and Salary Trends for New York:
As stated earlier, there are more than 175,000 fashion industry jobs in the state of New York. In New York City alone, there are 7,260 fashion designers, up from 7,170 in 2004.
Sewing and cutting jobs may decline as more and more designers and brands choose manufacturing companies overseas. However, employment of fashion designers is stable because many firms prefer to keep design work in house.
The Bureau of Labor Statistics has not reported employment and salary figures for fashion merchandisers, but a significant part of the job involves working with window and store displays. There are 3,180 merchandise displayers living in New York City, down slightly from 2004, when there were 3,590. Jobs will still be available as merchandisers move into other positions, start their own businesses, or leave the industry.
Overall employment in the fashion industry is expected to grow by one percent for the 2008-2018 decade and salaries are expected to grow as well. In 2004, New York fashion designers earned an average salary of $78,800. By 2009, the average salary increased to $81,990.
As of May 2008, the mean annual wage for fashion designers nationwide was $61,160. This means New York fashion designers earn more than designers living in most other states. The lowest paid fashion designers in the U.S. earned an average annual salary of $32,150 and the highest paid fashion designers earned $124,780 per year. Because many fashion designers are self-employed, salaries can vary greatly. It's not unusual for a top fashion designer to earn millions per year.
Bureau of Labor Statistics Data
| | Number of jobs | Mean hourly pay | Mean annual pay | Job Outlook |
| --- | --- | --- | --- | --- |
| Fashion Job | | | | |