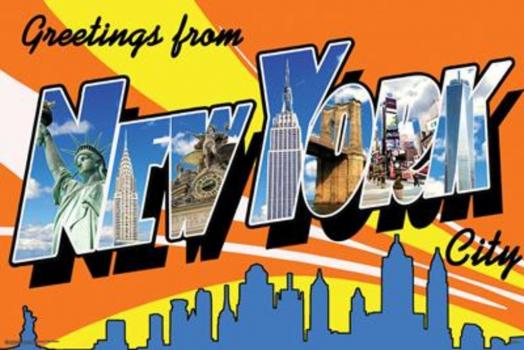 The New York City Fashion Scene
New York City is the fashion capital of the world. The city has held this title longer than any other city on the planet and even in rough times, the fashion scene still thrived. Simply put, everything that is anything begins and ends in New York City, and the rest of the world is all too happy to follow New York's lead. Just a few things that set New York City apart are the world's first and largest fashion week (80 shows), more than 175,000 fashion industry jobs (more than 7,000 are in fashion design), and some of the world's top fashion schools.
New York City is also home to more design shops and studios than any other city. Alexander McQueen, Carolina Herrera, Diane Von Furstenberg, John Varvatos, Vera Wang, and Fendi are just a few designer shops that call New York home. Fashion magazines such as Vogue and Elle are plentiful here as well, and the city is home to the only library in existence with a free digital database of all things fashion. Before the library launched the free version of the database, users paid a hefty price to peruse it.
So where do locals shop? Everywhere! Opportunities to shop can be found on every street or avenue from Lower Manhattan & the Financial District to the Upper Westside, you can find all types of styles from A-Z. The city's most popular shopping areas are Chinatown, the Lower East Side, SoHo, Nolita, Chelsea/Meatpacking District, East Village, Greenwich Village, Lafayette Street from SoHo to NoHo, Union Square/Flatiron District, Times Square & the Theater District, Herald Square & the Garment District, Midtown, Uptown, Fifth Avenue & 57th Street, and the outer boroughs such as Brooklyn.
Career Opportunities & Employers in Schools & Colleges:
New York City fashion designers can find work in technical production, textile design for product development, apparel design, pattern making, sample making, grading, handweaving, embroidery design, retail, and sales. Many fashion designers also teach, so New York City's academic institutions and design centers are excellent sources of jobs for aspiring instructors. Fashion merchandisers can find work at any of the thousands of shops, design studios, department stores, and popular retailers across the city. Merchandisers work in product development, production, marketing, sales, visual merchandising, and more. 
Schools & Colleges Fashion Schools & Programs:
The state of New York is home to 307 colleges and universities. Many are art and design schools, while others are traditional colleges that offer art and design programs. The number and variety of schools located in New York City make it easy for aspiring fashion designers and fashion merchandisers to find just the right program. Some art and design schools have been accredited by the National Association of Schools of Art and Design (NASAD), while others have been accredited by agencies such as the Accrediting Commission of Career Schools or the Colleges and the American Academy of Liberal Education. Visit the U.S. Department of Education at Ed.gov for a complete list of accrediting agencies.
Some of New York City's top fashion design and fashion merchandising programs are offered at Parsons the New School for Design, Pratt Institute (Brooklyn), and the New York School of Design. Other options are Wood Tobe-Coburn School, Fashion Institute of Technology (FIT), and The Art Institute of New York City.
Employment and Salary Trends for Schools & Colleges:
The state of New York is home to around 7,260 salaried fashion designers. Around 6,790 live in the New York City metropolitan area. Thousands more are self-employed.
Salaried New York City fashion designers earn an average of $81,540 per year. Self-employed designers can earn six to seven figures per year. Nationwide, fashion designers average around $61,160. The lowest paid fashion designers average $32,150, and the highest paid salaried designers average $124,780 per year.
Employment of fashion designers across the nation is expected to grow by 1 percent between 2008 and 2018. Sewing and cutting jobs may decline as more designers and brands choose manufacturing companies overseas. However, employment of fashion designers is stable because many firms prefer to keep design work in house.
The Bureau of Labor Statistics has not reported employment and salary figures for fashion merchandisers, but a significant part of the job involves working with window and store displays. There are 4,530 merchandise displayers living in the New York City metropolitan area.
For more information about the fashion design and fashion merchandising industry, visit the Bureau of Labor Statistics at bls.gov.
Bureau of Labor Statistics Data
| | Number of jobs | Mean hourly pay | Mean annual pay | Job Outlook |
| --- | --- | --- | --- | --- |
| Fashion Job | | | | |