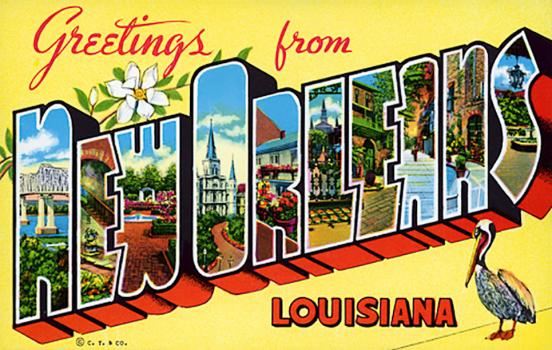 The New Orleans Fashion Scene
New Orleans is a magical place. It's home to the world famous Mardi Gras celebration, the infamous French Quarter, and more Cajun musicians than anywhere else in the world. Yes—New Orleans is the Cajun Music Capital of the World. The list of things New Orleans is famous for is endless, but one fact that might surprise you is, New Orleans has one of the fastest growing fashion scenes in the U.S. The New Orleans Fashion Council has played a major role in helping attract attention to the scene by producing major fashion events such as New Orleans Fashion Week (NOLAFW). The show features new and emerging designers from New Orleans and across the country.
In addition to fashion events such as NOLAFW, New Orleans is home to a large collection of boutiques located in the French Quarter, downtown, the Warehouse District and more. Shopping malls and freestanding retail shops can be found around town, but one of the most popular is the Riverwalk Marketplace—home to 140 stores. Canal Place, one of the city's premier shopping venues, is home to more than 50 designer stores including Gucci and Saks Fifth Avenue. Head over to Magazine Street to find boutiques of all kinds along a half mile walk. Lakeside Shopping Center, The Esplanade, Oakwood Center, and the Shops at Jax Brewery are other favorite shopping venues.
So, what do New Orleans natives like to wear? Just about anything goes here. Individual style is important, so the folks here don't follow any hard and fast rules. Stroll around the city and you'll see styles that can only be described as punk meets preppy, 80s meets 90s, or vintage meets bohemian, to name a few.
A wild fashion scene, elaborate fashion events, and boutiques galore are not the only things aspiring fashion designers and fashion merchandisers have to look forward to here. They can also train at the University of New Orleans. The school offers several fashion programs that can help you land a job in retail, design, or merchandising.
Career Opportunities & Employers in Schools & Colleges:
New Orleans fashion designers may find work in retail, technical production, pattern making, or administration sales. Many designers are self-employed, so they run their own boutiques, design studios, or small production centers. Fashion merchandisers work in retail mostly, but they may also find work in promotions, buying, and visual merchandising. Employment opportunities can be found in department stores, retail shops, textile manufacturing facilities, production studios, design studios, and the eclectic boutiques around the city. Downtown, the French Quarter, the surrounding areas, and any of the venues mentioned earlier offer the most opportunities.
Schools & Colleges Fashion Schools & Programs:
Louisiana is home to 87 colleges and universities. The national average is 88. The schools here are an interesting mix of traditional universities, technical schools, and a few art and design schools. The top choice for fashion students is the University of New Orleans (UNO). This traditional university offers degrees in retail merchandising, fashion design, and costume design.
Another option is Louisiana State University in Baton Rouge. Baton Rouge is around 80 miles from New Orleans, but the school's Division of Textile Science, Apparel Design and Merchandising in the LSU School of Human Ecology has an outstanding apparel design and merchandising program.
Employment and Salary Trends for Schools & Colleges:
As of July 2011, the Bureau of Labor Statistics had not reported employment or salary figures for New Orleans fashion designers. Based on the number of retail venues, fashion events, and design studios here, it's safe to assume that there are hundreds of self-employed designers living in the New Orleans, which is the largest city in the state of Louisiana.
Employment of fashion designers across the nation is expected to grow by one percent between 2008 and 2018. Nationwide, fashion designers average around $61,160. The lowest paid fashion designers average $32,150, and the highest paid salaried designers average $124,780 per year.
Figures for fashion merchandisers have not been reported, but a significant part of the job involves creating window displays and managing the overall look and feel of stores. Nearly 500 salaried merchandise displayers work in the state of Louisiana. Close to 100 live and work in New Orleans.
For more information about the fashion design and fashion merchandising industry, visit the Bureau of Labor Statistics at bls.gov.
Bureau of Labor Statistics Data
| | Number of jobs | Mean hourly pay | Mean annual pay | Job Outlook |
| --- | --- | --- | --- | --- |
| Fashion Job | | | | |