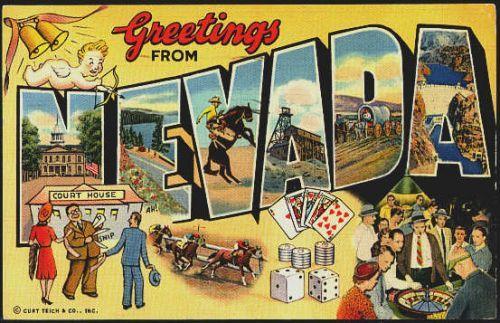 Overview
The state of Nevada is most famous for wild Las Vegas vacations, but did you know that Nevada is home to nearly 2.5 million permanent residents? More than half a million live in Las Vegas, while the rest live in other major cities such as Henderson, Reno, Paradise, North Las Vegas, Sunrise Manor, Spring Valley, Enterprise, and Sparks. These cities are home to hundreds of malls, boutiques, and retail shops, offering plenty of opportunities to work in the fashion industry.
While shopping venues can be found in just about any city in Nevada, some of the most elaborate venues are located in Las Vegas, of course. Fashion Show Mall is the perfect place to get involved in fashion as a merchandiser of designer. This 2-million-square-foot mall is home to dozens of boutique and chain shops. It also hosts elaborate fashion shows several times per week. Fashion Show Mall welcomes more visitors than any other mall in the state. With 10 million visitors per year, this mall offers more exposure than any other venue in Nevada.
Other top fashion emporiums include Miracle Mile Shops at Planet Hollywood and Town Square. Miracle Mile is home to 170 stores such as Steve Madden, the state's first H&M, Puma, and Urban Outfitters. The 1.5-million-square-foot Town Square is home to dozens of stores selling fashions ranging from classy to post-grunge to preppy to glam.
In addition to multiple shopping venues, Nevada is home to MAGIC—the largest apparel trade show in the U.S. Las Vegas Fashion Week is also a major event here. It attracts hundreds of retailers, buyers, designers, and celebrities each year, as well as thousands of spectators.
Nevada has its fair share of fashion programs as well. The University of Nevada in Las Vegas and the Art Institute of Las Vegas in Henderson are just a few popular options.
Schools such as these offer challenging and competitive programs that can help you develop the technical and creative skills needed to make it in the fashion industry, whether you decide to start a career in Nevada, New York or California.
Career Opportunities & Employers in Nevada:
Many Nevada fashion designers and fashion merchandisers live in major cities. They can find work in textile design for product development, technical production, administration sales (textile industry), apparel design, and pattern making. Nevada fashion merchandisers may have more opportunities thanks to the high number of retail shops, department stores, and malls in the state. They may find work as buyers, visual merchandisers, store managers, account managers, display directors, or fashion show coordinators, to name a few. Head to Las Vegas first for the most opportunities followed by Henderson, Reno, Paradise, and North Las Vegas.
Nevada Fashion Schools & Programs:
The National Association of Schools of Art and Design accredits approximately 300 postsecondary institutions with programs in art and design. This is good news for aspiring designers and merchandisers because there's much to choose from. These schools typically award degrees in fashion design, fashion merchandising, and fashion management. In addition the University of Nevada and the Art Institute of Las Vegas, several other schools have fashion programs. They are:
College of Southern Nevada, Las Vegas
Nevada State College, Henderson
To begin training for a career in fashion design or fashion merchandising, the first step is to enroll in a fashion design, apparel design, fashion merchandising or apparel design & textiles degree program. Fiber studies is also a major worth exploring. If you are interested starting your opening your own boutique or studio, or starting your own line, consider combining your fashion design or fashion merchandising degree with a business or marketing degree. You can also take business courses at a community college while completing your fashion program or you can wait until you have completed your fashion degree program to enroll in a full-time business or marketing degree program.
For more information about the fashion design and fashion merchandising industries, visit the Bureau of Labor Statistics at Bls.gov.
Employment and Salary Trends for Nevada:
As of July 2011, the Bureau of Labor Statistics had not released employment and salary figures for Nevada fashion designers. Overall employment in the fashion industry is expected to grow by one percent for the 2008-2018 decade. Sewing and cutting jobs may decline as more and more designers and brands choose manufacturing companies overseas. However, employment of fashion designers is stable because many firms prefer to keep design work in house.
As of May 2008, the mean annual wage for fashion designers overall was $61,160. Nationwide, the lowest paid fashion designers earned an average annual salary of $32,150 and the highest paid fashion designers earned $124,780 per year. Many fashion designers are self-employed. These individuals have unlimited earning potential. A top fashion designer can earn several hundred thousand to millions of dollars per year.
As of July 2011, the Bureau of Labor Statistics had not reported employment and salary figures for fashion merchandisers anywhere in the U.S., but a significant part of the job involves working with window and store displays. Nevada is home to around 920 merchandise display workers, which is higher than 2004 (730) and lower than 2006 (1,290). Salaries for merchandise display workers in Nevada have fluctuated since 2004. In 2004, they earned an average of $22,770. In 2006, the average salary was $21,870, and in 2009, merchandise display workers averaged $24,260.
Bureau of Labor Statistics Data
| | Number of jobs | Mean hourly pay | Mean annual pay | Job Outlook |
| --- | --- | --- | --- | --- |
| Fashion Job | | | | |