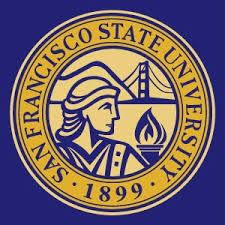 The city of San Francisco is a great place to study fashion design.   With a new focus on sustainability in design, there is nowhere more at the forefront of sustainable fashion than SF.   The city offers spectacular architecture and art, and stunning ocean and bay views, where one can draw inspiration.  Aspiring designers can also find internships in the city to get firsthand experience in the fashion business.
The Apparel Design Program at San Francisco State University enables students to develop the basic knowledge and skills of the field, as well as the latest technology now steering the industry.
In the spring, an annual student-run fashion show is held featuring designs by graduating seniors.  It's a great opportunity for student's designs to jump off of the page, out of the classroom, and onto the runway.  The fashion show also raises money for local charities.
To learn more about the apparel design program at San Francisco State University, we talked to Nancy Rabolt, Chair of the Consumer & Family Studies Department
(This interview, done via email, has been edited for length & clarity)
FS:  To what degree is it essential or beneficial for students to have existing knowledge of fashion or design? And, which skills do you consider to be most critical for a career in fashion?
SF:  It is highly beneficial for students to have existing interest and experience within the field that they can build on within our program. It is very important to have a background in fashion and design for success in the industry.
The basic skills of oral and written communication, combined with an understanding and usage of the elements and principles of design are important for a fashion career. Critical thinking, professionalism, and an understanding of the global apparel industry is mandatory. 
FS:  What core classes that are not directly related to fashion, are required of students?  How important are business and writing courses?
SF:  All students are required to take macro and micro economics, general psychology, color and design, and a drawing course.  Our fashion merchandising program requires marketing.  Many students receive a minor in marketing by taking just a few more classes. It is an important companion to the fashion merchandising program.   All students take a writing in the curriculum course. Writing skills are paramount for professionalism and clear communication within one's career. 
FS:  How has technology changed the fashion business and how does your program address these demands academically?
SF:  Technology certainly has shortened the timeline from runway to the retail floor and is evident in all aspects of the industry. Our program integrates new knowledge of textiles and apparel in the world market. Student usage of technology in the development of their online portfolios allows them to quickly share their skills and talents with potential employers. .
FS:  Are internships a requirement? What other hands-on opportunities are there for your students?
SF:  Experience is a requirement to enter the program. All students also have a field experience requirement in their senior year.  There are many opportunities in the San Francisco fashion scene for our students to engage in often found through our student organization. Designs created to meet a class requirement are incorporated into runway shows promoted and merchandised by our students.
FS:  What advantages do students have studying in San Francisco?
SF:  Students benefit from the established relationships our faculty have with the local design, manufacturing, and retail industry.  San Francisco is a hub of creative energy and enterprise. The city offers many opportunities for field experiences within the manufacturing, design, merchandising, and promotional aspects of the garment industry. With zero waste as a goal by 2020, the San Francisco Bay area is promoting and funding ideas of reuse and redesign, and looking for leadership within the garment industry.
FS:  What advice would you give to aspiring fashionistas?
SF:  Network, take advantage of opportunities to get involved.  Set your goals high, ask questions.
Check out more interviews at the Fashion-Schools.org Fashion School Interview Series.