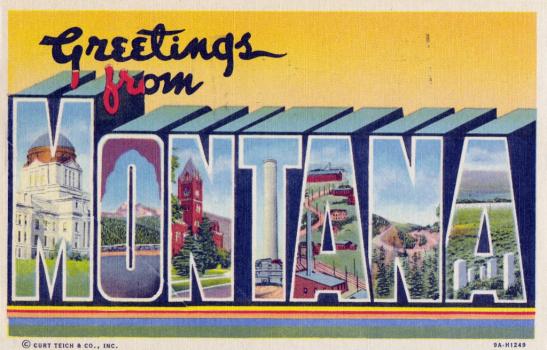 Overview
The unique Montana landscapes are a great source of inspiration when it comes to creating art or all kinds. Jewelry designers and painters tend to do well here, as well as other types of artists such as writers and even clothing designers. The states designers and artists typically sell their creations at local markets, shops, and boutiques.
Malls are fairly popular here too, so if you start to miss your beloved name brand fashions, you don't have to travel too far to find them. In Missoula, stop by Southgate Mall where you'll find 10,000 brands and 100-plus shops. Head to Rimrock Mall in Billings, where you'll find more than 80 shops from Abercrombie & Fitch to Wet Seal. 
If you decide that Montana has more to offer fashion designers and fashion merchandisers than you thought, you can get started on a career by enrolling in a fashion training program. Fortunately, Montana is home to several schools that offer programs in fashion design and fashion merchandising.
Career Opportunities & Employers in Montana:
To make it as a fashion designer in Montana, you must flexible. You can find work as an assistant or in textiles, production, or retail until you get your big break. Believe it or not, this is a great way to earn a steady paycheck and make contacts in the industry while gaining valuable experience. Just a few of the jobs available to fashion designers are textile artist, hand weaver, knit stylist, fabric technician, piece goods buyer, sample maker, and grader. You can find jobs in principle cities such as Billings—the state's largest city, Missoula, Great Falls, Bozeman, Butte-Silver Bow, and Helena.
Fashion merchandisers may have more job opportunities thanks to Montana's retail industry. Fashion merchandiser's work as visual merchandisers, buyers, managers, sales representatives, merchandisers, display directors, fashion show coordinators, personal shoppers, and fashion directors. Fashion merchandising jobs can be found in retail shops in both large and small cities in Montana as well as corporate offices across the state.
Montana Fashion Schools & Programs:
Most employers prefer a two- or four-year degree from an accredited college, whether you're planning a career in apparel manufacturing, merchandising, or design. Fortunately, the National Association of Schools of Art and Design accredits approximately 300 postsecondary institutions with programs in art and design. These schools typically award degrees in both fashion design and fashion merchandising. Montana's top schools for fashion designers and fashion merchandisers are the University of Montana in Missoula and Montana State University in Billings.
Whether you plan to work for a major brand or design studio or start your own business, the path to success starts with enrolling in a fashion design or fashion merchandising degree program. Future business owners should consider combining a fashion design or fashion merchandising degree with a business or marketing degree. If this sounds like a heavy load, you can always wait until you have completed your fashion degree to enroll in a full-time business or marketing degree program.
For more information about the fashion design and fashion merchandising industries, visit the Bureau of Labor Statistics at Bls.gov.
Employment and Salary Trends for Montana:
Montana fashion designers work in apparel design, textile design, technical production, and pattern making. While the Bureau of Labor Statistics had not reported employment and salary figures for Montana fashion designers or merchandisers anywhere in the U.S., overall employment in the fashion industry is expected to grow by one percent for the 2008-2018 decade. Sewing and cutting jobs may decline as more and more designers and brands choose manufacturing companies overseas. However, employment of fashion designers is stable because many firms prefer to keep design work in house.
As of May 2008, the mean annual wage for fashion designers nationwide was $61,160. The lowest paid fashion designers earned an average annual salary of $32,150 and the highest paid fashion designers earned $124,780 per year. Because many fashion designers are self-employed, salaries may vary greatly. It's not unusual for a top fashion designer to earn millions per year.
Bureau of Labor Statistics Data
| | Number of jobs | Mean hourly pay | Mean annual pay | Job Outlook |
| --- | --- | --- | --- | --- |
| Fashion Job | | | | |