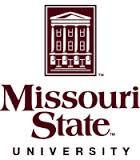 Missouri State University's Fashion Program is relatively new.  It took off about 12 years ago and has flourished, with a rapidly growing number of students, faculty with real fashion-world experience, technology and coursework to match the demands of the 21st Century, and an annual Fashion Show that attracts about one thousand spectators.
Unlike most fashion programs in the U.S., the Fashion Department at Missouri State University, is housed in the Business School.  This gives aspiring designers a leg up in the Fashion Industry, preparing them to not only create fashion, but also learn the necessary skills to manage the business side of design work.
Missouri State University offers a 3 and 4-year fashion degree.
To learn more, we talked to Missouri State University's Fashion Department head Ron Coulter, along with Assistant Professors Jenifer Roberts and Sandra Bailey
(This email interview has been edited for clarity).
FS:  Please begin with a brief overview of the Fashion Design and Merchandising program at Missouri State.
MSU:  Over the past 12 years, the Fashion Program at Missouri State University has been transformed from a purely manufacturing focus to a core base product development focus.  In 2002 enrollment in the program consisted of only 12 design students and 60 merchandising students.  Faculty who possessed professional industry experience were hired and the entire curriculum was evaluated and upgraded.    New courses were designed, and exciting class projects were developed, to parallel the knowledge base graduates would need to be successful in entry level executive positions after graduation.  Today the program has grown to nearly 300 students.  Each student secures an internship in their area of interest before graduation.  The program offers students study abroad programs, as well as domestic and overseas study tours.  The program provides students with training on the most up-to date industry equipment (TC2 Body Scanner, Direct Garment Printer, and Industrial Embroidery Machines) and the most current software (U4ia, Photoshop and Illustrator).  Students are also actively involved in competitions at the Fashion Group International (FGI) Career Days, community outreach programs, and the Spring Missouri State University Annual Fashion Show.  The Fashion show is regularly attended by over 1000 individuals and provides over $10,000 annually for Fashion Department student scholarships.  
FS:  What should an aspiring fashion designer look for in a bachelor's degree program?  
MSU:  Fashion design students need to be grounded in fashion theory and well-rounded in both design and merchandising upon graduation.  While a few students will go on to be Couture designers, most will become successful designers in the mass merchant industry.  A fashion design/merchandising student should look for a program with faculty who have diverse backgrounds and experience.  The fashion industry cannot be solely taught from what is written in a textbook, so professors with personal knowledge and fashion industry experience are vital to the success of any program.  The MSU program is housed within the College of Business and is currently the only fashion program (to our knowledge) located in a College of Business.  The Missouri State University College of Business has nearly 5000 students and is accredited by the AACSB.  Less than five percent of all university college of business programs have our accreditation level.  This is an important consideration for a variety of reasons.  As students make their way into executive positions they are prepared not only in fashion design, but also to understand all business operations.  The ability to understand what makes a business successful is obtained by taking a variety of business courses.  Our design students understand cost control, budgeting and how to maintain profit margins.  Our program provides our students with an overall background in fashion design and business operations.
FS:  Are internships or study abroad programs required or encouraged?
MSU:  Missouri State University students have the opportunity to study abroad in Paris, Italy, and England.  While study abroad is not required, it is strongly encouraged.  All Fashion majors are required to complete an internship during the summer between their junior and senior years.  They must complete a minimum of 280 hours to begin an internship, and if the student has a double option program (design and merchandising) they are required to complete two internships, one in each area of study.  The College of Business provides a variety of Study Away Program options for students, and internships are readily available.
FS:  To what degree is it essential or beneficial for students to have existing knowledge of fashion or design?
MSU:  Most students entering the Fashion program have an interest in current fashion.  They regularly read magazines, watch TV shows, and are influenced by what is going on within the industry.  Most of the knowledge they possess is still in the infancy stage when they start as freshmen, so nurturing and keeping the spark alive is an important role of the faculty and staff in our fashion program.  That initial interest manifests itself in a strong desire for additional learning and a curiosity about the history and foundations of the industry.   Those basics are followed with the development of hands-on experiences, and using lectures and labs to polish skills and ideas.  Those skills are also refined through interpersonal skill development to understand those already working in the fashion industry.  Students not only learn trade skills, they know how to present themselves to others in a professional manner.
FS:  Which skills do you consider to be most critical for a career in fashion?
MSU:  Beyond a creative interest in fashion, students will need to employ a variety of other skills to have a successful career in the field.  They include skills in math, computers, communication, planning and organizing.  Those skills must be intertwined with a strong personal commitment to put in additional hours beyond those required in both the formal classroom and laboratory experiences.  With a strong commitment to their program of study, our students graduate with more than just the required tangible skills needed to be successful in the fashion industry.  They have the drive and business savvy to give themselves a differential advantage over others competing for success in the marketplace.
FS:  What are the common career paths for graduates of your program?
MSU:  Depending upon their individual fashion focus (design and/or merchandising), and their chosen business classes, students have a variety of career paths to select from.   They commonly will go into Product Development, Sourcing, Buying, Inventory Design/Control, Event Coordinating, Executive Level Retail Management and also Public Relations.  As previously stated, being located in the College of Business provides our graduates with additional career opportunities.
FS:   Where do you see the strongest demand in the job market now?
MSU:  Currently, the strongest demand for fashion majors is Mass Merchants.  Companies like Target, Wal-Mart, JC Penney, Wrangler (jean division Rock n Republic), and import fashion houses in New York appear to be providing the most opportunities.  Retailers always try to identify ways to make their fashion lines different from their competitors in an effort to attract and keep new consumers.  Fashion designs for specific target market customers allow them to more successful.  Different retailers offer different fashion designs for their customers based upon the market segments (demographics, sociographics, etc.) they are serving.  Mass merchandisers have adjusted their fashion efforts to serve new customers as the economy has struggled to recover.
FS:  Do you think there is an overall increasing or decreasing need for people in the fashion industry?  
MSU:  Clothing is a basic need, yet fashion allows individuals to view clothing as something they want and desire.   The need for clothing will always remain, but the fashion industry provides unique product offerings and opportunities that retailers can leverage to their advantage.  As such, the fashion industry will continue to need individuals to design and create those items.  The demand may be somewhat cyclical as the need may flatten and in other years the need may increase, but overall the industry has generally remained constant.  Economic influences will always continue to have effects on various segments of the fashion industry.
FS:  What would students in your program cite as the "best" parts of the fashion program at Missouri State?  
MSU:  Many graduating students contact their professors after securing their first position and thank them for providing them with the career skills they needed.  Many have been able to jump into positions after graduation ahead of others with the same degree, because they are confident not only in their technical skills but also in their interpersonal skills.  Their hands-on experiences, personal projects, and assignments are real-world simulations.   They realize they have been given an advantage when competing with others new to the industry.
Students in our program often talk about the personal touch they received while in our program.  They received the knowledge required to be successful, but they also found caring faculty members who helped them develop as individuals.  Missouri State University has a Public Affairs Mission, based upon the pillars of Ethical Leadership, Community Involvement, and Cultural Competence.  When they graduate they are ready to be productive in the real world.