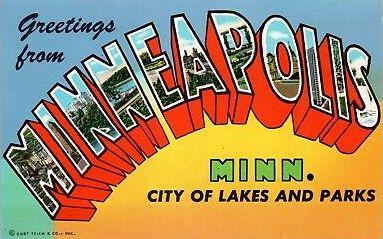 The Minneapolis Fashion Scene
Minneapolis is the most fashion forward city in the state of Minnesota. It's home to the state's largest fashion week event, the state's largest population of salaried fashion designers, and most of the state's art and design schools. Minnesota is home to hundreds of shopping venues, but Minneapolis has the state's largest collection of upscale and funky boutiques, big name retail stores, and high-end retailers. Popular shopping micas include the Warehouse District, Nicollet Mall, Calhoun Square, Galleria, Mall of America, Gaviidae Common, Uptown, St. Anthony, Linden Hills, and downtown Minneapolis.
Aspiring fashion designers and fashion merchandisers have plenty of opportunities here thanks to an energetic and growing retail scene, but they can also find work in textiles. The city and the surrounding area are home to dozens of textile producers, and the Minneapolis Institute of Art has one of the nations largest textile collections. With more than 8,000 objects, spanning 15 centuries and representing more than 70 countries, this collection is a must see for all aspiring fashion designers and fashion merchandisers.
Career Opportunities & Employers in Minnesota:
Minneapolis fashion designers work in textiles, apparel design, technical design, technical production, pattern making, and administration sales (textiles). It's possible to find employment anywhere in the city, but try downtown Minneapolis and the major shopping venues listed above first for the best variety of opportunities. Fashion merchandisers work mostly in retail. They can find opportunities in retail sales, buying, visual merchandising, personal shopping, and promotions in the city and surrounding suburbs.
Minnesota Fashion Schools & Programs:
The state of Minnesota is home to 117 colleges and universities. More than a dozen are located in Minneapolis and many are art and design schools. The University of Minnesota College of Design-Minneapolis offers a Bachelor of Science in Apparel Design, a Bachelor of Science in Retail Merchandising, and a minor in retail merchandising. University of Minnesota also offers graduate degrees with an emphasis in apparel.
St Catherine University is a private school in St Paul with a robust fashion program that offers BA & BS degrees in both design and merchandising. St. Catherine has been ranked in our top fashion programs in the US.
Minneapolis is also home to several community colleges that offer fashion programs. The most popular option is Minneapolis Community & Technical College. This 2-year college offers a diploma and a certificate in apparel technology.
Minneapolis is only 10 miles from St. Paul. Several colleges here offer fashion programs. The University of Minnesota-St. Paul and on the the cities largest school's is also popular choices.
Employment and Salary Trends for Minnesota:
Minnesota is home to 100 salaried fashion designers. Most of them-around 90, live in Minneapolis. The city is also home to possibly hundreds of self-employed fashion designers working as freelance designers for hire, boutique owners, or they may manage their own lines. Salaried Minneapolis fashion designers earn an average of $57,870, while self-employed designers can earn the average or more. Nationwide, fashion designers average around $61,160. The lowest paid fashion designers average $32,150, and the highest paid salaried designers average $124,780 per year.
The Bureau of Labor Statistics has not reported salary and employment for fashion merchandisers. It is possible that the field is too broad to determine these figures. Creating and maintaining window and store displays is a significant part of the job, so figures for merchandise displayers will give you an idea of where Minneapolis fashion merchandisers stand. There are 1,650 merchandise displayers living in Minnesota. Around 1,220 live and work in Minneapolis.
Employment in the fashion industry overall is expected to grow by one percent for the 2008-2018 decade. Sewing and cutting jobs may decline as more designers and brands choose manufacturing companies overseas. However, employment of fashion designers is stable because many firms prefer to keep design work in house.
For more information about the fashion design and fashion merchandising industry, visit the Bureau of Labor Statistics at bls.gov.
Bureau of Labor Statistics Data
| | Number of jobs | Mean hourly pay | Mean annual pay | Job Outlook |
| --- | --- | --- | --- | --- |
| Fashion Job | | | | |