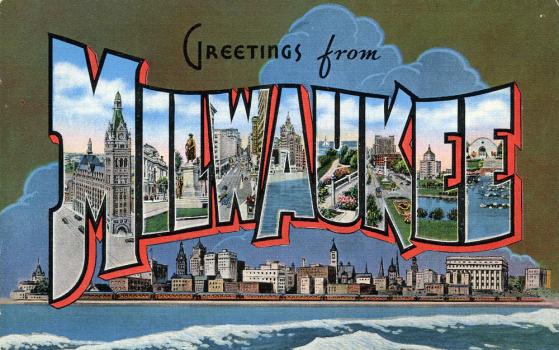 The Milwaukee Fashion Scene
Milwaukee is the second most fashionable city in the Midwest and the most fashionable city in the state of Wisconsin. Other large cities in Wisconsin—Madison and Green Bay are all too happy to mimic what they see in Milwaukee because the city's fashionistas have a style all their own. They don't follow fashion trends—they create their own instead. Take a stroll around one of the city's shopping districts and you'll see people clad in vintage threads, mixed patterns, and outfits that could have only been put together by a truly creative mind. 
Milwaukee fashionistas find materials to create these works of art at the city's numerous vintage stores, boutiques, hip retail stores, malls, and department stores located throughout the metropolitan area. They shop in places like the Historic Third Ward, Brady Street, and Brookfield's Brookfield Square as well as a number of  malls and freestanding shops in the surrounding metropolitan area.
Fashion is high on the priority list in Milwaukee and this is good news for aspiring fashion designers and fashion merchandisers. This interest helps keep the fashion industry here stable, with plenty of opportunities to work in retail sales, buying, merchandising or auxiliary positions in the retail sector. Fashion designers interested in working in textile design, technical production, apparel design, or pattern making have plenty of opportunities as well at the many design houses, production facilities, and studios in the city and surrounding areas.
Several fashion weeks help attract outside attention from designers, stylists, big name retail chains, and many others in the industry. Wisconsin Fashion Week and Milwaukee Fashion Week also offer the opportunity to rub elbows with both established and emerging designers. If you're good at what you do, you may even have the opportunity to show. Fashion merchandisers have a place at Fashion Week too. Merchandisers hold positions such as coordinator, stylist, promoter, and visual merchandiser.
To become a fashion designer or fashion merchandiser in Milwaukee, you'll need of talent and training. Fortunately, Milwaukee is home to several schools that offer fashion training programs. Mount Mary College and Milwaukee Area Technical College are top choices. 
Career Opportunities & Employers in Wisconsin:
Milwaukee fashion designers can find work in technical production, textile design for product development, apparel design, pattern making, sample making, grading, handweaving, embroidery design, retail, and sales. Many fashion designers also teach, so Milwaukee's academic institutions and design centers are an excellent source of jobs for aspiring instructors. Fashion merchandisers work in product development, production, marketing, sales, visual merchandising, special events, management, and more. Fashion Merchandisers can find work at any of the thousands of shops, design studios, department stores, and popular retailers around the city and surrounding areas. 
Wisconsin Fashion Schools & Programs:
Wisconsin is home to 77 colleges and universities. Some are art and design schools, while others are traditional colleges that offer art and design programs. The variety of schools in Milwaukee make it easy for aspiring fashion designers and fashion merchandisers to find just the right program. Some art and design schools have been accredited by the National Association of Schools of Art and Design (NASAD), while others have been accredited by agencies such as the Accrediting Commission of Career Schools or the Colleges and the American Academy of Liberal Education. Visit the U.S. Department of Education at Ed.gov for a complete list of accrediting agencies.
As mentioned, Mount Mary College and Milwaukee Area Technical College are two top choices for aspiring designers and merchandisers. The fashion program at Mount Mary College is rated as one of the top program sin the country. The Fashion Department offers two majors including Apparel Product Development and Merchandise Management. Fashion design students can take concentrations in technical or creative design, and the program also requires completion of four computer programs used in the fashion industry—Adobe Illustrator, Adobe Photoshop, Lectra U4ia, and Gerber Accumark.
Milwaukee Area Technical College offers a certificate program, which focuses on fashion marketing, design, and business management. The Fashion Specialist Certificate requires completion of courses such as apparel marketing, visual merchandising, textiles, event management, and more.
Another school worth looking into is the Art Institute of Wisconsin. The Milwaukee location offers a Bachelor of Arts in Fashion Marketing. The program prepares students for a career as a buyer, stylist, merchandiser, special events coordinator, visual merchandiser, and positions in management and sales promotion.
Employment and Salary Trends for Wisconsin:
The state of Wisconsin is home to around 130 salaried fashion designers and hundreds of self-employed designers. Employment and salary figures for Milwaukee fashion designers have not been reported by the Bureau of Labor Statistics, but based on the population (more than 600,000) and the number of retail venues, production facilities, and design shops in the city, it's safe to assume that most of the state's fashion designers live and work in Milwaukee.
Salaried Wisconsin fashion designers average $73,190—one of the highest salaries for fashion designers in the nation. Self-employed designers can earn six to seven figures per year. Nationwide, fashion designers average around $61,160. The lowest paid fashion designers average $32,150, and the highest paid salaried designers average $124,780 per year.
Employment of fashion designers across the nation is expected to grow by one percent between 2008 and 2018. Sewing and cutting jobs may decline as more designers and brands choose manufacturing companies overseas. However, employment of fashion designers is stable because many firms prefer to keep design work in house.
The Bureau of Labor Statistics has not reported employment and salary figures for fashion merchandisers either, but a significant part of the job involves working with window and store displays. There are 1,200 merchandise displayers in Wisconsin. More than half live in Milwaukee.
For more information about the fashion design and fashion merchandising industry, visit the Bureau of Labor Statistics at bls.gov.
Bureau of Labor Statistics Data
| | Number of jobs | Mean hourly pay | Mean annual pay | Job Outlook |
| --- | --- | --- | --- | --- |
| Fashion Job | | | | |