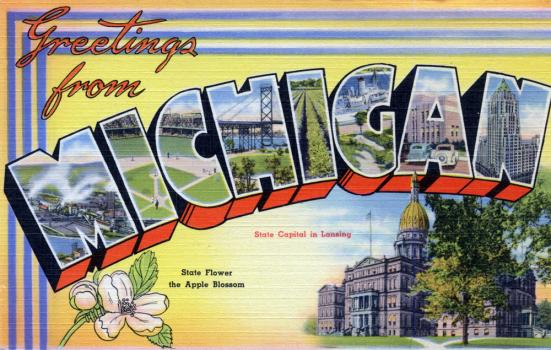 Overview
Michigan has several things going for it when it comes to fashion: Detroit, the nations 10th largest city, the festive Michigan Fashion Expo, and dozens of unique shopping districts in just about every city, suburb or town. Visit any city or town in Michigan you'll find a mix of styles from casual to trendy, but for a night out on the town, the look is always chic and sophisticated. 
Detroit is the state's largest city with a number of shopping districts from bustling Bricktown to top-rated Trapper's Alley. You'll find high-end boutiques here as well as popular retail stores selling fashions from hip to preppy to professional. Other Michigan cities offer opportunities for both fashion designers and fashion merchandisers as well, but compete with other designers and merchandisers, you'll need talent, experience, and the right education. Fortunately, Michigan is home to several schools that offer fashion design and fashion merchandising programs. These programs can help you develop the technical and creative skills needed to make it in fashion design whether you decide to start a career in Michigan, Chicago, or New York.
Career Opportunities & Employers in Michigan:
The list of fashion design careers is endless. Besides fashion designer, design graduates may find work in Michigan as a textile artist, weaver, print designer, fabric technician, assistant designer, or sample maker. They may also work as consultants or create their own line. Michigan fashion merchandisers may find work in product development, production, marketing, and sales. Many fashion merchandisers also work in visual merchandising for retail stores or fashion houses. To find employment in Michigan, head to one of Detroit's numerous shopping districts or other principle cities' garment, textile, or shopping districts. Downtown areas are also ripe for the picking.
Michigan Fashion Schools & Programs:
Most employers in the fashion design industry prefer a two- or four-year degree from an accredited school. Fortunately, the National Association of Schools of Art and Design accredits approximately 300 postsecondary institutions with programs in art and design and some are located in the state of Michigan. These schools typically award degrees in both fashion design and fashion merchandising, and other related areas.
Western Michigan University in Kalamazoo offers a Textile and Apparel Studies Fashion Design emphasis program that allows students to study at the Fashion Institute of Technology (FIT) in New York City or the American continental University in London during their junior and senior year. Other Michigan schools that offer fashion design and fashion merchandising programs are:
Central Michigan University, Mount Pleasant
Michigan State University, East Lansing
Eastern Michigan University, Ypsilanti
To begin training for a career in fashion design or fashion merchandising, enroll in a fashion design, apparel design, fashion merchandising or apparel design & textiles degree program. If you are interested running your retail shop or design studio, consider combining your fashion design or fashion merchandising degree with a business or marketing degree. Keep in mind that most universities offer marketing and business degrees, while most art and design schools do not. You can take business courses at another school while completing your fashion program or you can wait until you have completed your degree to enroll in a full-time business or marketing degree program.
For more information about the fashion design and fashion merchandising industries, visit the Bureau of Labor Statistics at Bls.gov.
Employment and Salary Trends for Michigan:
Most Michigan fashion designers and fashion merchandisers live in Detroit, but they can also be found in other principle cities such as Lansing, Warren, and Grand Rapids. Michigan fashion designers work in design, consulting, apparel manufacturing, and other related professions. They earned an average of $51,240 in 2009, up from $49,650 in 2006.
As of May 2008, the mean annual wage for fashion designers nationwide was $61,160. The lowest paid fashion designers earned an average annual salary of $32,150 and the highest paid fashion designers earned $124,780 per year. Because many fashion designers are self-employed, salaries may vary greatly. A top fashion designer can earn several million dollars a year.
Employment and salary figures for fashion merchandisers have not been reported by the Bureau of Labor Statistics, but a significant part of the job involves working with window and store displays. There are more than 1,530 merchandise displayers living in Michigan today, up from 1,390 in 2006.
Overall, employment in the fashion industry is expected to grow by one percent for the 2008-2018 decade. Sewing and cutting jobs may decline as more and more designers and brands choose manufacturing companies overseas. However, employment of fashion designers is stable because many firms prefer to keep design work in house.
Bureau of Labor Statistics Data
| | Number of jobs | Mean hourly pay | Mean annual pay | Job Outlook |
| --- | --- | --- | --- | --- |
| Fashion Job | | | | |