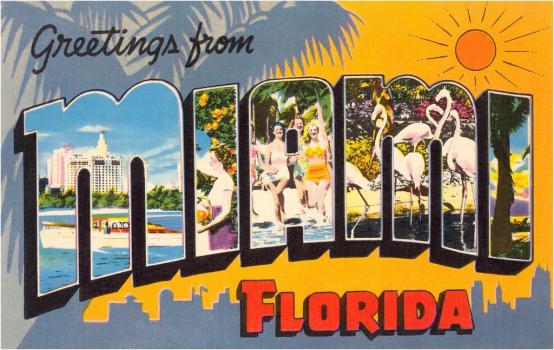 The Miami Fashion Scene
Miami is the second largest city in Florida and it's one of the fashion capitals of the world.
At number 13 on the list of Fashion Capitals of the World, Miami earned a spot on the list based largely on the city's dominance in the swimwear industry. Besides being a fashion capital, Miami Beach was home to the late Gianni Versace—one of the most famous fashion designers in the world. Miami is now the new home of Project Runway Latin America and the famous Miami Fashion Week (MFW).
Miami is home to one of the largest collections of upscale shopping venues in the U.S. The top area for upscale shopping is Miracle Mile—home to 170 upscale shops. Other major shopping venues include The Falls, Dolphin Mall, Lincoln Road, CocoWalk, Aventura Mall, and Bayside Marketplace. Prada, Bloomingdale's, Saks Fifth Avenue, and Neiman Marcus are just a few upscale retailers you'll find in Miami's bustling shopping areas.
While Miami's retail industry offers plenty of employment opportunities for fashion designers and fashion merchandisers, it also offers access to several schools that have fashion training programs. Keiser University and the Miami International University of Art & Design are two popular options.
Career Opportunities & Employers in Schools & Colleges:
Miami fashion designers work in apparel design, technical design, technical production, pattern making, administration sales, and even retail sales and buying. Fashion merchandisers also work in retail, mostly, as well as promotions, buying, and visual merchandising. Employment opportunities can be found in department stores, retail shops, textile manufacturing facilities, production studios, design studios, and corporate offices across in Miami, Miami Beach, and surrounding areas such as Coral Gables and Kendall.
Schools & Colleges Fashion Schools & Programs:
The state of Florida is home to 207 colleges and universities—more than double the national average of 88. The schools here are a mix of traditional universities, technical schools, and art and design schools. In Miami, Miami International University of Art & Design, Keiser University, and Johnson and Wales University are top choices for aspiring fashion designers and fashion merchandisers. Miami International University of Art & Design offers Bachelor of Arts in Fashion Design and Bachelor of Arts in Fashion Merchandising. Keiser University offers an Associate of Science in Fashion Design & Merchandising, and the Department of Business at Johnson and Wales University offers a major in Fashion Merchandising and Retail Marketing.
Employment and Salary Trends for Schools & Colleges:
The state of Florida is home to 310 salaried fashion designers. Around 150 live and work in the Miami metropolitan area. Miami area fashion designers average around $67,920 per year. Nationwide, fashion designers average around $61,160. The lowest paid fashion designers average $32,150, and the highest paid salaried designers average $124,780 per year.
Figures for fashion merchandisers have not been reported either, but a significant part of the job involves creating window displays and managing the overall look and feel of stores. Nearly 2,500 merchandise displayers work in the state of Florida. More than 800 live in the Miami metropolitan area.
Employment in the fashion industry overall is expected to grow by one percent for the
2008-2018 decade. Sewing and cutting jobs may decline as more designers and brands choose manufacturing companies overseas. However, employment of fashion designers is stable because many firms prefer to keep design work in house.
For more information about the fashion design and fashion merchandising industry, visit the Bureau of Labor Statistics at bls.gov.
Bureau of Labor Statistics Data
| | Number of jobs | Mean hourly pay | Mean annual pay | Job Outlook |
| --- | --- | --- | --- | --- |
| Fashion Job | | | | |