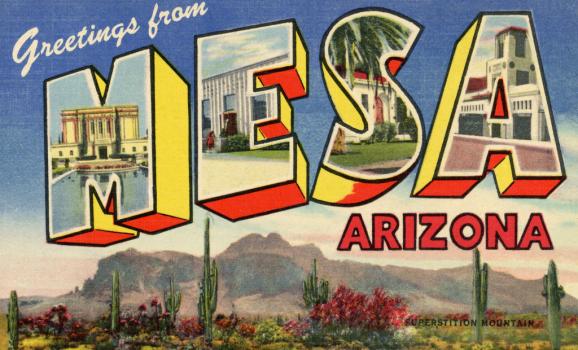 The Mesa Fashion Scene
Mesa is the third largest city in Arizona, after Phoenix (number one) and Tucson (number two), but it still has an active fashion scene and a large population of fashionistas. After all, Mesa is only 19 miles from Phoenix—the fashion center of Arizona. While Mesa residents may frequent Phoenix for fashion finds, they can also find fashions by talented local designers along Main Street, Dobson Road, Southern Avenue, and University Drive, to name a few. 
In addition to shopping venues and access to major fashion events such as Phoenix Fashion Week and Scottsdale Fashion Week, aspiring fashion designers and fashion merchandisers have a number of fashion programs to choose from. Scottsdale, Phoenix, and Tempe are all less than 20 miles from Mesa, so students have the option to study at colleges such as Collins College in Phoenix, the Fashion Institute of Design & Merchandising in Tempe, or Mesa Community College.
Career Opportunities & Employers in Schools & Colleges:
Mesa fashion designers typically work in apparel design, technical design, technical production, pattern making, administration sales, and retail. Fashion merchandisers work mainly in retail, but promotions, buying, and visual merchandising are also options. Employment opportunities can be found in department stores, retail shops, textile manufacturing facilities, production studios, design studios, and corporate offices. While it is possible to find employment anywhere in the city, try downtown Mesa and the major shopping streets listed above first.
Schools & Colleges Fashion Schools & Programs:
The state of Arizona is home to 78 colleges and universities. This is slightly less than the national average of 88. The schools here are a mix of traditional colleges and universities, community colleges, technical schools, and art and design schools. In Mesa, the best fashion programs are offered at Mesa Community College (MCC). MCC offers an Associate in Applied Science in Fashion Merchandising, Fashion Design, or Fashion Retailing. Students may also earn a certificate in image consulting, theatre costume design, retail sales management, or alterations. No other school in the city offers fashion tours of Las Vegas's MAGIC Market Show, New York, the Dallas Market Show, England, or France. 
Other nearby colleges that offer fashion programs include:
Employment and Salary Trends for Schools & Colleges:
As of July 2011, the Bureau of Labor Statistics had not reported employment or salary figures for Mesa fashion designers. Based on the number of retail venues, fashion events, and production facilities here, it's safe to assume that Mesa is home to a sizable population of salaried and self-employed fashion designers.
Figures for fashion merchandisers have not been reported either, but a significant part of the job involves creating window displays and managing the overall look and feel of stores. There are nearly 2,000 merchandise displayers in the state of Arizona. More than 1,300 live in the Phoenix-Mesa-Scottsdale metropolitan area.
Nationwide, fashion designers average around $61,160. The lowest paid fashion designers average $32,150, and the highest paid salaried designers average $124,780 per year. Employment in the fashion industry overall is expected to grow by one percent for the 2008-2018 decade. Sewing and cutting jobs may decline as more designers and brands choose manufacturing companies overseas. However, employment of fashion designers is stable because many firms prefer to keep design work in house.
For more information about the fashion design and fashion merchandising industry, visit the Bureau of Labor Statistics at bls.gov.
Bureau of Labor Statistics Data
| | Number of jobs | Mean hourly pay | Mean annual pay | Job Outlook |
| --- | --- | --- | --- | --- |
| Fashion Job | | | | |