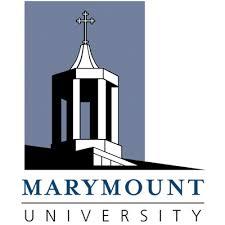 Janice Ellinwood has been the Chair of Marymount's Fashion Design Department for more than 25 years.  In that time, the industry has changed considerably.  While students will learn the essential skills that will always be part of a designer's core, including sewing and pattern making, understanding the shift to overseas production, and the role of the Internet on the industry, are also part of the ever-changing curriculum at the school.
Internships are a requirement for design majors.  Most students will head up to New York, but students can opt to study abroad in Italy, London and even Saudi Arabia.
One of the highlights of the program is a fashion show where senior's can display their designs.  Thousands attend the annual The Portfolio in Motion show.  Each year the show honors a fashion designer who has achieved excellence in the field.  Recent honorees have included Carolina Herrera and Michael Kors.  Jhane Barnes will receive the Marymount Designer of the Year award at the 2014 show.
To learn more, we talked with Janice Ellinwood, Department Chair of the Fashion Design and Merchandising program at Marymount University
(This interview, done via email, has been edited for length & clarity)
FS:  Please give us the highlights of your Fashion Degree Program:
MU:  Marymount provides a BA degree in fashion design and a BA degree in fashion merchandising.  The fashion design program begins with art courses and basic sewing and continues quickly into industry concerns, such as mass production and equating the quality standards of clothing with pricing, identifying the differences between the product obtained at a store like Wal Mart by comparison to a store like Neiman Marcus. The student follows a sequence of courses in pattern making, another in illustration, and another that provides an overview of the fashion industry, the history of costume, textile design and product development, simultaneously.  The sequence of courses in illustration and technical drawing is more extensive than in other universities. The program culminates with senior courses that challenge the student to design more difficult, creative design problems, a senior collection, an internship and a portfolio for entry into the industry. Their clothing is featured in an annual fashion show that attracts industry and honors a "Designer of the Year", who reviews their portfolios. Designers have included Michael Kors, Carolina Herrera, and Oscar de la Renta.
The fashion merchandising program merges the attributes of the clothing product with business/marketing considerations, in order to prepare students for careers in the buying, selling, promotion and distribution of fashion. They ultimately choose between career avenues such as visual merchandising, public relations and fashion events, writing and media, buying, management, product development and importing and exporting. There is a defined sequence of courses in public relations and fashion show production and in buying, but the highlights of the curriculum include courses in fashion writing and media, product development and international retailing and apparel production. The program culminates in an internship and a seminar in which students are asked to "solve" contemporary industry problems related to the retailing, manufacturing, reporting and publication sectors. The fashion merchandising students hold the coordinator and specialist roles in running the annual fashion show, Portfolio in Motion, which attracts about 2000 attendees annually.
FS:  What would students cite as the best part of your program?
MU:  Without exception, both fashion design and fashion merchandising students would say that our annual fashion show, Portfolio in Motion, is the highlight of the school year and the culmination of the curriculum.  All fashion design students may submit garments for jurying into the show, but the senior work is highlighted. The fashion merchandising students produce the show, in the most sophisticated modes of staging and set, sound, lighting, choreography and publicity.  Paired with that experience is the both exciting and terrifying experience of having a renown international designer review the senior portfolio and discuss the fashions featured in the show.
Other highlights include study abroad opportunities in London, Paris and Florence; internships that take form in NYC, LA or other US fashion centers or overseas; opportunities to work behind the scenes on fashion shows and galas in the Washington DC area via Marymount's Fashion Club; special projects related to Washington DC, whether designing for manufacturers in countries that require economic reinforcement, presenting work in the area's prestigious retail stores or in national and regional publications, online or in print. Students get an authentic experience in product development by working in relation to retail stores, manufacturers and other segments of the industry. Marymount fashion design students have also won or placed in national and international competitions from which they net funding and publicity, such as The Art of Fashion, Lord & Taylor, The Fashion Group International, Dupont, the Underfashions Club, Air France and Harlequin.
FS:  Tell us more about your annual fashion show and other opportunities for students to show off their designs.
MU:  Marymount University's prestigious annual fashion show, Portfolio in Motion, occurs annually at the close of the spring semester. It is staged three times and attracts a total of about 2000 attendees, including industry representatives. Marymount honors an internationally renown "Designer of the Year", who reviews the fashion design seniors' portfolios and discusses the show. Past Designer honorees include Tommy HIlfiger, Diane Von Furstenberg and Tadashi Shoji, among others. The seniors' collections are featured, but sophomores and juniors also submit designs to jurying sessions run by faculty. Fashion merchandising students direct the production of the show and gain technical expertise.
Marymount's student designs have been featured in area stores, like Lord & Taylor and Neiman Marcus, as well as publications like USA TODAY.
FS: Are internships a requirement?
MU:  Yes.  Students are required to do internships after they have senior standing. They are required to do the equivalent of two courses in course credit and time investment. They can participate in internships in any US or overseas location, as long as it is approved by the department. Many students do their internships in NYC, but students have also done them in LA, San Francisco, and Miami, as well as London, Italy, Saudi Arabia, etc.
Fashion design students generally assist apparel manufacturing businesses. Some prefer to work in a theater costume setting. Fashion merchandising students assist in buying, management, visual merchandising and public relations. They have worked for retailers, manufacturers, trade and consumer fashion magazines, in museums under costume curators and even at the US Department of Commerce.
FS:  What is different in the fashion world now than say 20 or even 10 years ago, and how are you preparing students to face these demands?
MU:  Industry has changed in relation to communications, technology and production. More often than not, fashion merchandise is produced overseas, which demands that fashion design students know how to do technical drawings with specs (specifications), which are measurements of garments in an exact and reliable manner.  That is because contractors generally communicate about the designs in a visual way, rather than using direct conversation. Marymount responds to this need in their more extensive drawing and illustration sequence of courses and in teaching related skills beginning at the sophomore level.
Contracting overseas demands knowledge of the legislation by which countries operate international trade and the problems of employing individuals in other countries. Marymount provides a course called "Fashion in the Global Marketplace", which provides an overview of these issues, and there is an opportunity to intern at the US Department of Commerce.
Today many designs are hatched as a result of a team effort,with both fashion design and merchandising executives working in collaboration. There is extensive research of the consumer market and upcoming trends. Students simulate this process in the course Product Development, which is a requirement in both programs.The problem they tackle is posed in relation to real consumer needs, in an unusual product category, or in relation to stores, manufacturers, corporations and trade associations.
The use of the internet has caused dynamic changes in communications. Social media has become a part of marketing and publicity. Communications with publications, online or not, occur by email. Fashion writing occurs in print, in airtime and online. Marymount provides a range of related experience, in courses like Fashion Research and Communication, The Fashion Industry and Its Promotion, Fashion Show Production, Senior Seminar.
Technology is often part of the design and promotion process. Marymount requires fashion design students to take the course Digital Presentation in Fashion and stocks the computer lab with design software and as well as pattern making and textile design software. Fashion merchandising students have the opportunity to promote fashion through website building and online catalogues. 
It is important to note that students still benefit from the skills that have always been important--drawing and draping in fashion design; writing and mathematics in fashion merchandising.
FS:  What are the common paths for graduates in your program? Where do you see the strongest demand in the job market now?
MU:  Marymount's fashion design students often move to fashion centers, like NYC, to obtain jobs with apparel manufacturers. There are jobs, although the field is somewhat competitive, which means that the best candidate will have been committed to their academic preparation and able to demonstrate the mastery of good skills. Alternatively, they move into product development, where potential employment is also available at the central office of retail chains. Those who prefer not to move to fashion centers often go into theater costume, because their skills are stronger than those of undergraduate students who study theater.
Marymount's fashion merchandising students find the broadest opportunity in public relations and fashion events. There is related employment, in stores, manufacturing companies, professional agencies, in proximity to major US cities, not just fashion centers. However, many choose the field in a fashion center. There is also entry into the field through management and visual merchandising. Those opportunities are also not restricted to fashion centers. Moving up the latter, or finding an opportunity in buying or product development, may mean moving to a retailer group's central office location, which may or may not be in a fashion center. Students often choose marketing positions for fashion companies, reporting services or in marketing agencies.
FS:  Tell us about your career placement services.
MU:  Marymount has a Center for Career Services, which is readily available for guidance on the lobbying and selection of jobs and internships.  Opportunities also come via the suggestion of faculty or interaction with alums. Students who work in the area on fashion events through Fashion Club often network into job opportunities. Several companies, including large, departmentalized specialty stores, like Nordstrom and Lord & Taylor, come to campus to recruit. Marymount is a small university that specializes in personal service.  Students are able to gain the guidance of their professors as they travel along their unique career path.