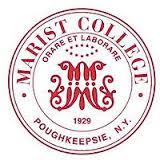 The Mission of the Fashion Program at Marist College is designed to prepare students to keep pace with the ever-changing needs of the fashion industry.  Students develop creative, technical, and business skills required for successful employment in design, manufacturing, retailing, and more.  The Fashion Program incorporates the latest technology, including computer-aided design. Internships are encouraged, as is a semester abroad in international fashion capitals like Paris and Florence.  With the Big Apple just 80 miles south of the Poughkeepsie campus, students may also opt to study at "Marist in Manhattan".  Seniors have the opportunity to display their designs in the school's annual Silver Needle Fashion Show, juried by an international team of fashion industry stars.  Assisting the student designers in the show over the decades...fashion icons including Kenneth Cole, Marc Jacobs and Michael Kors.
To learn more about the program, we talked to the Director of the Marist College Fashion Program, Radley Cramer.  
 (This Q&A via email has been edited for length & clarity).
FS:  Let's start with some highlights of your program
MC:  Highlights of Marist Fashion include the careful balance of classic liberal arts education blended with a thorough training in fashion design, product development and fashion merchandising.  We offer degrees that focus on fashion design or merchandising, with minors ranging from fashion merchandising to business to product development.  Our internship program is one of the best in the country, with industry partners from New York to California. And, our study abroad program is world-class -- options include a first year program at our Florence, Italy campus, study-abroad semesters in London, Florence, Paris and Hong Kong, and, on the domestic front, a Marist in Manhattan semester that is internship-driven.  Our students are prepared as global citizens, innovative thinkers, and made ready to enter the fast-paced fashion industry.
FS:  To what degree is it essential or beneficial for students to have existing knowledge of fashion or design?  And, which skills do you consider to be most critical for a career in fashion?
MC:  We don't require any existing knowledge of fashion, but most of our incoming students arrive with a self-driven study of the topic, and some have taken high school fashion courses or attended our own Pre-College Summer Institute in design or merchandising.  Our design majors may never have sewn, but they have likely done sketching or art courses on their own.  Our merchandising may not have taken a fashion course, but they seem to often have an innate understanding of business concepts that relate to fashion.  We stress the importance of true passion for fashion, an enthusiasm to know the topic inside and out, and, perhaps most of all, a real creative spirit and sense of innovation.  The field of fashion has winners that know how to create new ideas and concepts first, be proactive in business, and put a fresh spin on existing concepts.  
FS:  How has technology changed the fashion business and how does your program address these demands academically?
MC:  Technology continues to revolutionize the fashion industry.  We work closely with an advisory board of fashion professionals to keep our curriculum up to speed, and actively work with working professionals to teach our students current technology.  We fully address CAD (Computer Assisted Design), PDM (Product Data Management), and very new topics including Open Academic Environments, retail analytics, and 3D design and printing.  Marist College is one of the leading US campuses for technology, and works closely with IBM as an educational partner.
FS:  How important are internships, or study abroad programs?
MC:  Fashion today is global, competitive and skill-demanding.  Without internships, it is hard for a fashion graduate to get a job.  About 99% of our students do at least one internship during the four years, with a large number doing multiple internships, sometimes as many as four during the four years in our program.  We have a remarkable internship coordinator who works with our large network of industry contacts and closely monitors the student experience during an internship.  In turn, the student intern regularly reports and journals about the experience to make it a fully rewarding educational experience.  We assist students with contacts within the industry who are part of our network and in-line with the students' interest.  Essentially, the student's resume is being built while the student is getting both a fashion and liberal arts education. We also offer a very popular Marist in Manhattan semester which offers an intensive internship with on-line course study, and Manhattan housing.
Study abroad options are also high important.  Marist College has one of the top-rated international study programs in the country.  Students may explore a vast array of topics in dozen of countries.  For fashion-specific studies, we offer semester or year-long programs at our branch campus in Florence, Italy, as well as semesters in Paris, London (with internship), and, as a new offering, Hong Kong.  We also offer short term program attachments that travel to various sites in Europe, South America and Asia.  The opportunities to understand fashion from a global perspective are extraordinary at Marist.
FS:  Describe how your annual fashion show fits into a student's degree
MC: The Marist Silver Needle Runway Show is a major, professional-level production.  The show is seen as an acknowledgement and public forum to present excellence in student work.  Work that is created during the previous semester or year is juried by a team of faculty and industry professionals.  Students present their work to the jury, just as they would in a fashion company.  The best work is then featured on the runway.  Our event is attended by about 2,000 guests during two shows.  Silver Needle Awards, juried during show day by a team of industry guests from the US and Europe, are presented at the second show for Outstanding Garment, Outstanding Design Portfolio, and Outstanding Senior Collection.  Our merchandising graduates are also awarded a Silver Needle Award for outstanding capstone project.  The capstone in merchandising is an industry challenge given to student from a major American or European fashion company.  Merchandising students make presentations to their challengers and the faculty one week prior to the Silver Needle show, and the winning project is also announced at our show.
FS:  Tell us about your Fashion Club and its importance
MC:  Our club is called Fashion, Inc. and is one of the most popular student clubs on our campus.  This club is influential in several ways.  Community service is an important goal at Marist, and Fashion, Inc. frequently does community-based projects that include fashion, such as creating or working for charity-based fashion shows, collecting donated items for charity, and other such activities.  Beneficiaries have included the American Heart Association, Miles of Hope breast cancer foundation, March of Dimes, Grace Smith House for victims of domestic abuse, and many others.  Fashion, Inc. has also worked to bring special guest speakers to campus from the fashion industry.  And, of course, like all college clubs, Fashion, Inc. is an important social outlet for students interested in fashion.
FS:  What are the common career paths for graduates of your program?
MC:  Our graduates pursue a variety of opportunities as vast as the fashion industry itself.  To name a few paths -- fashion designer, product developer, trend forecaster, buyer, planner or allocator, promotion, advertising, journalism, fashion show production, e-commerce, retailing, options within the beauty industry, visual merchandising, etc.  The list goes on and on.  Of course, all graduates begin at first-level positions then progress to upper levels as their careers progress.  A fairly large number, after a few years in the industry, exercise their entrepreneurial skills and open their own companies such as designer labels, beauty companies, retail or on-line businesses, and others.
FS:  What do you think the future of fashion holds?
MC:  As always, fashion belongs, and will continue to belong, to the innovators.  That's why I believe Marist is such a good option for the student interested in fashion.  First and foremost, all education is about thinking!  Here students are prepared by studying the classic liberal arts.  It is not "all fashion, all the time."  Students take courses in math, literature, history, philosophy, science, ethics, etc.  Those timeless topics lead students to an understanding of the world in which they will live and work.  Without an understanding of society and place in the world, a designer or merchandiser is limited in world view.  Add to that liberal arts education, a thorough and in-depth education in fashion, and students benefit from a special combination of preparation.  They also gain a great sense of community, both on the campus, on-line and throughout our many offerings of study-abroad sites throughout the world.  At Marist, students build their intellect, world-view, and fashion industry resume and network that will continue to benefit them for a very long time to come.
Check out more interviews at the Fashion-Schools.org Fashion School Interview Series.