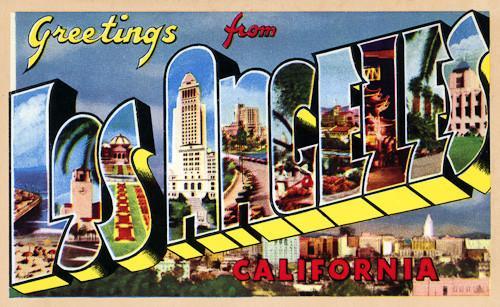 The Los Angeles Fashion Scene
Los Angeles is a fashion capital. Depending on the publication, it falls somewhere between number one and five on the list of the world's fashion capitals. It shares the title with other fashion forward cities such as New York, Hong Kong, London, Paris, and Milan. It's easy to understand why. This multi-million dollar global fashion center is off the charts, with every major fashion designer in the world represented throughout the hundreds of shops, department stores, and design studios across the city.
Shopping venues are not something you have to seek out here—they're everywhere. From Beverly Hills to the LA Fashion District in downtown LA, you can't drive a block without bumping into a boutique or other unique retail venue. In Beverly Hills, you'll find Gucci, Prada, Dolce & Gabbana, Louis Vuitton, Chanel, Bulgari, Bottega Veneta, Saks Fifth Avenue, Neiman Marcus and more. Head to downtown LA to the most popular shopping area in LA Fashion District—Santee Alley. The more than 1.5 million visitors each year flock to the area to shop until they drop at 150 stores and vendors that sell apparel, accessories, gifts, fragrances, and more. 
In addition to shopping venues galore, famous designers, and one of the most fashionable populations in the world, Los Angeles is home to dozens of elaborate fashion events. LA is home to one of the world's largest fashion weeks as well as the famous Victoria Secret Fashion Show and VS model auditions. LA is also home to a number of world-class fashion training programs for aspiring fashion designers and fashion merchandisers. These highly competitive programs are offered at Fashion Institute of Design & Merchandising (FIDM), California State University, and other prestigious schools.
Career Opportunities & Employers in Schools & Colleges:
Los Angeles has one of the largest apparel production industries in the world. Fashion designers can find work in technical production, textile design for product development, apparel design, pattern making, sample making, grading, handweaving, embroidery design, retail, and sales. Many fashion designers also teach, so Los Angeles's academic institutions and design centers are excellent sources of jobs for aspiring instructors. Fashion merchandisers can find work at any of the thousands of shops, design studios, department stores, and popular retailers across the city. They work in product development, production, marketing, sales, visual merchandising, and more.
Schools & Colleges Fashion Schools & Programs:
California is home to a whopping 436 colleges and universities. This is nearly five times as many as the national average of 88. Many are art and design schools, while others are traditional colleges that offer some of the nations best art and design programs. A large number of these schools are located in Los Angeles. The number of art and design schools or programs in Los Angeles makes it easy for aspiring fashion designers and fashion merchandisers to find the right program to help them meet specific goals.
Some art and design schools have been accredited by the National Association of Schools of Art and Design (NASAD), while others have been accredited by agencies such as the Accrediting Commission of Career Schools or the Colleges and the American Academy of Liberal Education. Visit the U.S. Department of Education at Ed.gov for a full list of accrediting agencies.
Some of the city's top fashion design and fashion merchandising programs are offered at:
The Fashion Institute of Design & Merchandising offers more fashion programs than any other school. Students may major in fashion design, advanced fashion design, apparel industry management, fashion knitwear design, film & TV costume design, footwear design, international manufacturing & product development, jewelry design, merchandise marketing, merchandise product development, textile design, and theater costume design. In addition to Los Angeles, FIDM has campuses in San Francisco, Orange County, and San Diego.
Employment and Salary Trends for Schools & Colleges:
The state of California is home to nearly 4,000 fashion designers. More than 3,000 live in Los Angeles. Employment of fashion designers across the nation is expected to grow by 1 percent between 2008 and 2018. Salaried LA fashion designers earn an average of $74,180 per year. Self-employed designers can earn six to seven figures per year. Nationwide, fashion designers average around $61,160. The lowest paid fashion designers average $32,150, and the highest paid salaried designers average $124,780 per year.
The Bureau of Labor Statistics does not report employment or salary figures for fashion merchandisers. However, a significant part of the job involves creating window displays and managing the overall look and feel of stores. There are 8,900 merchandise displayers in the state of California. More than 4,000 live in Los Angeles.
For more information about the fashion design and fashion merchandising industry, visit the Bureau of Labor Statistics at bls.gov.
Bureau of Labor Statistics Data
| | Number of jobs | Mean hourly pay | Mean annual pay | Job Outlook |
| --- | --- | --- | --- | --- |
| Fashion Job | | | | |