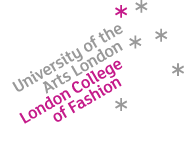 As a part of our Interview Series we wanted to showcase varied types of positions available for fashion-forward individuals. Adam Watling is one of those fashion-industry players with a slightly less-traditional role. Adam is a fashion-oriented administrator in the London fashion scene; he is the Graduate Employment Officer at the famed London College of Fashion. This century-old fashion school continuously churns out successful design grads by employing top fashion professionals and drawing A-list guest lecturers like Jimmy Choo, Tom Ford and Donatella Versace. LCF claims many fashion elite as alumni, including Jimmy Choo, Jane Brown, Beatrix Ong and Malcolm Hall.
Adam's role, and the uniquely perfect qualifier for this series, is working closely with final-year fashion students and alumni—advising them on employment trends, career options and making them more overall employable.
Adam has been involved in several different employment-oriented projects that help aspiring designers, including the London College of Fashion's First Move Programme: a project designed to help LCF students get their foot in the door of the fashion industry. Via this new platform students and alumni have closer interaction with fashion employers as it offers them employment development and more paid opportunities.
Always one to help aspiring fashionistas Adam gladly participated in our Interview Series, and offered his professional advice to fashion job seekers:
What inspired you to get into the fashion industry?
My journey into fashion was a more fortuitous one than most. I have worked in recruitment and resourcing for much of my career however an opportunity arose at London College of Fashion to share my employment expertise with students and graduates looking to pursue a career in fashion.  However, since working in a fashion environment for the last four years and dealing with so many talented and creative individuals on a daily basis, I have learnt much about the industry , not to mention being by the people and projects I have worked on.
What is your focus within the industry?
My focus is to help educate and inform LCF students and graduates about the professional skills they need to develop in order to give themselves the best chance of securing work in the fashion industry. By exploring how to improve CV's, portfolios, self promotion skills and other key employment focuses my role is to make sure LCF are producing fashion industry ready alumni. I work regularly with contacts from a wide range of fashion focuses who also come in to the college and share their knowledge and experiences with the students in order to provide valuable insight and understanding to our students.
What type of education did it take to get you where you are today?
Ironically, even though I work for a University, I never actually took on higher education myself. I decided to leave college and work from the age of 19, however my employment experience and the journey I have taken through the world of recruitment and working both in the private and public sectors allows me to give a varied view on the transition from education to full time employment. Naturally having worked in this role for the last 4 years I now also have established a confident understanding of the challenges facing fashion graduates moving into full-time work, and the obstacles they need to overcome to be a success.
How has your career path progressed over the years?
My career started in an administrative, customer service role when I was 19, working in a call centre. Unlike the students and graduates that I worked with on a daily basis, I didn't know what I wanted to do, so I really just went for work that would teach me key professional skills that I could transfer into various other lines of work as my career progressed. I eventually worked with a friend who recommended me for recruitment and I absolutely loved the role. Naturally I like dealing with people and building good working relationships, so a career in recruitment was great for me. It also meant that I could work in many different sectors, from HR to banking recruitment and now fashion; the skills I have developed in resourcing roles can be carried over into a multitude of focuses. However for me I have been happiest in fashion and working to provide students with support they can use to kick start their own careers.

Your school places a heavy focus on sustainability and eco-friendly design, what is your favorite part of working in the eco-fashion/design business?
At LCF we have a strong focus on Sustainable fashion and many of our students are tuned in to this particular approach to design. It is rewarding to work with young individuals who are going to be the future of our fashion industry and to know that our College is leading the way in educating the next generation on the importance of eco fashion. I think this is extremely important and is great to see this developing on a daily basis.

What advice would you give to aspiring fashionistas?
My advice would be to balance your creative abilities with a professional skill set. Being the best young designer in the world is fantastic but if you don't have the networking and self-promotion skills to bring key contacts into the belief that they should work with you or employ you, then you could be costing yourself  opportunities.  I would also recommend getting as much hands-on experience and internships during studies; it is important to prove that you have relevant work experience as well as a degree. This will also help clarify exactly what area of fashion you are suited to.
Do you think there is an overall increasing or decreasing need for people in the fashion industry?
There is always a need for people in the industry, it is such a huge part of the British economy, however fashion is competitive. There are many fashion graduates coming out of Higher Education each year, all competing for fewer roles. Most recruitment budgets for large fashion employers are either being cut back or frozen all together, so when an entry level position does arise companies are becoming more and more particular about how they are employing. This means graduates need to prove they have more than just a degree. Placements and work experience during education is so important, if an employer can see that you have practised your abilities and not only in school, but also in a working environment then it is easier for them to justify bringing you in for an interview and moving you a step closer to full time employment.
Which roles in the fashion industry do you think will offer the best career opportunities moving forward? eg. designer, PR, entrepreneur, etc.?
It very much depends on the individual and how committed they are to their chosen path way. Any of the areas mentioned in the question can lead to fantastic careers however like anything in life, you need to believe in what you are doing and work extremely hard to achieve it. Proving your worth through work experience and networking is a good way of demonstrating that you have the right attitude to succeed. Strengthening your knowledge about the fashion industry and current trends also shows off your awareness of the bigger picture and adds value to your profile.
In terms of young fashion graduate development, which designer(s) or brand(s) do you relate to the most or feel are offering the best opportunities?
It's a difficult one to answer as I have mentioned that my journey is not a traditional fashion journey however from a fashion resourcing and graduate support point of view there are a number of brands who I think are doing a lot to encourage new talent development and this is inspiring for our students as well as myself. The likes of ASOS and Pentland group have a particular desire to encourage and nurture fashion talent as are many high street retailers. However I do feel that the luxury sector of fashion could be doing more for young fashion professionals.
Do you think today's jobs in the fashion industry require more of an artist's touch or business-like ruthlessness?
No doubt at all that it is a mixture of both. You can't get by on just a degree and creativity. You need to demonstrate you are business savvy. Whilst the fashion industry clearly wouldn't be what it is without creativity and flair, it is still a money-generating, customer-driven market. If you can't design for a specific customer or don't have in your mind who you are designing for then your collection won't sell. If that's the case then probably more work needs to be done on developing those all important business skills.

Which skills do you consider to be most critical for a career in fashion?
Trend awareness, customer focus, business skills, creativity, drive, hard work and an ability to self-promote and network. I could go on but these I feel transfer into any fashion role.
What do you think the future of fashion and design holds?
There are endless possibilities to what fashion and design holds; eco-fashion is hopefully going to be an ongoing source of inspiration for young designers, and it's important this remains a focus for many reasons.
Ultimately it's about how many young designers get the opportunity to work in a design environment after they graduate and develop their skills. Fashion design will suffer across the board if employers don't start trying to move away from the unpaid graduate intern attitude that still sadly exists in many areas of the fashion industry. Without investing in new talent straight out of university then many exceptional designers will sadly lose motivation and drift away from the industry, this can only be a bad thing for fashion design in this country and internationally. I hope more is done in the near future to tackle this ongoing issue and if it is, then the possibilities for fashion and design are endless.
Check out more interviews at The Fashion-Schools.org Interview Series.