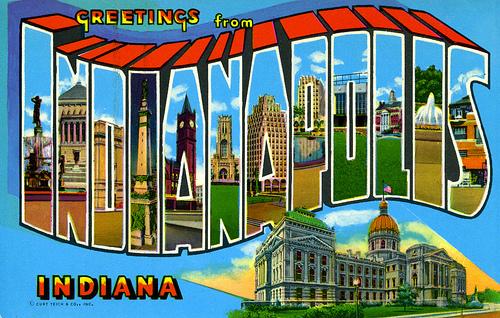 The Indianapolis Fashion Scene
Indianapolis's fashion scene is growing and it shows no signs of slowing down. Over the last several years, designers, stylists, photographers, dealers, and make-up artists have come out of the woodwork, opening shops and promoting services all over the city. Vintage and local shops have popped up in areas such as Fountain Square, and fashion groups have formed all over. The Indianapolis Fashion Collective and the Fashion Arts Society are two local organizations that help promote Indianapolis's fashion. The Indianapolis Museum of Art (IMA) also sponsors one of the country's most unique fashion events—Project IMA: Fashion Unbound. The event does not use professional models. Instead it features women of all shapes and sizes. 
Indianapolis is also the birthplace of Midwest Fashion Week (MFW). MFW has been a part of the city's fashion scene for over five years. Its main goal is to showcase local designers. Besides a growing fashion scene, Indianapolis has a lot to offer when it comes to shopping venues. High-end department stores are plentiful here, as well as independent boutiques, vintage shops, and unique thrift stores.
The state of Indiana is home to a number of fashion design and fashion merchandising programs. Many are offered at traditional colleges. Indianapolis is one of the few cities that has an art and design school that offers fashion programs. The Art Institute of Indianapolis offers several programs that can lead to a career in fashion design or fashion merchandising.
Career Opportunities & Employers in Indiana:
Indianapolis fashion designers typically work in apparel design, technical design, technical production, pattern making, administration sales, and retail. Fashion merchandisers work in areas such as retail, promotions, buying, and visual merchandising. Employment opportunities can be found in department stores, retail shops, textile manufacturing facilities, production studios, design studios, and corporate offices. While it is possible to find employment anywhere in the city, try Downtown Indianapolis first. The area is home to more than 200 popular retail shops. 
Indiana Fashion Schools & Programs:
The state of Indiana is home to 106 colleges and universities. This is slightly higher than the national average of 88. The schools here are a mix of traditional universities, technical schools, and art and design schools. The most popular school for aspiring fashion designers and fashion merchandisers is the The Art Institute of Indianapolis. It offers a Bachelor of Science in Fashion Design and Fashion & Retail Management. If you're interested in a shorter program, the school's Certificate in Fashion Retailing program is a good option. 
Employment and Salary Trends for Indiana:
As of July 2011, the Bureau of Labor Statistics had not reported employment or salary figures for Indianapolis fashion designers. Based on the number of retail venues, fashion events, and production facilities here, it's safe to assume that Indianapolis is home to a sizable population of salaried and self-employed fashion designers. Employment of fashion designers across the nation is expected to grow by 1 percent between 2008 and 2018. Indiana fashion designers average $54,160 per year. Nationwide, fashion designers average around $61,160. The lowest paid fashion designers average $32,150, and the highest paid salaried designers average $124,780 per year.
Figures for fashion merchandisers have not been reported either, but a significant part of the job involves creating window displays and managing the overall look and feel of stores. There are 900 merchandise displayers in the state of Indiana. Nearly 500 live in Indianapolis.
For more information about the fashion design and fashion merchandising industry, visit the Bureau of Labor Statistics at bls.gov.
Bureau of Labor Statistics Data
| | Number of jobs | Mean hourly pay | Mean annual pay | Job Outlook |
| --- | --- | --- | --- | --- |
| Fashion Job | | | | |