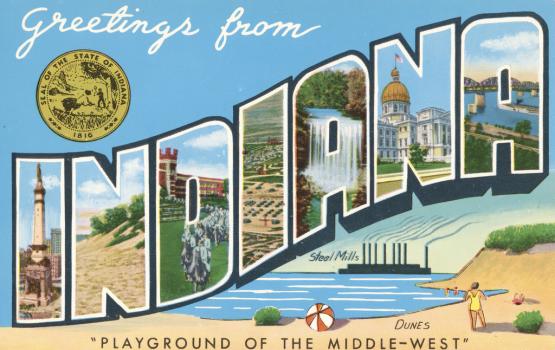 Overview
Indiana is home to a handful of fashion designers, hundreds of visual merchandisers, andthousands of shopping venues. Indiana's largest city, Indianapolis, is the birthplace of Midwest Fashion Week (MFW). MFW has been a part of Indiana's fashion scene for over five years. Its main goal is to showcase local designers.
Across the state, you'll discover hundreds of malls from Glenbrook Square in Fort Wayne to Washington Square in Indianapolis. High-end department stores are plentiful here, as well as independent boutiques, vintage shops, and unique thrift stores. Indiana is also home to a number of schools that offer fashion design and fashion merchandising programs. Many are in Indianapolis, while others are located in cities such as Bloomington and Muncie. These programs can help you develop the technical and creative skills needed to make it in the fashion industry, whether you decide to start a career in Indiana, Chicago, Dallas, or New York.
Career Opportunities & Employers in Indiana:
Most Indiana fashion designers and fashion merchandisers live in Indianapolis, but they can also be found in other principle cities such as Fort Wayne, Evansville, South Bend, and Hammond. Indiana fashion designers may work in textile design for product development, technical production, administration sales (textile industry), apparel design, and pattern making.
Fashion merchandisers may have more opportunities thanks to the high number of retail shops, department stores, and malls in the state. They may find work as buyers, visual merchandisers, store managers, account managers, display directors, or fashion show coordinators to name a few. Head to any downtown area or major shopping district to find the most opportunities.
Indiana Fashion Schools & Programs:
The National Association of Schools of Art and Design accredits approximately 300 postsecondary institutions with programs in art and design and some are located in the state of Indiana. These schools typically award degrees in fashion design, fashion merchandising, and fashion management.
Indiana University in Bloomington offers a Bachelor of Art in Fashion and Purdue University offers a Bachelor of Science in Apparel Design and Technology. The Purdue Fashion Association also presents an annual fashion show. Other Indiana schools that offer fashion design and fashion merchandising programs are:
Ball State University College of Fine Arts, Muncie
Vincennes University, Vincennes
To begin training for a career in fashion design or fashion merchandising, enroll in a fashion design, apparel design, fashion merchandising or apparel design & textiles degree program. If you are interested starting your own business or line, consider combining your fashion design or fashion merchandising degree with a business or marketing degree. Keep in mind that most art and design schools do not offer degrees in business or marketing. Consider taking business courses at another school while completing your fashion program or you can wait until you have completed your degree to enroll in a full-time business or marketing degree program.
For more information about the fashion design and fashion merchandising industries, visit the Bureau of Labor Statistics at Bls.gov.
Employment and Salary Trends for Indiana:
There are around 30 salaried fashion designers living in Indiana. These designers earn an average of $59,160 per year. This figure is much higher than 2006, when Indiana fashion designers earned an average of $41,430. As of May 2008, the mean annual wage for fashion designers nationwide was $61,160. The lowest paid fashion designers earned an average annual salary of $32,150 and the highest paid fashion designers earned $124,780 per year. Because many fashion designers are self-employed, salaries may vary greatly. A top fashion designer can earn several million dollars a year.
As of July 2011, the Bureau of Labor Statistics has not reported employment and salary figures for fashion merchandisers, but a significant part of the job involves working with window and store displays. There are more than 900 merchandise displayers living in Indiana today, up from 690 in 2006.
Overall employment in the fashion industry is expected to grow by one percent for the 2008-2018 decade. Sewing and cutting jobs may decline as more designers and brands choose manufacturing companies overseas. However, employment of fashion designers is stable because many firms prefer to keep design work in house.
Bureau of Labor Statistics Data
| | Number of jobs | Mean hourly pay | Mean annual pay | Job Outlook |
| --- | --- | --- | --- | --- |
| Fashion Job | | | | |