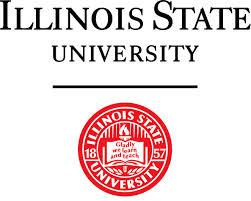 When one visualizes a Fashion Designer it is natural to picture supermodels and runways, but the reality is, most designers will actually be creating fashion for everyday wear and not a Paris runway.  
This is part of the challenge facing aspiring designers who will learn what it takes to create clothing that people will wear to work, to the gym, and even functionality for the aging population, which may not be wearing 4 inch heels and sequin gowns.
Illinois State University's Apparel Design Program encourages its students to design what the current trends demand, while also tapping into the art world and and even nature, to inspire their work.  Students have the opportunity to take study tours in the U.S and abroad, and internships are required.
For more about Illinois State University's Program, we chatted with Dr. Jennifer Banning, Assistant Professor of Apparel, Merchandising, and Design
(This interview, done via email, has been edited for length & clarity)
FS:  Please begin with an overview.  Give us some highlights of your Apparel Design program

IS:  The Apparel Merchandising and Design program at Illinois State University offers fashion-related courses to help students prepare for careers in design, fashion trend forecasting, product development, promotion, and merchandising sectors of the apparel and textile industries.
Students majoring in Apparel Design take courses in apparel construction, flat pattern, draping design, introductory and advanced textiles, fashion history, illustration, and CAD. They also have the opportunity to participate in annual student-run fashion show (students at any level in the design program may enter original designs). The program has a strong focus on industry techniques (including all work completed on industrial equipment) and sustainability practices in the industry.
Students also have the option of majoring in Apparel Merchandising, where they take
courses including promotion, merchandising planning and control, advanced merchandising, and related business courses.   
Illinois State also offers a master's program in Family and Consumer Sciences where students can pursue a concentration in Apparel Design or Apparel Merchandising.
FS:  What should an aspiring fashion designer look for in a bachelor's degree program?
IS:  Aspiring fashion designers should look for a bachelor's degree program that focuses on industry practices, offers opportunities to display work and enter competitions, emphasizes industry trends and current events and provides opportunities to add a minor in a related area (ex: art, business, etc. ). A bachelor's program should also have strong relationships and connections with industry locations for field trips, internships and job opportunities.
FS:  To what degree is it essential or beneficial for students to have existing knowledge of fashion or design?
IS:  Existing knowledge of fashion or design gives students a stronger foundation from which to start their program—but the experience can come from many places.  From reading fashion magazines, working retail, and sewing garments, to sketching sample designs, attending fashion shows and art exhibitions, the more experience someone has with fashion and design, the more they have to work from when creating their own designs as part of a fashion  program.
FS: What about retail experience?  Is that necessary?
IS:  Retail experience is valuable for understanding the business side of the industry, as well as understating the needs and demands of customers.
FS: What has changed in the Fashion Industry in the last decade or 2?   We've been hearing the word "sustainability", what role is that taking in design?
IS:  Because the fashion industry is accused of being one of the most polluting industries, making design choices that are sustainable is a growing concern in the industry.  Designers should take sustainability into consideration as a way to bring about positive changes in the industry.
FS:  How has technology changed the fashion business?
IS:  Technology changes the ways in which apparel products are designed, produced, distributed, and consumed. Technological changes experienced in the fashion business today include wearable electronics, nanotechnology, body scanning, CAD systems, multi-sensory virtual product experience, supply chain systems, global sourcing, and so on. It has drastically reduced the lead time designers need to get a design from drawing board to production to the retail store. It has also enabled world-wide production and outsourcing that has both positive and negative consequences.
Technology has also made considerable changes on the consumer side. Consumers can buy a product from a fashion company across the globe through online shopping. The Internet also allows consumers to increase their knowledge of fashion trends. Companies need to be more transparent in communicating their production processes and business practices, as consumers can access to company related information very easily and quickly.  
In regard to fashion promotion, fashion bloggers have taken the place of magazine editorials and personal technologies such as smart phones and tablet computers have changed the way retailers attract customers. Texting promotions and coupons, offering exclusive information through a personalized app, and sharing promotions through Facebook or Twitter are some of the many ways technology has influenced consumer purchases.  
FS:  Which fields do you see opportunity in career-wise for future graduates?
IS:  Career opportunities include creative fashion designer, creative fashion director, stylist, colorist, CAD designer, textile designer, fashion blogger, wholesale rep, technical designer (especially skill with fitting), and design for an aging population and those with limited mobility.
FS:  Are internships or study abroad programs a requirement?
IS:  Internships are a requirement for every student. Study abroad opportunities are offered regularly and are strongly encouraged for design majors.
FS:  What advice do you have for future fashionistas?
IS:  Read every fashion magazine/blog/publication you can get a hold of—see what people are talking about, wearing, etc.; work retail to gain an understanding of how the industry operates; build professional networks; participate in internships as early as possible, especially in design centers around the nation and world; be willing to travel; observe, photograph, and/or sketch architecture, nature, street fashion, store windows, art exhibitions, and other inspiration you see—this is the basis of new ideas for designs.
Check out more interviews at the Fashion-Schools.org Fashion School Interview Series.