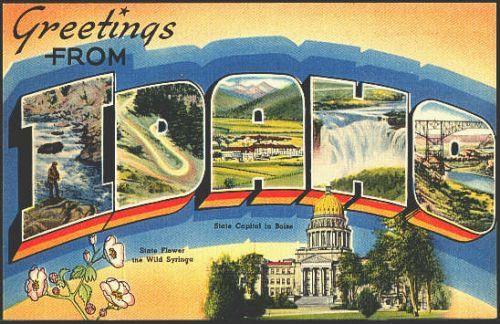 Idaho is more popular for hiking, biking, and skiing than fashion, but this is exactly what makes the state's tight-knit community of fashionistas stand out! These individuals hunt for fashions at thrift stores, consignment shops, boutiques, malls, and occasionally, department stores. At the end of the day, this fashion forward group may have its hands on anything from garish 70s garb to updated 80s gear to hip-hop influenced threads. Whatever the case, the average fashionista here knows how to make it work by pairing just the right pieces for a polished look.
Idaho is certainly a great place to develop your own sense of style and get inspired by others, but we were unable to find any schools that offered fashion design or fashion merchandising degree programs. This doesn't mean that you can't have a successful career in fashion here, it just means you'll have to train in nearby Nevada, Washington, or Oregon.
Career Opportunities & Employers in Idaho:
Idaho fashion designers and fashion merchandisers can find work in textiles, apparel design, or retail. Just a few common positions are textile artist, weaver, fabric technician, sales manager, marker maker, sample maker, store manager, buyer, event coordinator, costumer, or mystery shopper. These positions and many others shouldn't be too difficult find in principle cities such as Boise City, Nampa, Meridian, Idaho Falls, Pocatello, Caldwell, Coeur d'Alene, Twin Falls, or Lewiston.
Idaho Fashion Schools & Programs:
As stated earlier, we were unable to find any fashion design or fashion merchandising programs in Idaho. If you decide that a career in fashion is for you, find a fashion program that's right for you—no matter where you live. Some of the different types of programs available are:
Fashion Design
Fashion Merchandising
Textile and Apparel Design
Textile Studies
Fiber Studies
Retail Management
If you plan to start your own business, line or brand, consider combining your fashion design or fashion merchandising degree with a business or marketing degree. Keep in mind that most universities offer marketing and business degrees, while most art and design colleges do not. You can take business courses at another school while completing your fashion program or you can wait until you have completed your degree to enroll in a full-time business or marketing degree program.
For more information about the fashion design and fashion merchandising industries, visit the Bureau of Labor Statistics at Bls.gov.
Employment and Salary Trends for Idaho:
As of July 2011, the Bureau of Labor Statistics had not reported employment and salary figures for Idaho fashion designers or fashion merchandisers in any state. However, retail fashion merchandisers often work with window and store displays. Around 170 window merchandisers (visual merchandisers) work in Idaho today, down from 260 in 2006.
Overall employment in the fashion industry is expected to grow by one percent for the 2008-2018 decade. Sewing and cutting jobs may decline as established designers and brands choose manufacturing companies overseas. However, employment of fashion designers is stable because many firms prefer to keep design work in house.
As of May 2008, the mean annual wage for fashion designers overall was $61,160. The lowest paid fashion designers earned an average annual salary of $32,150 and the highest paid fashion designers earned $124,780 per year. Because many fashion designers are self-employed, salaries may vary greatly. It's not unusual for a top fashion designer to earn millions per year.
Bureau of Labor Statistics Data
| | Number of jobs | Mean hourly pay | Mean annual pay | Job Outlook |
| --- | --- | --- | --- | --- |
| Fashion Job | | | | |