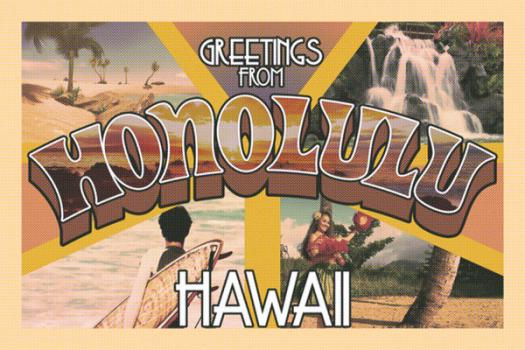 The Honolulu Fashion Scene
Honolulu is the largest Hawaiian city and one of the 50 largest cities in the U.S. It attracts more visitors each year than any other place in Hawaii, so the retail industry is thriving. In fact, the retail industry employs well over 100,000 workers, and retail sales amount to billions per year. The retail scene is so magnetic here that it has attracted upscale designers such as Chanel, Hermes, Prada, Hermes, Gucci, Hugo Boss, Coach, Kate Spade, and Louis Vuitton, to name a few. This has made Hawaii—mainly Honolulu's Waikiki area, a world-class destination for upscale retail.
Honolulu isn't only for the rich, of course. The city is home to shopping venues of all kinds from funky boutiques to big name retailers such as Aldo, Gap, Old Navy, Nine West, Lacoste, and more. In addition to a thriving retail industry, Honolulu has it's own fashion week event and several schools that offer fashion programs. University of Hawaii at Manoa and Honolulu Community College are popular options. 
Career Opportunities & Employers in Hawaii:
Honolulu fashion designers may find work in technical production, textile design, apparel design, pattern making, sample making, or administration sales (textiles). Some Honolulu fashion designers are also self-employed. They may work in their own design studios, production facilities, or boutiques. Fashion merchandisers work mostly in retail. They may work as visual merchandisers, buyers, sales associates, retail managers, stylists, and personal shoppers. Employment opportunities can be found in department stores, independent boutiques, big name retail stores, textile manufacturing facilities, production studios, design studios, and corporate offices.
Hawaii Fashion Schools & Programs:
Hawaii is home to only 20 colleges and universities. This is much lower than the national average of 88, but there are still quite a few opportunities to train in a variety of fields here, including fashion design and fashion merchandising. The University of Hawaii at Manoa offers a Bachelor of Science in Apparel Product Design and Merchandising and Honolulu Community College offers an Associate in Applied Science in Fashion Technology.
Employment and Salary Trends for Hawaii:
As of July 2011, the Bureau of Labor Statistics had not reported employment figures for Honolulu fashion designers. Based on the number of retail venues, fashion events, design studios, and production facilities here, it's safe to assume that there are hundreds of salaried and self-employed designers living in Honolulu. The Bureau has reported salaries for fashion designers. Honolulu fashion designers average $40,060 per year. Nationwide, fashion designers average around $61,160. The lowest paid fashion designers average $32,150, and the highest paid salaried designers average $124,780 per year.
Employment and salary figures for fashion merchandisers have not been reported, but a significant part of the job involves creating window displays and managing the overall look and feel of stores. More than 560 salaried merchandise displayer's work in Hawaii. Around 520 live and work in Honolulu. 
Employment in the fashion industry overall is expected to grow by one percent for the 2008-2018 decade. Sewing and cutting jobs may decline as more designers and brands choose manufacturing companies overseas. However, employment of fashion designers is stable because many firms prefer to keep design work in house.
For more information about the fashion design and fashion merchandising industry, visit the Bureau of Labor Statistics at bls.gov.
Bureau of Labor Statistics Data
| | Number of jobs | Mean hourly pay | Mean annual pay | Job Outlook |
| --- | --- | --- | --- | --- |
| Fashion Job | | | | |