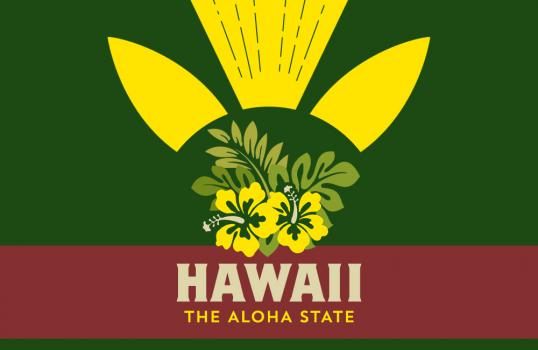 Hawaii fashion designers have it made. Not only do they live and work in one of the most beautiful places on earth, the retailers here want to see the local talent succeed. To promote local talent, Hawaii retailers of all kinds buy fashions locally and they also do whatever they can to help local talent reach far beyond the islands. In addition to a number of aspiring designers, the islands are home to a number of established fashion designers that run their own shops, factories, and sample rooms. These designers and business owners have lot to offer aspiring fashion designers and fashion merchandisers too. They can offer solid advice and direction, and they can also offer you a job until you get your big break. Just a few top local designers are Bernard Foong of Maui and Allison Izu of Honolulu.
Tourists are always surprised to discover that Hawaii's climate doesn't sway the entire population in one direction when it comes to fashion—especially in bustling Honolulu. The residents here are on top of every trend, they create their own trends, and they love to shop for all things designer. Fortunately, finding the latest and greatest fashions here is easy. Honolulu is home to so many designer shops, you'll lose count. Just a few are Hugo Boss, Coach, Kate Spade, Gucci, Louis Vuitton, Prada, and more. The independent shops here sell everything from designer jeans and expensive tees to stylish summer dresses and unique shoe creations. 
Top designers and excellent shopping venues are not the only things that make the fashion scene so great here. Hawaii is home to several fashion events including Hawaii's World Festival of Fashion and Hawaii Fashion Week.
To become a working member of the scene, you'll need talent, luck, and the right education. Fortunately, Hawaii is home to several schools that offer fashion design and fashion merchandising programs. University of Hawaii at Manoa, Honolulu and Honolulu Community College, Honolulu are two popular options.
Career Opportunities & Employers in Hawaii:
Many Hawaii fashion designers have their own lines, boutiques, factories or studios, while others may be employed in textiles, design, apparel production, manufacturing, or retail. Hawaii fashion merchandisers may work in areas such as retail, product development and production, marketing, and buying. Many also work in visual merchandising for retail stores or fashion houses. Fashion design and fashion merchandising graduates may find the most lucrative opportunities in Honolulu and possibly Pearl City, Hilo, Kailua, Waipahu, and Kaneohe.
Hawaii Fashion Schools & Programs:
Most employers prefer candidates with a degree from an accredited college. Fortunately, the National Association of Schools of Art and Design accredits approximately 300 postsecondary institutions with programs in art and design. Hawaii is home several schools that award fashion degrees. The University of Hawaii at Manoa, Honolulu offers a degree in apparel product design and merchandising, while the University of Hawaii, Kahului offers degrees in fashion design and fashion merchandising. Honolulu Community College, Honolulu offers a degree in fashion technology.
To get started on a career in fashion design or fashion merchandising, enroll in a fashion program at any of the colleges mentioned above or one that you find on your own. If you come across a school that you haven't heard of, just it's accredited by a recognized agency. Visit www.ed.gov for a list of recognized accrediting agencies.
If you want to start your own business, consider combining your fashion degree with a business or marketing degree. Most universities offer marketing and business degrees, while most art and design schools do not. If you are attending an art & design school, you may choose to take business courses at another school while completing your fashion program or you can wait until you have completed your degree to enroll in a full-time business or marketing degree program.
For more information about the fashion design and fashion merchandising industries, visit the Bureau of Labor Statistics at Bls.gov.
Employment and Salary Trends for Hawaii:
As of July 2011, the Bureau of Labor Statistics had not reported recent employment figures for Hawaii fashion designers. In 2004, Hawaii was home to around 50 salaried designers. Figures for fashion merchandisers were not unavailable as well, but a significant part of the job involves working with window and store displays. Hawaii is home to around 560 merchandise display workers, up from 320 in 2006.
Overall, employment in the fashion industry is expected to grow by one percent for the 2008-2018 decade. Sewing and cutting jobs may decline as more and more designers and brands choose manufacturing companies overseas. However, employment of fashion designers is stable because many firms prefer to keep design work in house.
As of May 2008, the mean annual wage for fashion designers nationwide was $61,160. The lowest paid fashion designers earned an average annual salary of $32,150 and the highest paid fashion designers earned $124,780 per year. Although employment figures for Hawaii fashion designers were not released, salary information was available. Hawaii fashion designers averaged $45,640 in 2009. Keep in mind that because many fashion designers are self-employed, salaries may vary greatly. A top fashion designer can earn millions per year. Just look at the careers of Christian Dior, Calvin Klein, Ralph Lauren, Gianni Versace, Valentino Garavani, Giorgio Armani, and Yves Saint Laurent.
Bureau of Labor Statistics Data
| | Number of jobs | Mean hourly pay | Mean annual pay | Job Outlook |
| --- | --- | --- | --- | --- |
| Fashion Job | | | | |