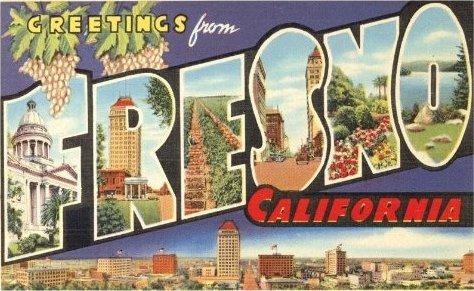 Fresno is the fifth largest city in the state of California. It's located around 192 miles from San Francisco and 219 from Los Angeles. Fresno's closest neighbors—San Jose and Bakersfield are among the top ten largest cities in California. As one of the largest cities in the state, Fresno is home to a number of art centers, academic institutions, shopping districts, and a lively fashion scene. Residents choose styles from classic to 80's chic to urban sophisticate.
The city's fashion-conscious shop at both large and small shopping venues. Fashion Fair Mall, The Shops at River Park, Fig Garden Village, and Sierra Vista Mall are local favorites. Coach, Sephora, Banana Republic, Forever21, Urban Outfitters, and Macy's are just a few stores you'll find at top Fresno malls. Fresno is also home to dozens of independent boutiques, antique stores, and even gift shops that sell creations by local artists and designers. The city's fashionistas shop here to find creations you just won't find anywhere else.
The retail and fashion scene here is great for aspiring fashion designers and fashion merchandisers because it offers a variety of job opportunities in retail as well as production and design. It also offers the opportunity to network with other designers and merchandisers, and show at the areas regular fashion events. The biggest is Fresno Fashion Week, which features fashion shows, design competitions, workshops, demonstrations, and designs by local emerging and established designers.
Career Opportunities & Employers in California:
Fresno fashion designers work in technical production, textile design for product development, apparel design, pattern making, sample making, grading, handweaving, embroidery design, sales (textiles), and retail. Fashion merchandiser's work in product development, marketing, sales, visual merchandising, and in retail environments. They can find work at any of the hundreds of independent boutiques, specialty stores, design studios, department stores, and big name retailers throughout the city and surrounding areas. They work in corporate offices as well. Just a few nearby cities include Clovis, Kerman, Mendota, Reedley, Madera, Selma, and Sanger.
California Fashion Schools & Programs:
California is home to 436 colleges and universities. This is nearly five times the national average of 88. Many are traditional colleges and universities that offer art and design programs, while others are art and design or technical schools that offer fashion programs. In Fresno, several schools offer fashion  programs. Fresno City College offers a certificate and an Associate in Applied Science in Fashion Merchandising and Fashion & Textile Studies. California State University offers a Bachelor of Science in Family and Consumer Sciences with a focus in Fashion Merchandising.
Employment and Salary Trends for California:
The state of California is home to nearly 4,000 fashion designers. As of July 2011, the Bureau of Labor Statistics had not reported employment and salary figures for Fresno fashion designers.   Based on the number of retail venues, fashion events, and design centers here, it's safe to assume that Fresno has its fair share of fashion designers.
The Bureau of Labor Statistics does not report employment or salary figures for fashion merchandisers. However, a significant part of the job involves creating window displays and managing the overall look and feel of stores. There are 8,900 merchandise displayers in the state of California. Nearly 200 live and work in Fresno.
Employment in the fashion industry overall is expected to grow by one percent for the
2008-2018 decade. Sewing and cutting jobs may decline as more designers and brands choose manufacturing companies overseas. However, employment of fashion designers is stable because many firms prefer to keep design work in house. Salaries for fashion designers look promising as well. Nationwide, fashion designers average around $61,160. The lowest paid fashion designers average $32,150, and the highest paid salaried designers average $124,780 per year.
For more information about the fashion design and fashion merchandising industry, visit the Bureau of Labor Statistics at bls.gov.
Bureau of Labor Statistics Data
| | Number of jobs | Mean hourly pay | Mean annual pay | Job Outlook |
| --- | --- | --- | --- | --- |
| Fashion Job | | | | |