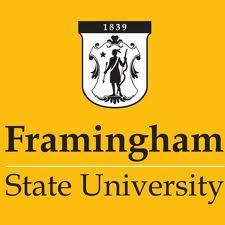 Located in suburban Boston, Framingham State University prepares aspiring designers for careers in fashion design, technical design, patternmaking, personal styling, product coordination, product development, and research and development.  FSU partners with the business community to keep both the faculty and the students on the leading edge of the ever-changing apparel design and retail industry.  The school has companies and individuals from important fashion houses nearby on its Industry Advisory Board.  They include J. Jill, Reebok and Stride Rite.
The Fashion Design program uses state-of the-art computer technology, and has small classes ensuring individual attention for students.  Students can tap into the school's Costume and Textile Resource Center right on campus as an additional learning resource. And clubs, like the Fashion club, offer students a chance to show off their designs in an annual fashion show. Other activities include guest speakers, charity campaigns, and bus trips to New York.
To learn more about the program we talked to Framingham State University Professor and Designer, Arlene Handschuch

(This interview, done via email, has been edited for length & clarity)

FS:  Please begin with an overview of your program

FSU:  The Fashion Design and Retailing Department at Framingham State University offers an in-depth curriculum and extensive coursework in both Apparel Design and Merchandising. Small class size allows for individual attention for all students.  Our faculty are highly skilled with strong educational and industry background. Extensive networking and partnering with local manufacturers insures good job placements, internships and field trips. Biannual meetings with our FDR Industry Advisor Board keeps faculty and students up to date on the latest issues and technology which are incorporated into our courses. Annual Fashion Portfolio Exhibitions showcase student designs to the fashion business community. We are in close proximity to Boston and all its museums and cultural activities. FSU has an international study office to help students who wish to participate in international fashion study abroad programs.

FS:  Can you highlight some of the special coursework Framingham State University offers to its students pursuing a degree in fashion design?FSU:
 Fashion: Designer to Consumer, Principles of Apparel Construction, Advanced Apparel Construction, Flat Pattern, Draping, Functional Clothing Design, Fashion Sketching and Design, Fashion Illustration, Apparel Industry Methods/Adobe Illustrator, Tailoring, Apparel Design Portfolio,Internship, Consumer Textiles, Fabric Structure and Design, Advanced Textiles, Research Methods for the Fashion Industry, World Market, Fashion Merchandising, History of Costume.
FS:  What core classes that are not directly related to fashion, are required of students?
FSU: Students at FSU are required to take 10 General Education Courses which include coursework in writing, history, art, statistics, social studies, lab sciences, etc.

FS:  How has technology changed the fashion business and how does your program address these demands academically?

FSU:  Adobe Illustrator and Adobe Photoshop are used extensively for the design and product development of apparel. Our students purchase these programs for their laptops and learn and use them to design apparel, fabrics, and presentation boards to showcase their designs.

FS: Tell us about your Costume and Textiles Resource Center and how it is used.

FSU:  Our Costume and Textile Resource Center houses approximately 4,000 costumes, accessories, textiles, books and periodicals.  The Costume and Textile Resource Center is a teaching/learning resource for the campus: faculty, students, staff; community at large; historical societies; and individuals.  Items in the Resource Center are used in classes to demonstrate, critique, and analyze the relationship of the artifact to social, political, artistic, and economic factors.  The focus of the Resource Center includes:
Period Costume: 19th, 20th, and 21st century.
Cultural Dress: Tourist and 20th and 21st century.
Accessories:  19th, 20th, and 21st century, hats, shoes, jewelry, stockings.
Textiles:  19th, 20th, 21st century, western and cross cultural.
Multimedia: 19th, 20th, and 21st century, periodicals, books, postcards, photographs, slides, video, patterns, historic sewing machines and fibers.
Framingham State University memorabilia:  faculty and student samples, Sesquicentennial costumes and accessories, historically significant laboratory equipment.
FS:  Which fields do you see opportunity in career-wise for future graduates?

FSU:  Performance textiles, design of specific high performance sports apparel, wearable computer apparel, product development, sustainable resources and textile sources, recycling initiatives, computer technology related to apparel design and production, patternmaking and 3-D fitting technology.

FS:  Tell us about your career placement services

FSU:  Our university has a very active and supportive Career Services Department but most important is the close relationships our faculty have with our local fashion companies and with our graduates who work at these companies. Representatives from these fashion companies, many of whom are our graduates, immediately contact us whenever a position opens up so we broadcast these jobs to our students. Our strong curriculum and course work has earned us an excellent reputation in the field of apparel design and our students and graduates are sought out by these companies for jobs and internships.

FS:  What advice would you give to aspiring fashionistas?

FSU:  Develop a strong foundation in specific skills of design, construction, pattern work, computer technology, textile properties, and fashion merchandising; and, enhance your marketability by always being aware of the newest trends and needs and how they relate to the business of designing apparel and merchandising apparel.
Check out more interviews at the Fashion-Schools.org Fashion School Interview Series.