What do Fashion Stylists do? Where do Fashion Stylists work? FS takes a look: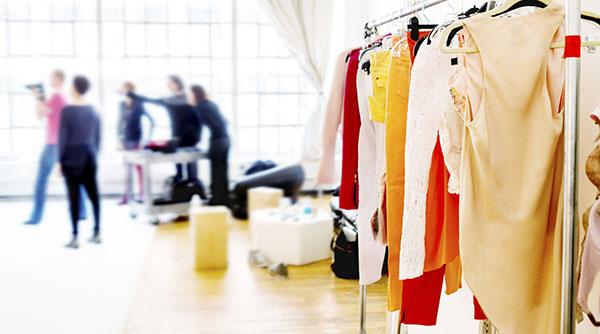 About Fashion Stylist:
The fashion stylist is what many people first think about when they think fashion jobs, and is one of the most popular emerging professions in the fashion world. It's the job title for the person who selects the clothing and accessories for musicians, movie stars, politicians and others in the public eye!
Fashion stylists play a major role in fashion photo shoots, commercials, music videos, and print advertisements. They work with photographers and directors to style the scene to their specifications. Fashion stylists may work as part of a team or solo.
 
Alternate Titles For the Role
Wardrobe Stylist
Personal Stylist
Fashion Stylist Job Description:
Fashion stylists wear many different hats.
They select props for shoots, scout out locations, fit models, locate and select accessories for shoots, and they arrange and adjust scenes when needed. Fashion stylists work for advertising agencies, designers, design studios, retail chains, boutiques, independent firms, and on a freelance basis.
Stylists also work with a number of others in the fashion world. They may advise on photographic approaches and direct the photography of some items and clothing in a shoot. And they may work with fashion designers, retailers, makeup artists and others to ensure their subject has just the right look.
At time, stylists become major influencers themselves. Whether on Instagram or other social media platforms, or writing in the fashion press, they can often kick off and further the latest fashion trend.
Becoming a Fashion Stylist:
Most fashion stylists have a degree in fashion design, fashion merchandising, fashion retailing, or fashion management. While a degree is not required for entry into this field, most employers (and potential clients) prefer formal training. Because fashion styling requires a significant amount of budgeting, organizing, communicating, and delegating, business coursework may be helpful as well.
Experience is a plus, so consider taking advantage of internship programs. You can also find work in retail, as an assistant for a designer, or at a design studio. You can even work for an established fashion stylist to learn the ropes.
Fashion Stylist Education Training & Advancement:
Many schools offer certificates, associate and bachelor's degree programs in fashion design & related fields that will help jump-start one's career as a fashion stylist. These programs expose students to practical opportunities in order to get started in the fashion industry, and give a solid foundation on which to begin a career. Some fashion schools will over specific lines of study for aspiring stylists.
As important as formal education is gaining experience in the fashion industry and keeping up with the latest trends. Fashion stylists need to be on the bleeding edge of fashion trends and culture. Ensuring you're following the right influences, reading the right blogs, attending shows is absolutely key to ensuring you're speaking the right language.
Finally, be prepared to market yourself. Always have a good portfolio of ideas and styles to present. Get your ideas out there, and live the styles you want to create.
Fashion Stylist Jobs & Careers:
There are dozens, if not hundreds, of different stylist jobs within the fashion industry. And there's a good chance there are opportunities wherever you live. Generally, stylist work falls into the following areas:
Editorial styling - Working with media publications typically on photoshoots and layouts.
Video/Commercial Styling - Styling models and actresses for commercials, video clips, training videos, etc
Television/Wardrobe Styling - Similar to commercial styling, but focused on TV & movie production
Show styling - Working on events, shows and public speaking events, ensuring participants have the right look
Live performance - Involves styling musicians, and other performers
Celebrity/Personal styling
Retail/Merchandise styling - working on in store displays and windows
Prop & set styling - Involves finding props and other material in photoshoots
Fashion Stylist Salaries:
Experienced fashion stylists earn some of the top salaries in the industry. Starting out, however, they may work 10+ hours a day for as little as $100-$200 a day. Experienced stylists can earn anywhere from $500 up to $5,000 a day. The most experienced and well-known fashion stylists can earn a staggering $100,000 or more for a single project.
Job Trends for Fashion Stylist:
Fashion stylists that work with fashion designers can expect a 1 percent increase in employment for the 2008-2018 decade. Fashion stylists working in advertising can expect a 13 percent increase employment growth. To increase your chances of breaking into the industry, stick to fashion capitals such as New York, Los Angeles, Las Vegas, and Miami. Other great cities for fashion are Houston, Dallas, Atlanta, and San Francisco.
Interested in getting your start overseas? Then head to Milan, Paris, Rome, London, Hong Kong, Dubai, Tokyo, Barcelona, or Rio de Janeiro.