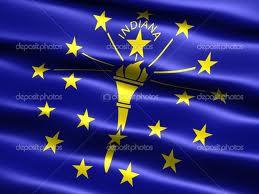 Indiana is home to more than 6.5 million residents and the nation's 13th largest state—Indianapolis. Indiana has four other cities with a population over 100,000, but Indianapolis still leads the way in the area of art and culture, entertainment, and fashion. The city of just under 835,000 is home to the renowned Indianapolis Museum of Modern Art, The Indianapolis Civic Theater (one of the top ten largest community theaters in the U.S.), Murat Theater at Old National Center, Warren Performing Arts Center, and it is the birthplace of Midwest Fashion Week (MFW).

Across The Hoosier State, you'll discover hundreds of bustling malls from Glenbrook Square in Fort Wayne to Washington Square in Indianapolis. High-end department stores can be found in just about any major city (and many smaller ones), as well as independent boutiques, unique thrift stores, specialty shops, and more. Indiana is also home to a number of schools that offer top-rated fashion programs.

While many of these top schools are located in Indianapolis, several can be found in smaller cities such as Terre Haute, West Lafayette, and Vincennes. They offer everything from Apparel Design and Technology to Fashion & Retail Management to Fashion Merchandising.

Continue reading to learn more about Indiana's most popular options for aspiring fashion designers and what they have to offer.

Indiana Fashion Schools
According to the latest report by the Institute of Education Sciences (2013), Indiana is home to 109 Title IV degree-granting institutions. Many of these schools rank among the best in the nation. Just a few of the state's top schools include Purdue University in West Lafayette, Ball State University in Muncie, and the University of Notre Dame.
Scroll through the list below to find out which top schools offer fashion programs and where to find them.
Bloomington
Indiana University Bloomington - Degrees Offered: B.A. Fashion Design, B.S. Apparel Merchandising, M.S. Apparel Merchandising, M.A.T./M.F.A Textiles, B.S. Interior Design
Fort Wayne
Indiana Institute of Technology - Degrees Offered: B.S. Fashion Marketing and Management
Indianapolis
Art Institute of Indianapolis – Degrees Offered: B.S. Fashion & Retail Management, B.S. Fashion Design, B.S. Interior Design
Indianapolis
Harrison College - Degrees Offered: B.S. Fashion Merchandising, A.S. Fashion Merchandising
Muncie
Ball State University - Degrees Offered: B.S. Apparel Design, B.S. Fashion Merchandising, B.S. Interior Design
Best Fashion School Programs - Other Indiana Cities and TownsTerre Haute
Indiana State University - Degrees Offered: B.A. and B.S. in Textiles, Apparel, and Merchandising
West Lafayette
Purdue University - Degrees Offered: B.S. Apparel Design and Technology
Vincennes
Vincennes University - Degrees Offered: A.S. Family and Consumer Sciences with a concentration in Fashion or Interior Design
More Programs to Consider:
Selected Campus Locations:
loading...
Employment and Salary Trends for Indiana Fashion Designers

According to the most recent report by Bureau of Labor Statistics (April 3, 2013), Indiana is home to 50 salaried fashion designers, up from 40 in 2006. Although employment of salaried designers is slow growing here, salaries seem to be rising at a faster pace. In 2006, Indiana-based fashion designers averaged $41,430 per year. Today, the average salary is $47,930.

The Bureau projects a 10.4 percent increase in employment for fashion designers overall for the 2010-2020 decade. Average salaries are on the rise as well. In 2006, the annual mean wage for fashion designers nationwide was $69,270. A news release from the Bureau of Labor Statistics dated March 29, 2013 states that the average mean wage for fashion designers today is $72,620 per year.

It is important to keep in mind that many fashion designers are self-employed—especially in large cities like Indianapolis. However, the Bureau does not collect data for these individuals. What we do know is the independent designer population is substantial and growing, and self-employed designers might earn much less or much more than the national average. Some of nation's top designers earn hundreds of thousands to millions per year.

Many Indiana students and fashion graduates work in the state's growing merchandise display industry. They may work in this industry while seeking the perfect position at a top studio, while starting their own lines, or just to get a foot in the door. The U.S. is home to 73,490 salaried merchandise displayers, up from 62,580 in 2006. They earn an average mean annual salary of $28,860, up from $26,550 in 2006. The highest paid merchandise displayers earn an average salary of $43,940 yearly and the lowest paid displayers average $17,940 per year.

With 1,320 merchandise display workers, Indiana has a sizable merchandise display industry as well. The industry has grown at a rapid pace practically doubling in population since 2006, when the state was home to 690 merchandise displayers. Salaries are up too. In 2006, the state's merchandise displayers averaged $22,610. Today the average salary is $27,980. Some of the best opportunities for merchandise displayers can be found in department stores, in advertising, public relations and related services, and clothing stores.
If you're looking for the best opportunities, start in Indianapolis, which is home to hundreds of retail venues, design studios, boutiques, textile companies, design firms, and more. Other major cities worth exploring include Fort Wayne, Evansville, and South Bend. Six other Indiana cities are listed as "principal cities," but all have a population under 100,000.

Still, several schools that offer fashion programs can be found in these cities and most have a small, but magnetic fashion scene. They are worth exploring as well, especially if your focus is retail management, marketing, or merchandising. Other principal Indiana cities include Carmen, Bloomington, Fishers, Hammond, Gary, and Muncie.