What do Fashion Photographers do? Where do Fashion Photographers work? FS takes a look: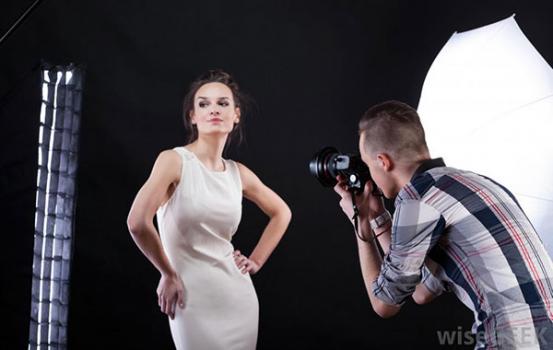 About Fashion Photographer:
Fashion photographers take pictures of models, mannequins, and sets. They photograph for designers, fashion magazines, advertisements, and more. Fashion photography is a specialized field, so fashion photographers have more than a good eye for detail. Fashion is their business, so photographers in this field have significant knowledge about major players in the industry, how the industry works, and what's hot and what's not.
Fashion Photographer Job Description:
Fashion photographers use advanced photography equipment to shoot models during fashion or advertising shoots; for sets and scenes to be used for promotions; and for portfolios for aspiring and established models. Fashion photographers direct makeup artists, wardrobe stylists, models, designers, set assistants, and more during photo shoots in order to get the shot just right. They manipulate light to create a certain mood or use other equipment to simulate a specific scene, such as a windy day or a rainy day.
Around half of all fashion photographers are self-employed and the rest work for photography studios, designers, and advertising agencies. Self-employed fashion photographers might travel the world and rent facilities to develop shots or they might have their own production facility. 
Becoming a Fashion Photographer:
No matter which specialization you choose, all photographers need a specific set of skills. They need excellent hand-eye coordination, above average eyesight, and a creative edge. They must have patience, the ability to communicate with models, clients and staff, and they must be detail-oriented. Today's photographers, whether working in fashion or news, must know how to use computer software programs for editing and marketing.
Besides the skills listed above, fashion photographers must know how to work with a  variety of different cameras, sets, and lighting equipment. Because photography is so technical, most employers prefer a degree in photography with coursework (or a certificate or degree) in fashion design, fashion merchandising, fashion retailing, or fashion management. Self-employed photographers may be able to get away with a certificate or an associate degree, but not without having 5-7 years experience in the industry and coursework or a degree in business.
Fashion Photographer Education Training & Advancement:
Many schools offer certificates, associate and bachelor's degree programs in fashion design & related fields that will help jump-start one's career as a fashion photographer. These programs expose students to practical opportunities in order to get started in the fashion industry, and give a solid foundation on which to begin a career. Some fashion schools will over specific lines of study for aspiring photographers.
As important as formal education is establishing practical experience. Young photographers, have ample opportunities to build their own portfolio of work on their own, or in more junior positions. Taking entry level positions often allows aspiring fashion photographers to learn the business from experts, and get greater exposure to future employers.
Fashion Photographer Jobs & Careers:
Most fashion photographers work as freelance employees on specific projects, but many large retailers and fashion houses will employee them directly.
They are responsible for how clothing is presented in advertising campaigns, catalogues and fashion magazines. And they work closely with designers and fashion houses to ensure they are portraying the desired image for the brand.
Fashion Photographer Salaries:
The Bureau of Labor Statistics reports average salaries for photographers. It is important to keep in mind that fashion is a multi-billion dollar a year industry, so the earning potential for a fashion photographer might be greater than  other types of photographers. Further, many fashion photographers are self-employed, so averages just don't apply to them.
For everyone else, the Bureau reports that median annual wages of salaried photographers were $29,440 in May 2008. The middle 50 percent earned between $20,620 and $43,530. The lowest 10 percent earned less than $16,920, and the highest 10 percent earned more than $62,430.
Job Trends for Fashion Photographer:
Aspiring fashion photographers can expect 12 percent employment growth for the 2008-2018 decade. While employment growth will remain steady, competition for salaried photography jobs is intense. The Bureau reports that many companies are starting to contract with freelancers rather than hire their own team of photographers.