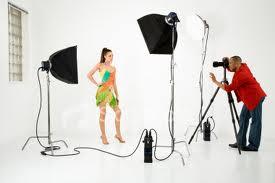 What do Fashion Models do?  Where do Fashion Models work? FS takes a look:

About Fashion Models

Fashion models are more than just pretty faces. If you've ever watched an episode of Project Runway or America's Next Top Model (ANTM), you've likely heard the most promising hopefuls rattle off the names of fashion designers (both iconic and obscure), photographers, and other industry professionals—without hesitation. Many aspiring models also have a significant amount of knowledge about fashion industry trends and the way the fashion design business works. Knowing a lot about fashion is never a bad thing in this industry, but at the end of the day, a models top priority is to make the garments they wear look good.
Fashion Model Jobs
Fashion models pose for photographs wearing clothing and accessories that designers want to sell. They model hats, handbags, lingerie, coats, shoes, jackets, dresses, suits, swimwear, jewelry, cosmetics, or next to nothing if that's what it takes to sell a tube of body lotion. Models manipulate postures and facial expressions in order to display the garment, accessory, or the perceived effect of a product. Fashion models sometimes work with a variety of props, in pairs, or in a group.
Fashion models typically work through a modeling agency. The agency books the fashion model for runway shows, catalog shoots, advertisements, magazine spreads, calendars, film and video shoots, and more. The most successful models may have exclusive contracts with top designers, jewelers, and cosmetics companies—agency not required.
Programs to Consider:
Selected Campus Locations:
loading...
Fashion Model Salaries
Fashion model salaries vary greatly depending on level of experience, years in the business, agency, geographic location, designer, and more. The most successful fashion models (supermodels) can make millions per year—think Giselle Bundchen ($33 million a year) Kate Moss ($9 million a year) and Heidi Klum ($8 million a year). However, you don't have to be a supermodel to earn a comfortable salary in this industry. Some models command $150.00-$250.00 an hour, while others may average anywhere from $35-$60 an hour, according to Glassdoor.com.
Agency fashion models pay a percentage of earnings to the modeling agency. In addition, most fashion models pay their own health insurance and retirement benefits.
Becoming a Fashion Model
Becoming a paid fashion model can be tricky. Unless the agency "discovered" you and is dying to sign you, chances are, you will spend a significant amount of time trying to sell yourself before an offer is made. While a degree in fashion design, a certificate from a top modeling school, or knowledge of photography is certainly helpful, they are not required. Most agencies do require a certain height and weight, an excellent portfolio, and runway experience.
Job Trends for Fashion Models
Good news for fashion models. According to the Bureau of Labor Statistics, employment of models is expected to grow by 16 percent for the 2008-2018 decade. This is faster than the average for all occupations. Aspiring fashion models can expect plenty of opportunities in advertising for print ad campaigns, catalogs, and fashion shows. Models that are "more representative" of different racial and ethnic groups are expected to be in high demand, thanks to "the increasing diversity of the general population." Male models are expected to move up in the ranks as designer's amp up marketing of men's fashions.