What do Fashion Designers do? Where do Fashion Designers work? FS takes a look: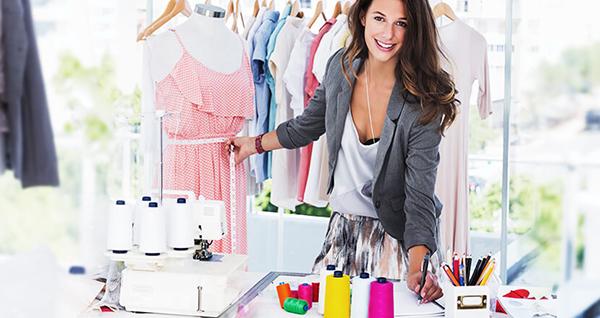 About Fashion Designer:
Fashion designers create everything from shirts and shoes to suits and handbags. They may create clothing and accessories for the masses or for a select group of fashionistas. While some fashion designers have the ability to design in all fashion categories (accessories, clothing, and footwear), some specialize in only one area and type. For example, some fashion designers design menswear exclusively, while others specialize in say, women's footwear. 
Fashion Designer Job Description:
Fashion designers are multi-talented. They sketch, sew, create and mix colors, research fashion trends, select fabrics, utilize computer-aided design, and design entire lines. Many fashion designers oversee production, and just about every fashion designer attends fashion shows and trade shows.
Depending on the size and type of company, fashion designers may manage other professionals such as patternmakers, colorists, and sewers. In smaller companies the fashion designer will likely wear many different hats, acting as designer, patternmaker, and even colorist. Solo designers, if just starting out, will wear all hats until he or she establishes a name in the industry.
Fashion designers work for design firms, boutiques, manufacturing companies, wholesalers, department stores, chain retailers, retail shops and boutiques. Some are also self-employed. 
Becoming a Fashion Designer:
Most employers prefer applicant's with a degree in fashion design plus solid experience in the industry. Some fashion designers may also have a degree in fine art, fashion merchandising, or fashion retailing. While a degree in fashion design is not required to start your own line, designers without formal training are far and few between. True, a few designers have made it big without a degree or other formal training, but they are the exception, not the rule.
In the U.S., there are 300 National Association of Schools of Art and Design accredited postsecondary institutions that offer art and design programs. Most, if not all, offer internships with manufacturing companies, design firms, and others. Internships are typically offered during student's junior and senior years. This experience can be invaluable when its time to look for a job in the fashion industry.
Fashion Designer Salaries:
Fashion designer salaries vary based on factors such as geographic location, experience, education, and size and type of company. For example, some of the highest paid fashion designers live in fashion capitals such as Los Angeles ($74,180 per year), New York ($81,540), and Miami ($67,920). Across the country, median annual wages for salaried fashion designers were $61,160 in May 2008. The middle 50 percent earned between $42,150 and $87,120 and the lowest 10 percent earned less than $32,150. The highest 10 percent earned more than $124,780.
Many fashion designers are self-employed. Salaries for these designers vary. According to the Bureau of Labor Statistics, "salaried fashion designers usually earn higher and more stable incomes than self-employed or freelance designers. However, a few of the most successful self-employed fashion designers may earn many times the salary of the highest paid salaried designers. Self-employed fashion designers must provide their own benefits and retirement.
Job Trends for Fashion Designer:
Employment of fashion designers is expect to average 1 percent for the 2008-2018 decade. Fashion designers may find work anywhere in the U.S., but some cities offer more opportunities than others do. Try New York, Los Angeles, Las Vegas, Miami, Dallas, and Atlanta. Planning to work overseas? Then head to Milan, Paris, Rome, Hong Kong, Dubai, Tokyo, Barcelona, of Rio de Janeiro.