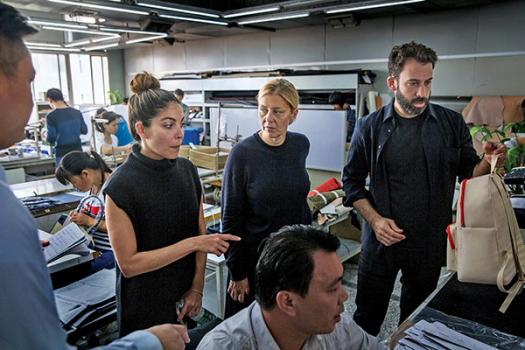 About Fashion Design Production:
Fashion and accessory designers use their knowledge of design principles, techniques and tools to create sketches and models of original garments, shoes, handbags and  other fashion accessories.
They often specialize in a particular facet  of clothing design, such as men's, women's, children's wear or lingerie.  While some fashion designers control the entire design and marketing  process, others use the services of pattern makers to create original  textiles and trimmings, production managers to oversee the actual creation of the fashion line, and fashion merchandisers to introduce and  establish the designs in the fashion marketplace.
Alternate Titles For the Role
Fashion Design Production
Fashion Design Production Job Description:
Responsibilities of a fashion design production often include, but are not limited to:
Manage all samples.
Assist in daily communication to all vendors regarding the timing and action of all programs in work.
Maintain and follow up on time & action calendar for pre-production samples, lab dips, bulk fabric approval and lab testing.
Responsible for accurate and efficient distribution of all incoming packages to the appropriate Design and Technical Designer
Purchase order entry, maintenance and tracking with overseas vendors for on time delivery of fabrics and trims.
Coordinate PR & marketing releases
Coordinate travel & handle events
Becoming a Fashion Design Production:
Many fashion production employees start their careers with a solid foundation from a fashion design or merchandising school. In school you can get the fundamentals of the industry as well as real work experience though shows and internships.
Apart from being extremely organized and numerate, a production manager needs to be assertive, because they will potentially be involved with negotiations. It's a high pressure and fast-paced environment, where you will be dealing with people all over the world and traveling in areas like the Far East and the Indian subcontinent, so strong communication skills are a must.
Fashion Design Production Education Training & Advancement:
Many schools offer certificates, associate and bachelor's degree programs in fashion design & related fields that will help jump start one's career in fashion production. These programs expose students to practical opportunities in order to get started in the fashion industry, and give a solid foundation on which to begin a career.
Areas of production education train student on production line mechanics and management through classroom learning, practical application and internships. Also included in fashion production are opportunities learn about running fashion shows & events, as well as the myriad functions that go into making large scale operations run smoothly.
Others, who choose not to take a college path often gain their initial experience in the fashion industry through internships or by working as an assistant designer. Internships provide aspiring fashion designers an opportunity to experience the design process, building their knowledge of textiles and colors and of how the industry works.
Advancement within the industry comes from exhibiting important qualities such as:
Artistic ability
Communication skills
Computer skill
Creativity
Decision making skills
Detail oriented
Highly organized
Fashion Design Production Jobs & Careers:
With the fashion production field there are many jobs and career paths.
Opportunities where you are actually producing clothes & materials include occupations such as textile and garment pressers, sewing machine operators, hand sewers, shoe and leather workers and repairers, and textile bleaching and dyeing machine operators and tenders.
A bit further away from clothes & material making, fashion production specialists are also need in many office environments and include dozens of different roles, such as:
Run castings, prepare models, run events
Archiving and preparing materials for branded marketing use
Coordinating production requests as necessary
Scheduling and calendar management
Maintain knowledge of all product lines
Ensure all inventory is compliant with standards
Develop and implement standards for production
Effectively communicate company and departmental updates & policies
Analyze current processes and find opportunities to improve efficiency
Develop a production plan that meets business needs balancing capability and capacity
Translate product requirements, from garment specifications and raw material requirements, into a bulk delivery of product for a label
Meet required deliveries and production turns
Coordinate with factories and raw material suppliers
Ensure that product is delivered at the right time, at the right cost, and in the right quantity to our distribution center
Collaborate and work to manage the demands of the business, maximizing flexibility and minimizing costs
Develop strong relationships with our vendors and suppliers in order to manage all aspects of our product lifecycle
Track and manage multiple competing deadlines while ensuring business priorities are met
Work closely with external vendors
Fashion Design Production Salaries:
Fashion production role are diverse in scope and responsibility and pay will vary widely based on location, role, and person. 
According to the Bureau of Labor statistics, the median annual wage for fashion designers was $67,420 in May 2017. The median wage is the wage at which half the workers in an occupation earned more than that amount and half earned less. The lowest 10 percent earned less than $33,910, and the highest 10 percent earned more than $135,490.
However, for occupations such as textile and garment pressers, sewing machine operators, hand sewers, shoe and leather workers and repairers, and textile bleaching and dyeing machine operators and tenders earned a mean annual wage that was more than $15,000 below the average for all occupations.
Job Trends for Fashion Design Production:
The job outlook for fashion production jobs is not clear, however the Bureau of Labor statistics does track Fashion Design jobs. 
Employment of fashion designers is projected to grow 3 percent from 2016 to 2026, slower than the average for all occupations.
Most apparel continues to be produced internationally. As a result, employment of fashion designers in the apparel manufacturing industry is projected to decline about 33 percent over the projection period, slowing the overall employment growth of fashion designers.
However, employment of fashion designers in the retail trade industry is projected to grow about 22 percent over the projection period. Retailers are selling more fashion-inspired clothing, which increases the demand for fashion designers to design clothing and accessories for everyday wear for the mass market.
Best Schools for Aspiring Fashion Design Productions