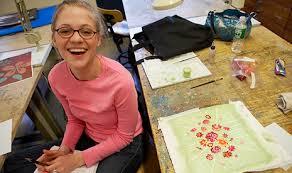 Textile design is one of the design world's most unique disciplines. Professionals in this field create designs that are used in the production of everything from clothing and furnishings to linoleum flooring and spacecraft insulation. Many of the designs created by textile designers are used repetitively, while others are a one shot deal.
Depending on their specialty, textile designers may work in industrial environments alongside textile engineers, industrial designers and others, while others work in non-industrial settings such as design houses where they may work side-by-side with fashion, furniture or interior designers. Many of these designers are self-employed, while others work as part of a design team. Either way, it takes a tremendous amount of talent, skill and training to break into the world of textile design. Fortunately, many top colleges and universities recognize the demand for skilled textile designers, so high-quality degree programs are abundant.
Just a few degree paths for textile designers are the Bachelor of Design (B.Des) in Textile Design, Bachelor of Fine Arts (BFA), Master of Arts (MA), and Master of Fine Arts (MFA) degrees in Textiles or Fibers & Textiles, and Bachelor of Arts (BA) and BFA degrees in Apparel & Textile Design. Some schools, such as Philadelphia University and the University of Nebraska-Lincoln offer Doctor of Philosophy (PhD) degrees in areas such as Textile Engineering & Sciences and Textiles, Merchandising & Fashion Design, to name a few.
While advanced programs prepare graduates to work in areas such as management or applied research in industry, government or university settings, undergraduate programs begin with foundation studies and work their way up. First year students will spend most of their time engaged in drawing, basic design and spatial dynamics, while second year students will take courses such as fibers and dyeing, surface design, weaving, knitting, and fabric silkscreen. Upper level students will spend most of their time in the studio mastering textile design techniques and their chosen specialization. During their final year, students will likely complete an internship (or two) and create their final degree project.
Like graduates from other creative fields, textile design graduates can expect to enter a fiercely competitive job market that favors candidates with a bachelor's degree or higher from an accredited program. However, two of the world's most respected accrediting agencies for design programs are the National Association of Schools of Art and Design (NASAD) and the Council for Interior Design (CIDA). As such, employers tend to look favorably upon graduates from schools that carry either seal of approval.
Besides a degree from an accredited program, experience gained through an internship or paid position is often required—even for some entry-level positions. According to the Bureau of Labor Statistics, entry-level textile designers can expect to earn between $18,000 and $20,000 per year. Median pay for designers is $26,640 per year and higher-level positions pay $34,000 to $46,000+ per year.
Geographic location, company, industry, and other factors will have a significant impact on earnings. For example, designers that specialize in areas such as science, engineering, aerospace and construction typically earn more, and textile designers living in Washington, Hawaii, Colorado, Tennessee and Pennsylvania are the highest paid in the country.
Schools That Offer Textile Design Programs
Academy of Art University
California College of the Arts (CCA)
Fashion Institute of Design and Merchandising (FIDM)
Fashion Institute of Technology (FIT)
Florida State University (FSU)
Kansas City Art Institute (KCAI)
Maryland Institute College of Art (MICA)
Massachusetts College of Art & Design (MCAD)
Oregon College of Art and Craft (OCAC)
Philadelphia University (PhilaU)
Rhode Island School of Design (RISD)
Savannah College of Art and Design (SCAD)
University of Alabama (UA)
University of Missouri (Mizzou)
University of Nebraska-Lincoln (UNL)
Washington State University (WSU)
To locate more textile design schools, click here to browse our directory.
Sources
"51-6099 Textile, Apparel, and Furnishings Workers, All Other." U.S. Bureau of Labor Statistics. U.S. Bureau of Labor Statistics, 25 Mar. 2015. Web. 06 Jan. 2016.
AGCAS Editors. "What Can I Do With My Degree?" Prospects.ac.uk. AGCAS & Graduate Prospects Ltd., Feb. 2015. Web. 06 Jan. 2016.
"CFNC.org - Career Profile." CFNC.org - Career Profile. College Foundation, Inc., 2011. Web. 06 Jan. 2016.
Halder, Gemma. "Textile Designer." Prospects.ac.uk. AGCAS & Graduate Prospects Ltd., June 2015. Web. 06 Jan. 2016.
"Ph.D. in Textile Engineering and Sciences." Kanbar College of Design, Engineering and Commerce. Philadelphia University, 2014. Web. 06 Jan. 2016.
"Textiles, Merchandising & Fashion Design." College of Education and Human Sciences. University of Nebraska-Lincoln, 2016. Web. 06 Jan. 2016.