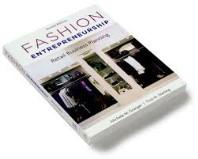 Many of today's fashion designers will begin their careers at a design studio, retailer, textile company or other similar environment. While this is a good start, the ultimate goal for most aspiring fashion designers is to start their own line or business. Others would like to advance into a leadership or management position within an existing company. To help better prepare these designers for success in business world, a number of top design schools and universities in the U.S. and abroad now offer entrepreneurship programs designed with the fashion industry in mind.
Just a few noteworthy options include:
Fashion Institute of Design & Merchandising (FIDM), Los Angeles and San Francisco, CA  - Bachelor of Science (BS) in Business Management
Fashion Institute of Technology (FIT), New York, NY – Bachelor of Science (BS) in Entrepreneurship for the Fashion and Design Industries
International College of Fashion, New Delhi, India - BBA Fashion Entrepreneurship
International Fashion Academy, Paris, France – MBA Fashion Business
LIM College, New York, NY - Master of Business Administration (MBA) in Fashion Management & Entrepreneurship
London College of Fashion, London, UK - - Master of Arts (MA) in Fashion Entrepreneurship and Innovation
Texas Woman's University, Denton, Texas - Dual Degree, Bachelor of Arts (BA) in Fashion Design/Bachelor of Business Administration (BBA) in General Business (Entrepreneurship Emphasis)
Students in these programs can expect to take courses such as Entrepreneurship in Fashion, Launching New Ventures, Competition and Strategy in Fashion, Fashion Branding, Entrepreneurial Finance, Global Management Strategies, Creativity in Business, Managing Creative Enterprise, and Business Development and Planning. Undergraduate programs usually take four years to complete and graduate programs can take up to two years to complete. All programs feature internship opportunities with major companies, and most offer study abroad opportunities in fashion capitals such as Paris, London, Milan, and more.
Career Outlook
The world's most famous fashion designers are worth hundreds of millions of dollars. Some, such as Giorgio Armani, Ralph Lauren and Miuccia Prada, are even worth billions. There is nothing wrong with aspiring to become the wealthiest fashion designer in the world, but while you are working on it, you have to earn a living, right? Fortunately, the Bureau of Labor Statistics (BLS) reports that fashion designers can expect to earn a comfortable $73,690 per year (mean average), with top earners averaging $129,380 per year. Managers of Companies and Enterprises, which has the third highest employment level for fashion designers, can expect to earn $90,020 per year.
The Bureau does not report salaries for designers that have their own clothing line or business. However, figures from several job sites such as SimplyHired and PayScale should give you an idea of what to expect. According to these sites, the average salary for a clothing line owner is $66,000 to $68,000 per year. For retail storeowners or boutiques, the average is $49,721 per year. Still, other sites and sources list salaries up to $100,000 or more per year for most types of fashion entrepreneurs.
Sources
"27-1022 Fashion Designers." U.S. Bureau of Labor Statistics. U.S. Bureau of Labor Statistics, 25 Mar. 2015. Web. 27 Sept. 2015.
"Explore Millions of Jobs... with Just One Search." Job Search Engine. SimplyHired, 2015. Web. 27 Sept. 2015.
Kroll, Luisa, and Kerry A. Dolan. "The World's Billionaires." Forbes. Forbes Magazine, 2 Mar. 2015. Web. 27 Sept. 2015.
"PayScale - Salary Comparison, Salary Survey, Search Wages." PayScale - Salary Comparison, Salary Survey, Search Wages. N.p., 2015. Web. 27 Sept. 2015.