What do Embroidery Designers do? Where do Embroidery Designers work? FS takes a look: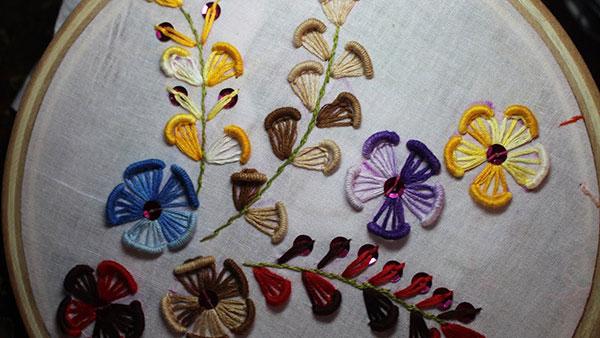 About Embroidery Designer:
Embroidery design is a specialized field within the fashion design industry. Unlike fashion design, which involves designing clothing, embroidery design deals with decorating articles of clothing, handbags, and other accessories with unique stitching or creative patterns. While embroidery is most popular in the world of fashion, it is also used in the automotive industry, furniture design, toy manufacturing, home accessories, and more. 
Embroidery Designer Job Description:
Embroidery designers use special stitching techniques to decorate fabrics, garments, and accessories. Examples of embroidery techniques include cross-stitching, crewel, back stitching, filet, English, lattice, medieval, Persian, Roman, straw, and white work. Embroidery designers may work for fashion designers, artists, textile companies, clothing manufacturers, linen manufacturers, retail chains, furniture manufacturers, upholsterers, handbag manufacturers, and toy design and manufacturing companies. Because embroidery is often used to cover repair work on fabrics, garments, and other materials, some embroiders may also work for dry cleaning services and tailors. 
Becoming a Embroidery Designer:
Most employers prefer applicants with talent, a degree, and solid experience. You should be familiar with embroidery machines and experienced with most hand embroidery techniques. You can learn many of these techniques and master the use of embroidery machines through most fashion design programs. In some cases, you will have to take personal interest courses outside of the degree program.
Community colleges, art centers, and technical schools may offer embroidery classes that may not be a part of your degree program. Some even offer certificate programs in embroidery. Before enrolling in any degree program, check to make sure the classes you're interested in are available.
In the U.S., there are 300 National Association of Schools of Art and Design accredited postsecondary institutions that offer art and design programs. Most, if not all, offer internships with manufacturing and design firms. This is a great way to gain valuable hands on experience in the industry. 
Embroidery Designer Salaries:
Embroidery designer salaries vary based on factors such as education, experience, geographic location, and size and type of company. According to Indeed, salaries can range from as little as $25,000 per year, up to $53,000 or more. Embroidery designers working in the fashion industry typically earn less than fashion designers. According to the Bureau of Labor Statistics, fashion designers overall averaged $61,160 in May 2008. The middle 50 percent earned between $42,150 and $87,120 and the highest 10 percent earned more than $124,780. The lowest 10 percent earned less than $32,150.
Job Trends for Embroidery Designer:
The Bureau of Labor Statistics does not report job outlook information for embroidery designers. This profession is included under the broader industry—fashion design. Employment of fashion designers is expect to average 1 percent for the 2008-2018 decade. However, because embroidery design can be used in many different industries, job opportunities for this specialized field should be plentiful in the coming years.