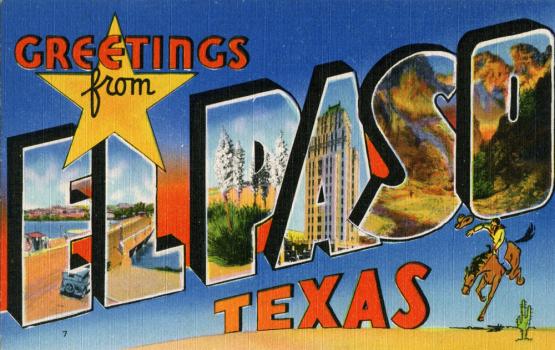 The El Paso Fashion Scene
With a population of more than 650,000, El Paso is the 6th largest city in the state of Texas and one of the top 25 largest cities in the U.S. In addition to a large and diverse population, El Paso is home to a wide variety of retail venues that cater to both American and Mexican shoppers seeking everything from southwestern wear to the latest styles from the runways of New York. The city's main shopping district is Downtown El Paso where you'll find shopping venues that sell trendy fashions, nothing but boots, and more. Cowtown Boots at 11451 Gateway W. considers itself the world's largest Western wear store. The 40,000 square foot boot emporium sells styles from alligator to ostrich as well as jeans, clothing, and accessories.
El Paso has it's fair share of malls as well. Sunland Park Mall, Placita Santa Fe, and Cielo Vista Mall sell all kinds of jewelry from southwestern to luxury, trendy fashions, and expensive designer clothing. Many of the city's malls are located no more than 20 miles from downtown El Paso.
The fashion scene here is great for aspiring fashion designers and fashion merchandisers because it offers a variety of job opportunities in retail, production, and design. It also offers the opportunity to network with other designers and merchandisers, and show at the areas regular fashion events. The biggest is El Paso Fashion Week, which features fashion shows, design competitions, workshops, demonstrations, and designs by local emerging and established designers.
Career Opportunities & Employers in Texas:
El Paso fashion designers and fashion merchandisers work in merchandising, buying, management, and marketing. They may work as clothing designers, accessories designers, footwear designers, visual merchandisers, fashion consultants, children's fashion designers, pattern makers, costume designers, tailors, and hand sewers. Many fashion designers also teach, so El Paso's community colleges and design centers are an excellent source of jobs for aspiring instructors. Many El Paso fashion designers work for established designers and brands, department stores, textile manufacturers, and others. They may work in these areas permanently or while working on building their own line or store. Fashion designers and fashion merchandisers may find employment from the popular shopping districts in the heart of the city to the surrounding areas.
Texas Fashion Schools & Programs:
The state of Texas is home to 240 colleges and universities. This is nearly three times the national average of 88. Some of these schools are art and design schools while others have art and design programs. In El Paso, the main college for aspiring fashion students is El Paso Community College. Students can earn an Associate of Applied Science in Fashion Technology with options in:
Fashion Design
Fashion Merchandising
Fashion Illustration
Industrial Pattern making
Fashion Retailing
Employment and Salary Trends for Texas:
The state of Texas is home to nearly 300 fashion designers. As of July 2011, the Bureau of Labor Statistics had not reported employment and salary figures for El Paso fashion designers. It's safe to assume that the city is home to many designers based on the number of retail venues, fashion events, independent designer boutiques, and production facilities in the area.
Employment of fashion designers across the nation is expected to grow by one percent between 2008 and 2018. Salaried Texas fashion designers earn an average of $62,640 per year. Self-employed designers can earn six to seven figures per year. Nationwide, fashion designers average around $61,160. The lowest paid fashion designers average $32,150, and the highest paid salaried designers average $124,780 per year.
The Bureau of Labor Statistics does not report employment or salary figures for fashion merchandisers. However, a significant part of the job involves creating window displays and managing the overall look and feel of stores. There are 7,370 merchandise displayers in the state of Texas. More than 100 live in El Paso.
For more information about the fashion design and fashion merchandising industry, visit the Bureau of Labor Statistics at bls.gov.
Bureau of Labor Statistics Data
| | Number of jobs | Mean hourly pay | Mean annual pay | Job Outlook |
| --- | --- | --- | --- | --- |
| Fashion Job | | | | |