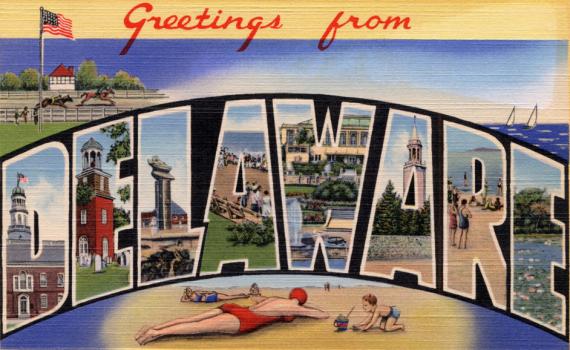 Overview
Delaware may be one of the nation's smallest states, but it's definitely big on fashion. The tiny state of less than 1 million is packed with malls, boutiques, department stores, and other retail venues such as consignment shops and thrift stores. Variety is only one reason hunting for fashions is so great here. Fashionistas and shoppers from all over the country come here to enjoy tax-free shopping in a state that can only be described as quaint. 
In addition to numerous shopping venues, Delaware is home to a number of schools, organizations, and retail venues that hold dozens of fashion events each year. The University of Delaware has several fashion events each year, including it's very own Fashion Week. Christiana Mall in Newark, one of the most popular malls in the state, hold's regular fashion events such as fashion shows, model competitions, and design competitions. The events highlight local talent, but all are welcome to participate.
If you want to become a part of the Delaware fashion scene, you'll need talent and training. Most employers prefer candidates with a two- to four-year degree. Fortunately, Delaware is home to several schools that offer fashion programs. The University of Delaware's Department of Fashion and Apparel Studies is a top choice.
Career Opportunities & Employers in Delaware:
Delaware fashion designers work in a variety of fields from textile artist to designer to fashion director. They may also have their own lines or manage their own shops. Fashion merchandisers may work in product development, production, marketing, or sales. Some are also consultants and many may also work in visual merchandising for department stores, boutiques, or designer studios. Fashion jobs are plentiful in the state's principle cities including Wilmington, Dover, and Newark, but smaller towns such as Middleton and Bear may also offer opportunities to work in smaller boutiques, with local designers or at small production studios. 
Delaware Fashion Schools & Programs:
Whether you're planning to start your own line, work for a top designer or look for a job in the textile industry, you'll need training. Employers prefer a two- or four-year degree from an accredited college. Fortunately, the National Association of Schools of Art and Design accredits approximately 300 postsecondary institutions with programs in art and design. These schools typically award degrees in both fashion design and fashion merchandising.
As mentioned earlier, the best program for designers is offered at the University of Delaware in Newark. The Department of Fashion and Apparel Studies offers degrees in Fashion and Apparel Studies and Fashion Merchandising. Delaware College of Art and Design in Wilmington offers a number of fashion courses through its continuing education (CE) department.
For more information about the fashion design and fashion merchandising industries, visit the Bureau of Labor Statistics at Bls.gov.
Employment and Salary Trends for Delaware:
As of July 2011, the Bureau of Labor Statistics had not reported employment and salary figures for Delaware fashion designers. This doesn't mean Delaware doesn't have a population of fashion designers—it does. They work in all fields from textile production for product development to apparel design and pattern making. They also work in administration sales and retail.
Delaware fashion designers live in larges cities such as Wilmington, Dover, and Newark. Self-employed designers may have shops just about anywhere in the state. Middleton, Bear, and other smaller towns are other options.
Employment and salary figures for fashion merchandisers have not been reported by the Bureau of Labor Statistics, but a significant part of the job involves working with window and store displays. There are 270 merchandise displayers living in Delaware, up from 200 in 2004. In addition to visual merchandising, fashion merchandisers also work as sales associates, store managers, account managers, buyers, fashion show coordinators, personal shoppers, and advertising directors.
Overall employment in the fashion industry is expected to grow by one percent for the 2008-2018 decade. Sewing and cutting jobs may decline as more designers and brands choose manufacturing companies overseas. However, employment of fashion designers is stable because many firms prefer to keep design work in house.
As of May 2008, the mean annual wage for fashion designers nationwide was $61,160. The lowest paid fashion designers earned an average annual salary of $32,150 and the highest paid fashion designers earned $124,780 per year. Because many fashion designers are self-employed, salaries may vary greatly. Just think, the world's top fashion designers (and even some you've never heard of) earn millions per year.
Bureau of Labor Statistics Data
| | Number of jobs | Mean hourly pay | Mean annual pay | Job Outlook |
| --- | --- | --- | --- | --- |
| Fashion Job | | | | |