What do Costume Designers do?  Where do Costume Designers work? FS takes a look: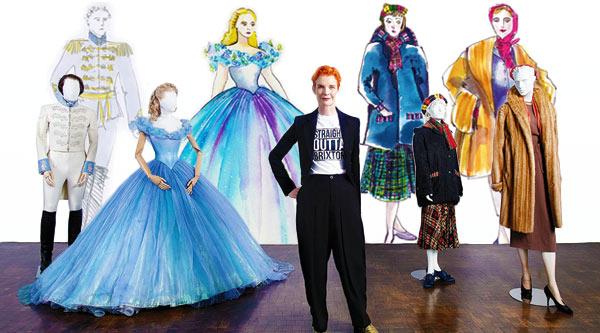 About Costume Designer:
Costume designers are considered "specialty" fashion designers. They create looks for characters for television, film, and stage productions. Depending on the project, stage designers may be required to create costumes based on strict specifications or they may have the freedom to create from their own vision of what they think the character should wear. Some costume designers revamp existing costumes to fit the production at hand.
Costume Designer Job Description:
Costume designers are a unique lot. Not only do they design elaborate costumes for film, television, and stage productions, they must also interpret scripts, understand props and scenery, and be familiar with the fashions of specific time-periods in history. They sketch designs by hand or computer (CAD), and they are responsible for selecting just the right fabrics, adornments, and other materials for pieces.
Costume designers must also know a little bit about budgeting. It is up to the designer to stay within budget for any given costume or line of costumes. In addition to designing costumes, costume designers must be experienced with creating compliments such as gloves, canes, hats, hair accessories, shoes, jewelry, bags, and even masks. 
Costume designers may work at film production studios, on sets, at television production studios, onsite at theaters, for costume design companies, or in their own private studios.
Becoming a Costume Designer:
Talent, skills, and a degree are essential for entry into the world of costume design. Most employers prefer applicants with a bachelor's degree in fashion design, television and film or theater, with a concentration or coursework in fashion design. In addition to a degree, coursework in fashion history, history, computer-aided design, fine art, and anatomy are helpful.
Most fashion design programs offer an internship during student's junior and senior years. This experience can be invaluable during your job search. There are 300 National Association of Schools of Art and Design accredited postsecondary institutions that offer programs in art and design. Most, if not all, offer internships with a design studios, manufacturing companies, television and film production studios, or theater companies. 
Costume Designer Salaries:
Costume designers work in "specialized design services." According to the Bureau of Labor Statistics, designers working in specialized design services averaged around $59,560 in 2008. Fashion designers overall averaged $61,160 in May 2008. The Bureau also reports that the middle 50 percent earned between $42,150 and $87,120 and the highest 10 percent earned more than $124,780. The lowest 10 percent earned less than $32,150.
Job Trends for Costume Designer:
Employment of fashion designers is expect to average 1 percent for the 2008-2018 decade. However, wage and salary employment for the motion picture and video industries is expected to grow 14 percent for the 2008-2018 decade. This is higher than all other industries combined. For costume designers interested in working in the theater, the best opportunities are in cities such as New York, Los Angeles, Chicago, San Francisco, Boston, and Washington D.C. Job openings for theater costume designers are usually abundant in the fall and spring seasons.