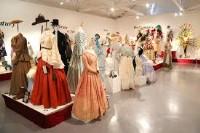 Costume designers are a vital component of production teams in the film, television and theater industries. They are responsible for creating realistic costumes for film and television actors as well other performance artists—think Cirque de Soleil, the opera and the ballet. Because the position requires precision, advanced design skills, and more, it takes more than creativity to enter the field. Costume designers must have advanced research skills in order to create costumes that correctly match any given era, region or group. They must also:
Have advanced knowledge of the most current industry software
Understand finance, budgeting and scheduling
Have a thorough understanding of television, film and theater production
Understand business (many costume designers are self-employed)
Have the ability to listen carefully and collaborate effectively with producers, directors, actors, set designers, light designers, and more
Have endurance as most designers have grueling schedules—they work long hours, evenings and weekends
Once the costumes have been made, designers will enter the second phase of the job. They are responsible for ensuring that costumes remain intact throughout the entire production, so they must be prepared to hustle in order to repair any damage quickly. This is especially true in theater. The final phase is preserving the costumes. Depending on the size of the production, the costume designer will be responsible for cleaning/dry cleaning and returning any costumes or accessories that may have been borrowed or rented.
Costume Design Degrees
Although exciting, costume design is hard work. Further, positions are not entry-level and the field is fiercely competitive. This means, you will need a bachelor's degree or higher, training and experience. Fortunately, degree programs are offered at all levels and at some of the world's most prestigious universities. Yale, Carnegie Mellon, and UCLA offer programs as well as many art and fashion design schools such as Fashion Institute of Technology (FIT), Fashion Institute of Design and Technology (FIDM), California Institute of the Arts (CalArts), and Otis College of Art and Design.
Undergraduate students can expect to take course such as drawing, history of dramatic literature, costume technology, make-up, costume design, rendering for designers, survey of the arts for theater, theatrical collaboration, design production, scene and lighting design, Photoshop, graphics, model building, and more. Graduate students will take a number of advanced costume design courses as well as costume management, critical thinking, non-profit theater, and more. 
Although it is not a requirement, many aspiring costume designers make the decision to earn an MFA, as many top studios and theater companies prefer to hire designers with an advanced degree. Further, many MFA programs offer higher-level internship opportunities that often lead to employment. 
Costume Designer Career Highlights
The Bureau of Labor Statistics reports employment and salary information for fashion designers. This category includes costume designers. As of March 25, 2015, the mean wage for fashion designers was $73,960 per year. Film and video is one of the top industries for designers and New York and California have the highest employment levels. At an average salary of $80,890 per year, New York is also the top paying state for fashion designers. At $73,270, California offers the fourth highest salary in the nation. Some of the top cities for costume designers are New York, Los Angeles, Chicago, San Francisco, Boston, Minneapolis, Seattle, Dallas, Atlanta, Philadelphia, and Washington, D.C.
Sources
"27-1022 Fashion Designers." U.S. Bureau of Labor Statistics. U.S. Bureau of Labor Statistics, 25 Mar. 2015. Web. 23 Sept. 2015.
"Costume Designer." Creative SkillSet. Creative SkillSet UK, 2015. Web. 23 Sept. 2015.
"Design." Design. Yale School of Drama, 2015. Web. 23 Sept. 2015.
Portantiere, Michael. "Top US Theater Destinations." Arts America. ArtsAmerica.org, 2015. Web. 23 Sept. 2015.
"Student Technical Theatre Handbook." Costume Design. Harvard University, 2015. Web. 23 Sept. 2015.
"Theater BA: Design/Production Elective Sequence." UCLA School of TFT. UCLA, 2015. Web. 23 Sept. 2015.