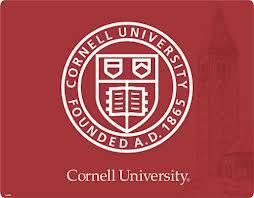 The times they are a-changin.   And Cornell University, which has been training designers for decades, is at the forefront of the future of fashion.  Technology and the shift to manufacturing overseas, has completely altered the way the Fashion Industry operates.  Cornell students have access to state of the art technologies, design studios, and labs. The University encourages internships and study trips abroad.  Cornell is also home to the only PhD in apparel design in the United States.
Each spring, students have the opportunity to express their creativity, and show their designs in a professional runway show.  The show gives undergraduate and graduate students a platform to practice design, demonstrate their talents, and learn how to produce a large-scale fashion event.
To learn more about the program we talked with Jintu Fan, Professor and Chair of the Department of Fiber Science & Apparel Design  
FS:  Please highlight the strengths of your Apparel and Design program?
CU:  CORNELL FASHION is the only fashion/apparel program in an Ivy League university. Cornell Fashion/Apparel Design program is highly selective and excels with a vibrant and talented student body. The fashion education at Cornell is rigorous. A high faculty to student ratio supports small classes and individual mentoring, cultivating their individual strengths and interests while engaging in a full liberal arts curriculum.
The undergraduate curriculum has three concentrations: Fashion Design, Fashion Design Management and Fiber Science. Added are graduate programs including MA in Apparel Design, MPS in Human Ecology (Apparel Design), MS in Fiber Science as well as Ph.D in Apparel Design and/or Fiber Science. The mixture of undergraduate and graduate programs in fashion design and fiber science creates a vibrant environment of creativity and intellectual pursuit.
Cornell Fashion/Apparel students have access to incredible resources and facilities from world class faculty, state of the art fashion technologies, extensive fashion/textile collections, design studios and fiber science labs. All students are encouraged to spend a semester abroad through our ever-expanding foreign exchange programs.
Cornell's main campus is in Ithaca, New York, with a Manhattan design atelier slated to open in August 2014. The newly established Cornell Institute of Fashion and Fiber Innovation (CIFFI) co-located at the main campus at Ithaca and New York City offers students with wide range of opportunities to work with industry partners on innovation and internship.
FS:   How has the fashion industry changed in the last 15-20 years and how has Cornell adjusted to meet the new demands?
CU:  During the last 15-20 years, the impact of technology and globalization are two of the most profound changes to the fashion industry.
Fashion is undergoing a new transformation with the development of smart materials, application of novel enabling technologies, and use of digital media in fashion design management. The Cornell Fashion/Apparel program responded to this change proactively through the evolution of our curriculum to include a series of Fashion & Technology courses, the recruitment of high caliber faculty in fiber nanotechnology, fashion and technology interface as well as fashion communication as well as the acquisition of state of the art equipment including 3D printer, laser cutter and 3D body scanners, digital printer, ultrasonic seaming machine, fiber extruder. Cornell is a world leader in fiber science research which covers self-decontaminating fibers, moisture management fabrics, environmental responsive fibers, and conductive filaments)    
The other most significant change in the last 15-20 years is the continued globalization of fashion industry. 20 years ago there was still apparel and textile manufacturing in the US; today there is very little. This is why we strongly encourage our students to take advantage of our ever-expanding overseas exchange program to gain international experience. We also bring our students on overseas trips to better understand production and culture in different countries.  
FS:  Tell us more about the impact of technology
CU:  The shift in fashion design is profound, as new technologies impact the way fashion is designed, marketed, and distributed, and change continues at a blinding rate. The sheer numbers of digital images flashing pass our eyes means that ideas and confirmation of images into fashion trends can no longer be investigated, played back, collected, kept and completely understood, which is why the fashion business is more dynamic and exciting than ever.
That is where the strength of our program lies-- nowhere else is there a department that is equipped to incorporate the merging of fashion creativity with new technology, blending aesthetics, theory and engagement with cutting-edge applications of technology in all areas of our field.
FS:   Tell us about opportunities on campus or in professional partnerships, where your future designers can showcase their work?  
CU:  An annual Cornell Fashion runway show of original designs for an audience of 2,000 is in its 30th year. Numerous galleries, electronic screens, end of semester critiques, professional photography of student work, and entry to fashion competitions with the support of faculty mentors, are available for showcasing student work. These include the YMA Fashion Scholarship, Geoffrey Beene National Scholarship, Arts of Fashion, and the International Textile and Apparel Association design show.
Undergraduate students regularly participate in faculty research, which is often done in collaboration with industry. Students also present their independent work at conferences, for example the Popular Culture Association. Competitive grants are available every year for creative wearable and fiber art work through the Kuhlman Foundation.
Collaborations with fashion/apparel companies such as Forever 21, Nike, and Pendleton are available either as class experiences, or as an extra-curricular activity. Partnership with the industry creates generous scholarships for students to support and show their work. Such partnership is strengthened through the newly established Cornell Institute of Fashion and Fiber Innovation (CIFFI), which has memberships of major fashion retail and manufacturing companies.
The Cornell news service is dedicated to highlighting the work of talented students and faculty-student-industry collaborations.
FS:   Describe your career services or any on-campus recruiting efforts for fashion students
CU:  We provide a yearly 'behind the scenes' trip to NYC in the sophomore year to help undergraduates understand the broad and rich nature of the field as they consider professional possibilities. Guest alumni from the fashion industry are brought to campus to speak with students each semester in and out of the classroom. The department has a following of loyal Cornell alumni in diverse fashion businesses who reach out to faculty to help them fill starting positions in their companies.  
Many major apparel companies actively recruit on campus, and send us notices of internships and jobs that we pass on to our students. Our alumni are engaged at all levels of the industry and in all parts of the world, providing a network that has been very active in placing our students.
FS:   Please expand on your undergraduate internship and international study experiences.  
CU:  Cornell Fashion students graduate with a wide array of internships and externships from each year of their college careers. Students are encouraged to participate in summer internships, frequently beginning in the summer after their freshman year. Most students participate in internships every summer during their undergraduate years, and have access to brief internships during the winter break as well. With extensive assistance and a large network of alumni, students are able to find the perfect internships to match their interests. Credit is available. Students are required to keep a journal and write a report on their experience. They present their experiences in a panel to the department as a whole every year. Students also participate in an expenses paid intensive experience in New York City, in which they visit alumni and other fashion related companies.
Increasing students are interning outside America and across the product creation path through to retail and into Internet sales.  The curriculum provides a semester in the junior year for students to study abroad in any country world-wide.
Undergraduates who are considering graduate studies do intensive summer internships with department faculty on their apparel and fiber research and publications, and work with them during the academic year on individualized special studies for course credits.
FS:    Which fields do you see the most opportunity career-wise for graduates now and in the future?
CU:  Our graduates work in every area of the fashion industry, from fashion and technical design to brand management. Areas of opportunity include:
Fashion design with new technologies and materials
Fashion brand management
Digital fashion communication
Sustainable fashion
Performance apparel, activewear and smart clothing
Wearables and Accessories
Low Tech Revolution  
Niche Entrepreneurial Ventures
Art and Skilled Crafts
FS:    To what degree is it essential or beneficial for students to have existing knowledge of fashion or design?
CU:  Fashion informs us about our moment. The magic is that we all contribute to fashion.  Fashion is about freedom and creativity. It is a personal marker of who and what we are. Fashion is a basic expression that every human is capable of, and fashion students should have this understanding as well as the inherent desire and motivation to create innovative work and show it.  While at Cornell students build upon their past experiences in fashion, and learn the theory that underpins their newly acquired knowledge and skills.
Of course any knowledge in these areas is beneficial to a student starting in a fashion program, but we are mainly looking for smart students who are creative, thoughtful, and have a good visual sense. Cornell offers a 3 week summer course that is designed for high school students as an introduction to fashion and to our program. In this class students are introduced to apparel design skills, and create projects suitable for a portfolio. 
FS:   What advice do you have for aspiring fashionistas entering Cornell in the fall?
CU:  Students interested in applying to a fashion program should consider taking art classes, or (if available) fashion courses, and/or to learn how to sew – it is important to do anything that will help to build the visual portfolio required for application. But the most important task is to develop 'visual literacy' and also an understanding of the place of fashion in the world – to look, sketch, and think about clothing. To immerse themselves in journals and internet resources, but with to focus away from mainstream retail sites – to look for the blogs, stories, and images that describe the deeper issues related to fashion.
To be concise, you should:
Love fashion, live fashion, dream fashion, be an Individual, question everything, work hard, discover personal strengths and go beyond them, delight in your successes and move forward. Read, see, experience things outside your comfort zone and culture.
Check out more interviews at the Fashion-Schools.org Fashion School Interview Series.