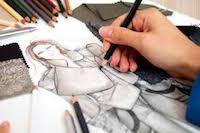 A fashion design degree prepares graduates to enter the competitive world of fashion in areas ranging from apparel design to fashion buying. Add a concentration and the career options increase even more. While there are dozens of focus areas, with the usual suspects being fashion merchandising, marketing, and retailing, many schools have enhanced their offerings by adding a variety of cool concentrations for students that want to develop skills in growing fields. A few standouts include Business of Fashion, Experimental Fashion, Fashion + Fibers, Fashion Technology, and Fashion Promotion. 
The Business of Fashion concentration is a new program offered at Rutgers University-Newark, New Jersey. According to the program website, the concentration was designed to "bridge the gap between creativity and business acumen. It is for artistic individuals who want to solidify their understanding of business, as well as for business students who want to learn how to apply solid business practices to the arts industries." FIT New York has a similar program (Fashion Business Management), as well as Istituto Marangoni (Milan, Paris, London, Shanghai, Firenze), which offers a BA in Fashion Business. 
Head over to the Maryland Institute College of Art (MICA) in Baltimore where you will find an innovative studio concentration called Experimental Fashion. According to MICA, the program is "intended for fiber majors with a strong interest in fashion as a cultural phenomenon and expressive medium. Studio courses support the learning of foundational skills in garment making, including traditional and experimental approaches from costume to wearable sculpture." Indiana University-Bloomington also offers a Fashion Design BA that has an Experimental Fashion Studio component.
Although the Fashion + Fibers concentration is offered in some form at most fashion schools and design departments, the program still has a high coolness factor. North Carolina State University (NC State – Raleigh) offers a Fashion + Fibers concentration that prepares students for a career in multiple areas such as textile design, fine arts, set design, and fashion design. According to the school, the Fashion + Fibers program "emphasizes professional level accomplishment in creating product-based and conceptual fibers pieces in a studio setting. Through the use of fashion and fiber techniques and methods, students learn design process, conceptual thinking, art and design vocabulary, digital technologies, and fine craftsmanship. The program stresses the blending of traditional and modern techniques and methods to encourage innovation in fashion and fibers." 
Just a few other schools that offer this program include Savannah College of Art and Design (SCAD), University of California-Davis, and Cornell University-Ithaca, New York.
Driven by the digital revolution, Fashion Technology is a growing career sector with a promising future. The concentration focuses on design, pattern making and cutting-edge technology to help students develop both the creative and technical skills needed to advance in the local and  international fashion industries. Students learn about specifications, technical development, computer-aided design (CAD), logistics, technology, and the global market. Fashion Technology is quite popular overseas and is offered at schools such as Heriot-Watt University (UK), RMIT University (Australia), University of Leeds (UK), University of Arts London, Birmingham City University (UK), Amity School of Fashion Technology (India), and Rai University (India). In the U.S., the program is offered at schools such as FIT New York, the University of Hawaii, and Honolulu Community College.
Over at Marist College, the Fashion Promotion concentration is growing in popularity. The program is "enhanced with courses in related fields such as, Fashion Show Production, Visual Merchandising and Communications." This unique blend prepares students for a range of careers such as fashion marketing, fashion event production, fashion marketing, fashion journalism, fashion blogging, visual merchandising, retail management, advertising, and electronic media. 
Like Fashion Technology, Fashion Promotion is very popular overseas—especially in the UK. Just a few schools that offer the program include the University of Central Lancashire (UK), University of South Wales (UK), Istituto Marangoni (Milan, Paris, London, Shanghai, Firenze), Southampton Solent University (UK), Manchester Metropolitan University (UK), Birmingham City University (UK), University of the Creative Arts (UK), and Ravensbourne School of Media (London, UK). 
In case you're wondering: yes, you can earn your fashion degree overseas. According to a U.S. News & World Report article, contrary to popular belief, "there is no shortage of international universities offering foreign students degrees taught in English, even if the official language of the country is something else." This means, if you want to explore other schools that offer any of the cool concentrations mentioned in this article, there are plenty of prospects.
Sources
"Bachelor of Art + Design: Fashion + Fibers Concentration." NC State College of Design. North Carolina State University (NC State), n.d. Web. 20 Apr. 2016. 
"Business of Fashion Concentration & Minor." Rutgers Business School - Newark and New Brunswick. Rutgers Business School, 2016. Web. 20 Apr. 2016
"Curriculum for the B.S. in Fashion Merchandising with Fashion Promotion." The Fashion Department Curriculum: College. Marist College, n.d. Web. 20 Apr. 2016.
Lee, Megan. "4 Myths About Americans Earning Graduate Degrees Abroad - A U.S. Degree Isn't Automatically Better." U.S. News & World Report Education. U.S. News & World Report, 26 May 2015. Web. 20 Apr. 2016. 
"Studio Concentration - Experimental Fashion." Maryland Institute College of Art (MICA), 2016. Web. 20 Apr. 2016.