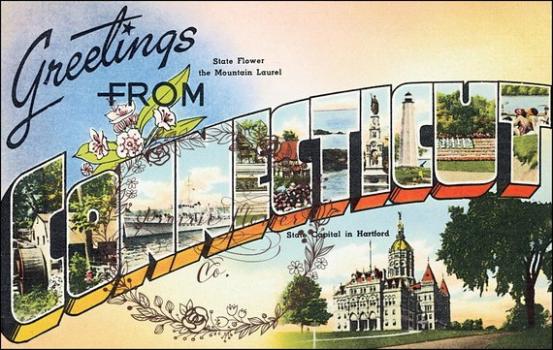 Overview
Walk through the streets of any major city in Connecticut and you'll find a mix of styles ranging from classic chic to upscale urban. College campuses are all about classic chic as well, with a bit of trendy casual mixed in for good measure. These and other styles are easy to find at the numerous malls and boutiques across the state. Head to West Hartford to shop at the upscale Westfarms Mall or stroll the Broadway Shopping District in New Haven, where you can find plenty of classic pieces, trendy accessories, and unique footwear.
A large number of shopping venues can be found in principle cities such as Bridgeport, New Haven, Hartford, Stamford, Waterbury, Norwalk, Danbury, New Britain, West Hartford, and Bristol. In addition to shopping venues, some of these cities are home to schools that offer fashion design and fashion merchandising programs. Gateway Community College in New Haven and Lincoln College of New England in Hartford are just a few examples.
The Connecticut fashion industry is always welcoming to new designers. Each year, the state hosts Connecticut Fashion Week (CFW) where designers and exhibitors gather to present their best work. The show also highlights makeup artists, hair stylists, and photographers. Destination locations for CFW include Hartford, Waterbury, Fairfield, Stamford, New Haven, and Westport. Other fashion events include fashion shows and fashion competitions presented by the New England Fashion & Design Association, and the World Fashion Council Awards Gala held in Norwalk.
Career Opportunities & Employers in Connecticut:
To make it as a fashion designer in Connecticut, you must be flexible. This means, you should be willing to work as an assistant or in textiles or production until you get your big break. This a great way to earn a paycheck and make contacts in the industry while gaining valuable experience.
Just a few of the jobs available to fashion designers are textile artist, hand weaver, knit stylist, fabric technician, piece goods buyer, sample maker, and grader. You can find positions such as these in the top ten cities listed above, but don't discount smaller towns. They often have a number of independent boutiques and production centers that could use the expertise of a fashion designer or fashion merchandiser for sales, visual merchandising, or technical production.
Fashion merchandisers may have more job opportunities that fashion designers here thanks to the retail industry. Fashion merchandiser's work as visual merchandisers, buyers, managers, sales representatives, merchandisers, display directors, fashion show coordinators, personal shoppers, and fashion directors.
Connecticut Fashion Schools & Programs:
Whether you're planning a career in apparel manufacturing, merchandising, or design, most employers prefer a two- or four-year degree from an accredited college. The National Association of Schools of Art and Design accredits approximately 300 postsecondary institutions with programs in art and design. These schools typically award degrees in both fashion design and fashion merchandising. Some of Connecticut's most popular schools for aspiring fashion designers and fashion merchandisers are:
Gateway Community College, New Haven
Lincoln College of New England, Suffield and Hartford
Sanford-Brown, Farmington
University of Bridgeport, Bridgeport
If you're interested in a certificate program, one of the best in the country is offered through the Design Education Cooperative (DECO) in Norwalk. Established by the World Fashion Council, these world-class fashion and design workshops are taught established industry professionals. Class sizes are small, but students can also opt for private workshops. Although not accredited, the application process is thorough and acceptance is not guaranteed.
If you're interested in a career in fashion design or fashion merchandising, enroll in a fashion design or fashion merchandising degree program. If your plan is to start your own business, consider combining your fashion design or fashion merchandising degree with a business or marketing degree. You can also wait until you have completed your degree to enroll in a full-time business or marketing degree program.
For more information about the fashion design and fashion merchandising industries, visit the Bureau of Labor Statistics at Bls.gov.
Employment and Salary Trends for Connecticut:
In 2004, Connecticut was home to around 30 salaried fashion designers. As of July 2011, the Bureau of Labor Statistics had not reported recent employment and salary figures for designers or fashion merchandisers. However, fashion merchandisers working in retail often work with window and store displays. More than 700 window merchandisers (visual merchandisers) work in Connecticut today, up from 330 in 2006.
Overall employment in the fashion industry is expected to grow by one percent for the 2008-2018 decade. Sewing and cutting jobs may decline as established designers and brands choose manufacturing companies overseas. However, employment of fashion designers is stable because many firms prefer to keep design work in house.
As of May 2008, the mean annual wage for fashion designers overall was $61,160. The lowest paid fashion designers earned an average annual salary of $32,150 and the highest paid fashion designers earned $124,780 per year. Because many fashion designers are self-employed, salaries may vary greatly. It's not unusual for a top fashion designer to earn millions per year.
Bureau of Labor Statistics Data
| | Number of jobs | Mean hourly pay | Mean annual pay | Job Outlook |
| --- | --- | --- | --- | --- |
| Fashion Job | | | | |