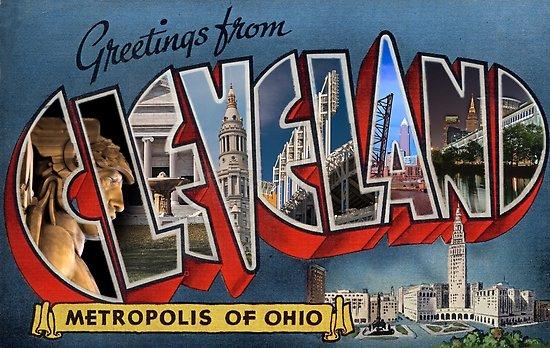 The Cleveland Fashion Scene
Cleveland is the second largest city in Ohio. With nearly 400,000 residents, it is also one of the largest cities in the U.S. Although fashion isn't the top industry in the Cleveland, the scene is energetic and growing. For starters, Cleveland hosts a number of fashion events including Cleveland Fashion Week. The event features multiple runway shows, showcasing deigns by both emerging and established designers from Ohio and around the country.
In addition to fashion events, Cleveland and the surrounding areas are home to hundreds of shopping venues from small boutiques to mega malls. Downtown Cleveland, Crocker Park, Legacy Village, Beachwood Place Mall, and Great Northern Mall are just a few places locals and visitors alike go to shop for the latest fashions. In addition to an active fashion scene and retail industry, Cleveland offers access to several schools that offer fashion training programs. Cleveland Institute of Art (CIA) and to Virginia Marti College of Art and Design (VMCAD) are popular options.
Career Opportunities & Employers in Schools & Colleges:
Cleveland fashion designers work in retail, textile design for product development, technical production, apparel design, costume design, pattern making, and administration sales (textiles). Cleveland fashion merchandisers work mainly in retail, but they may also find work in areas such as  promotions, consulting, and event coordination. Employment opportunities can be found all over the city, with downtown and the major shopping districts listed earlier leading the pack.
Schools & Colleges Fashion Schools & Programs:
Ohio is home to 213 colleges and universities—more than double the national average of 88. The schools here are a mix of traditional universities, technical schools, and art and design schools. In Cleveland, design students choose the Cleveland Institute of Art (CIA). CIA offers a Bachelor of Fine Arts in Fiber + Material Studies, which can lead to a career in fashion design, costume design, textile conservation, printed, woven, and knit textiles design, and toy design. The program also prepares students for a career as an accessory and boutique clothing designer.
Aspiring Cleveland designers and merchandises can also make the short 7 mile trip to Virginia Marti College of Art and Design (VMCAD) in Lakewood. Virginia Marti has one of the best fashion design and fashion merchandising programs in the state. Other schools worth considering include Kent State University—The Shannon Rodgers and Jerry Silverman School of Fashion Design and Merchandising, Kent (38 miles), and the University of Akron (39 miles).
Employment and Salary Trends for Schools & Colleges:
As of July 2011, the Bureau of Labor Statistics had not reported employment or salary figures for Cleveland fashion designers. However, the state of Ohio is home to 310 salaried fashion designers. Based on the number of retail venues, fashion events, and production facilities here, it's safe to assume that a significant number of designers live and work in Cleveland. Ohio fashion designers average $67,890 per year. Nationwide, fashion designers average around $61,160. The lowest paid fashion designers average $32,150, and the highest paid salaried designers average $124,780 per year.
Figures for fashion merchandisers have not been reported either, but a significant part of the job involves creating window displays and managing the overall look and feel of stores. Nearly 2,000 merchandise displayers work in the state of Ohio. Around 300 live and work in Cleveland.
Employment in the fashion industry overall is expected to grow by one percent for the
2008-2018 decade. Sewing and cutting jobs may decline as more designers and brands choose manufacturing companies overseas. However, employment of fashion designers is stable because many firms prefer to keep design work in house.
For more information about the fashion design and fashion merchandising industry, visit the Bureau of Labor Statistics at bls.gov.
Bureau of Labor Statistics Data
| | Number of jobs | Mean hourly pay | Mean annual pay | Job Outlook |
| --- | --- | --- | --- | --- |
| Fashion Job | | | | |