What do Buyers do? Where do Buyers work? FS takes a look: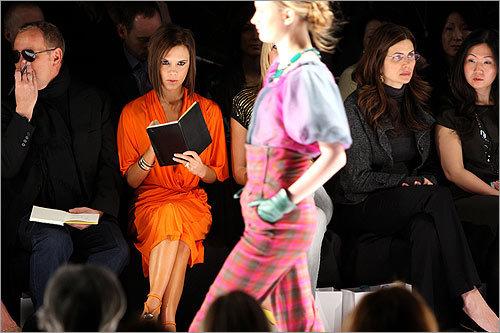 Buyer Job Description:
Buyers purchase products and services for companies and institutions. Also called purchasing managers, purchasing agents, and merchandise managers, buyers may purchase goods and services directly from manufacturers or wholesale firms. Depending on the size of the company, a buyer might be responsible for purchasing several lines of merchandise or services, or the venues entire inventory.
Buyers work in all industries from A-Z. In the fashion industry, they work mainly for retail establishments, textile companies, and apparel manufacturing firms. They may be responsible for purchasing clothing, accessories, fabric, displays, fixtures, and even services such as cleaning and catering. Buyers locate and develop relationships with fashion designers and suppliers, and they usually work with a team of buyers, especially when it comes to making final decisions.
In addition to buying merchandise and services for retail venues, textile companies, and manufacturing firms, buyers must see the purchase through from beginning to end. This means that in addition to buying the merchandise, they are responsible for making sure the merchandise is shipped on time and that is arrives in excellent condition. They must also handle returns, if necessary.
Buyers working for small companies or retail shops might work in a small office onsite. For larger companies such as The Gap, Macy's and others, the buyer will likely work in a large corporate office. The same accommodations apply for manufacturing and textile companies.  
Becoming a Buyer:
Buyers in the fashion industry usually have a background in fashion design, fashion merchandising, or fashion retailing. A degree is not required for entry into the field, but most large stores prefer applicants with at least a bachelor's degree. Acceptable degrees include fashion design, fashion merchandising, fashion retailing, business, and even marketing. For management positions, a master's degree is usually preferred.
Employers also look for experience in the industry either in buying, sales, or management. You should be familiar with the merchandise the company sells and with the ins and outs of retailing and wholesaling. If you do not have experience, many employer's offer on the job training. According to the Bureau of Labor Statistics, you may start as a trainee, purchasing clerk, junior buyer, or assistant buyer. Training periods may last from one to five years, depending on the level of the position.
Buyer Salaries:
Buyer salaries vary based on factors such as type of company, size, geographic location, experience, and education. According to the Bureau of Labor Statistics, retail buyers averaged $48,710 in May 2008. The middle 50 percent averaged $36,460-$66,090 and the top 10 percent earned more than $90,100. The lowest 10 percent averaged less than $28,710.
At an average of  $89,160, up to more than $142,550 for top earners, managers earn significantly more than buyers. In addition, managers (and buyers) in the retail industry may receive discounts on merchandise and generous cash bonuses based on performance.
Job Trends for Buyer:
Employment of buyers is expected to increase by eight percent for the 2008-2018 decade. This is as fast as average for all occupations, according to the Bureau. Individuals with a bachelor's degree and industry knowledge and experience will have the best job opportunities.