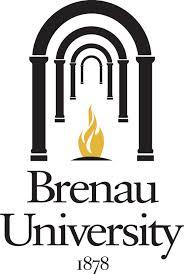 Brenau University encourages its students to tap into their creative instincts, to learn the skills and confidence to communicate extraordinary ideas in ways that can change the world.  In its mission statement, the school aims to provide a rich and much-needed approach to 21st century education.  
These are important goals for aspiring fashion designers.  

The Fashion Design program at Brenau offers classic design coursework where students can learn the essential skills to enter the fashion business. The school also embraces the latest state of the art design technology.  Brenau offers students the chance to study fashion design in a small town campus setting, and also encourages students to apply for internships in places like New York City, for real life, hands-on experience.  Graduates of Brenau are prepared to enter the workforce as fashion designers, as well as costume designers, wardrobe stylists, fashion coordinators and more.
To learn more about Brenau University's program, we talked to Lori Gann-Smith, Fashion Design Program Director

(This interview was conducted via email & edited for length & clarity)

FS:  Please begin with an overview of the strengths of your Fashion Design program

BU:  The strength of our program lies in its focus on the immersion of the student into the Fashion Design major from the day they step onto campus.  While our university is grounded in Liberal Arts, the FD program places an emphasis on fundamentals during the Freshman year and then scaffolds students up into upper-division courses, all the while building skills, creativity and knowledge of the process and practice of Fashion Design.

FS:  Can you highlight some of the special coursework Brenau offers to its students pursuing a degree in fashion design?

BU:  Along with our foundations classes like Apparel Construction and Patterning & Draping, Brenau offers instruction in Women's Wear, Menswear, Children's Wear and Accessories.  Specialized classes in state of the art software programs, like Lectra's Kaledo Style and Adobe Illustrator as well as hands-on classes in digital textile design, screenprinting, painting and dyeing, fabric manipulation and other surface design and stitchery methods keep our students design vocabularies broad and creative. 


FS:  What core classes that are not directly related to fashion, are required of students?

BU:  Students take art and design foundations courses such as 2D & 3D Design, Color Foundations, Drawing, and Digital Graphic Design.  Students may also elect to take peripheral courses such as Digital Photography, Costume Design, etc.

We also offer the opportunity to take classes in Museum Practices and have an extensive Historical Clothing Collection in which students may conduct research, learn techniques in managing historical textiles and clothing and work on Museum Software's PastPerfect program to accession and condition report garments.

FS:  What has changed in the Fashion Industry in the last decade or 2?   We've been hearing the word "sustainability", what role is that taking in design?

BU:  Our design classes focus on sustainable practices, design ethics and positive changes in the fashion industry. 


FS:  How are you addressing new technology in design?

BU:  We have a departmentally devoted computer lab, which is dedicated to specialized software like CS6 and Lectra's Kaledo Style.  Students work on both Macs and PCs to maximize their abilities to shift from one platform to another.  We are also adding the capability to digitally print textiles in our lab.

FS:  Which fields do you see opportunity in career-wise for future graduates?

BU:  Textile Design is a growing field of opportunity as is work as a self-employed design entrepreneur.  Traditional avenues of employment with other companies are available, but as the industry responds to the demands of the public for more one-of-a-kind pieces, entrepreneurship is a great start for young designers.

FS:  Tell us about opportunities on campus or online, where your future designers can showcase their work?

BU:  We produce a yearly fashion show in April, which showcases the work of our seniors as well as other students' work.  We are developing an Etsy presence, which will be launched sometime this academic year where students can sell their designs.


FS:  What advice would you give to aspiring fashionistas?

BU:  Push through your comfort zone to access the creativity that you possess. Don't let fear hold you back!  School is the time to push yourself to your limits, experiment and find your voice as a designer.  Find a school, like Brenau, that will encourage you to do that!
Check out more interviews at the Fashion-Schools.org Fashion School Interview Series.