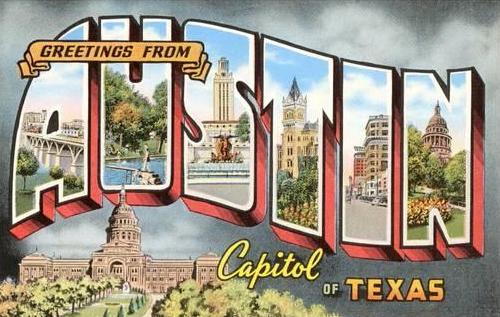 The Austin Fashion Scene
It's been featured in the Wall Street Journal and it's a frequent topic of conversation on local news and entertainment shows—Austin's fashion scene is growing and the world's high-end retailers have taken notice. The scene has been under a microscope for more than a decade and the transformation has been big. More than 30 high-end retailers, from Burberry to Louis Vuitton, have opened stores in North Austin, and many local retailers have taken their shops to the next level by offering their best creations online, granting access to the rest of the world. This has also helped place the spotlight on Austin's fashion scene. What this means for aspiring fashion designers and fashion merchandisers is, they have an amazing opportunity to become a part of the transformation by working with a growing group of talented designers and boutique owners or by opting to take a position with a high-end retailer in one of the city's most progressive shopping districts.
Austin also has it's own Fashion Week which features more than 150 events, up from 125 in 2010. The events include design competitions, award events, photography sessions, and more. The entire fashion industry in Texas is involved, so established statewide fashion designers, up and comers, and those just launching their first lines are all invited to participate. Hairstylists, makeup artists, models, and photographers are welcome as well. This elaborate event is a great place for aspiring designers to show the world what they can do, and it offers more than a dozen positions for aspiring fashion merchandisers.
Austin is home to several schools that offer fashion training programs and the opportunity to intern locally. This is another benefit to aspiring designers and merchandisers. Austin School of Fashion Design and the University of Texas are popular options. 
Career Opportunities & Employers in Texas:
Austin fashion merchandisers may find work in merchandising, buying, management, and marketing. Fashion designers may also work in buying, management, or merchandising as well as clothing design, accessories design, footwear design, visual merchandising, fashion consulting children's fashion design, pattern making, costume design, tailoring, and hand sewing. Many fashion designers also teach, so Austin's academic institutions and design centers are excellent sources of jobs for aspiring instructors.
Many Austin fashion designers work for established designers, department stores, textile manufacturers, and others. They may work in these areas permanently or while working on building their own line or store. Fashion designers and fashion merchandisers may find employment from the popular shopping districts in the heart of the Austin to the surrounding areas. Just a few notable areas or venues include Midtown (central Austin), 2nd Street District, Barton Street Square, and The Domain, which is located in Austin's northwest corridor.
Texas Fashion Schools & Programs:
The state of Texas is home to 240 colleges and universities. This is nearly three times the national average of 88. Some are art and design schools while others have art and design programs. As mentioned, Austin's top schools for aspiring fashion designers and merchandisers are Austin School of Fashion Design and the University of Texas. Texas State University (TSU), San Marcos is also a popular choice. San Marcos is only 31 miles from Austin.
Austin School of Fashion Design offers both design and technical courses for all levels, while the University of Texas offers a Bachelor of Science in Textiles & Apparel with options in Apparel Design & Conservation and Retail Merchandising. Texas State University San Marcos offers a Bachelor of Science in Fashion Merchandising.
Employment and Salary Trends for Texas:
The state of Texas is home to nearly 300 fashion designers. Employment of fashion designers across the nation is expected to grow by 1 percent between 2008 and 2018. Nationwide, fashion designers average around $61,160. The lowest paid fashion designers average $32,150, and the highest paid salaried designers average $124,780 per year. Self-employed designers can earn six to seven figures per year.
The Bureau of Labor Statistics does not report employment or salary figures for fashion merchandisers. However, a significant part of the job involves creating window displays and managing the overall look and feel of stores. There are 7,370 merchandise displayers in the state of Texas. Nearly 400 live in Austin.
For more information about the fashion design and fashion merchandising industry, visit the Bureau of Labor Statistics at bls.gov.
Bureau of Labor Statistics Data
| | Number of jobs | Mean hourly pay | Mean annual pay | Job Outlook |
| --- | --- | --- | --- | --- |
| Fashion Job | | | | |