What do Assistant Fashion Designers do?  Where do Assistant Fashion Designers work? FS takes a look: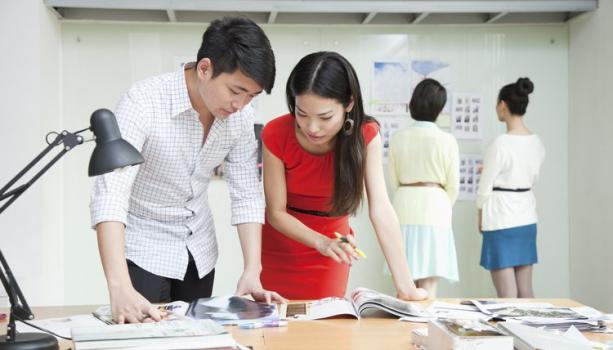 About Assistant Fashion Designer:
Assistant fashion designer is an entry-level position that can be valuable in terms of gaining solid experience in the industry. This position is a way to get your foot in the door at a design studio, retail chain, or apparel manufacturing company, while earning a good salary and it is a great way to establish a reputation in the industry. Assistant fashion designers typically have the same academic background as established designers, minus the years of experience.
Assistant Fashion Designer Job Description:
Assistant fashion designers assist fashion designers and chief fashion designers with everything from designing clothes to preparing for fashion shows. Depending on the size of the company or design studio, the assistant fashion designer may also assist with production work such as sewing, cutting, pattern making, making prototypes, coloring, and sketching. Assistant fashion designers may coordinate meetings, assist at meetings with clients or retailers, attend fashion shows and trade shows, and assist with managing other workers as needed.
Assistant fashion designers work for independent designers, design firms, design studios, boutiques, manufacturing companies, wholesalers, department stores, chain retailers, retail shops, and boutiques. Some assistant fashion designers are self-employed. 
Becoming a Assistant Fashion Designer:
Most employers prefer applicants with talent, experience, and a degree in fashion design. They also prefer applicants that are organized, can take direction, and are open to working a substantial amount of overtime. Experience can be obtained through an internship or other training program, such as an apprenticeship. Fortunately, in the U.S., there are 300 National Association of Schools of Art and Design accredited postsecondary institutions that offer art and design programs. Most, if not all, offer internships with design firms, retail stores, department stores, apparel design and production companies, and even independent designers.
Assistant Fashion Designer Salaries:
Although assistant fashion designer is an entry-level position, salaries are well over the national average for all occupations, and around the same for many beginning fashion designers. Assistant fashion designers may start at around $40,000-$41,000 per year and earn up to $47,000 per year or more. In comparison, according to the Bureau of Labor Statistics, median annual wages for salaried fashion designers were $61,160 in May 2008. The middle 50 percent earned between $42,150 and $87,120 and the lowest 10 percent earned less than $32,150. The highest 10 percent earned more than $124,780.
Job Trends for Assistant Fashion Designer:
Employment of fashion designers is expected to average 1 percent for the 2008-2018 decade. Fashion designers may find work anywhere in the U.S., but some cities offer more opportunities than others do. Try New York, Los Angeles, Las Vegas, Miami, Dallas, and Atlanta. If you're interested in getting your start overseas, head to Milan, Paris, Rome, London, Hong Kong, Dubai, Tokyo, Barcelona, of Rio de Janeiro.