What do Apparel Business Owners do? Where do Apparel Business Owners work? FS takes a look: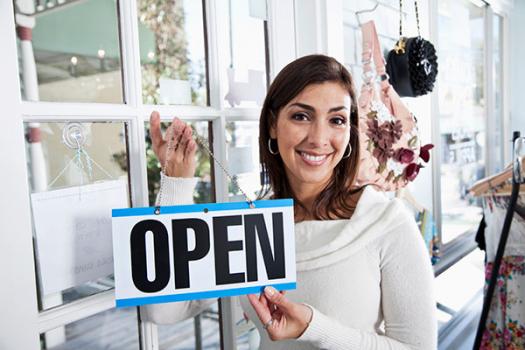 About Apparel Business Owner:
Apparel business owners may own a shop that sells clothing and accessories made by other designers, they might sell their own designs, or a combination of both. Whether the shop sells the owners designs or not, apparel business owners are responsible for every aspect of the business from the layout and design of the shop to buying to marketing to accounting. If the shop sells the owners' designs exclusively, the owner is also responsible for production and distribution.
Alternate Titles For the Role
Shop Owner
Boutique Owner
Retail Store Owner
Apparel Business Owner Job Description:
Apparel business owners wear many different hats. If the owner sells clothing made by other designers, he/she is typically responsible for buying, visual merchandising, accounting/bookkeeping/payroll, sales, hiring, firing, ringing sales, marketing and promotions, and more. An apparel business owner that sells his or her own designs exclusively (or in addition to other designer's fashions), is responsible for the jobs listed above as well as fashion design, production, and distribution of his or her creations.
Apparel business owners work in all states across the country. Their shops are typically small and run by one owner, a husband and wife team, or even siblings. In some cases, apparel business owners may own multiple shops locally or in other states. Although small boutiques and retail shops can be found all over the U.S., some of the most popular cities for aspiring apparel business owners are Houston, Dallas, Baltimore, Columbus, Indianapolis, Philadelphia, Phoenix, San Antonio, Jacksonville, and San Diego. These areas are among the best place for shoppers based on sales tax, variety of shops, number of shops, sales figures, and affordability. 
Becoming a Apparel Business Owner:
It takes more than an eye for fashion to become an apparel business owner. A degree is not required, but many apparel business owners do have a degree in fashion design, fashion merchandising, fashion retailing, business, business management, or marketing. A degree in fashion design and business is a good combination only because apparel business owners do not focus solely on designing clothes. They spend a significant amount of time managing every other aspect of the business.
If you have a degree in fashion design, but not business, consider taking business courses such as accounting, finance, marketing, management, leadership, organization, entrepreneurship or other related courses.
Apparel Business Owner Education Training & Advancement:
Many schools offer certificates, associate and bachelor's degree programs in fashion design & related fields that will help jump-start one's career as an account executive. These programs expose students to practical opportunities in order to get started in the fashion industry, and give a solid foundation on which to begin a career. Some fashion schools will over specific lines of study for aspiring entrepreneurs. 
Of course owning a fashion store, is not just about fashion. Many schools offer business (or small business) training in retail management, and you can pursue certificates & degrees to get critical knowledge.
Finally, there's no experience quite like doing. Many business owners started working in retail shops and learned the in's and out's of the business by being around it; and by doing it as an employee.
Always have a good portfolio of ideas and strategies to present. Get your ideas out there, and be your own sales agent.
Apparel Business Owner Salaries:
There really is no way to determine the average salary of apparel business owners. There are just too many variables to consider. The amount earned can depend on the size of the shop, location, type of clothing, years in business, and many other factors. A number of websites have attempted to determine just how much an apparel business owner can make, but the figures vary greatly. For example, Simply Hired lists the average salary for a boutique owner at $33,000 per year, while other sites list a range from $0-$100,000+ per year.
Job Trends for Apparel Business Owner:
In today's economy, more Americans are becoming independent contractors or freelancers, or they have decided to start their own businesses. Whether it stems from frustration over the lack of available jobs or it is a lifelong dream, many adults have decided to take the risk and run their own businesses. A total of 15.3 million individuals were self-employed as of 2009. The Bureau of Labor Statistics reports that from 2003 to 2009, the total self-employment rate held steady. Self-employment in the retail sector increased by seven percent for the 1996-2006 decade, and it is expected to continue to increase for the 2008-2018 decade.